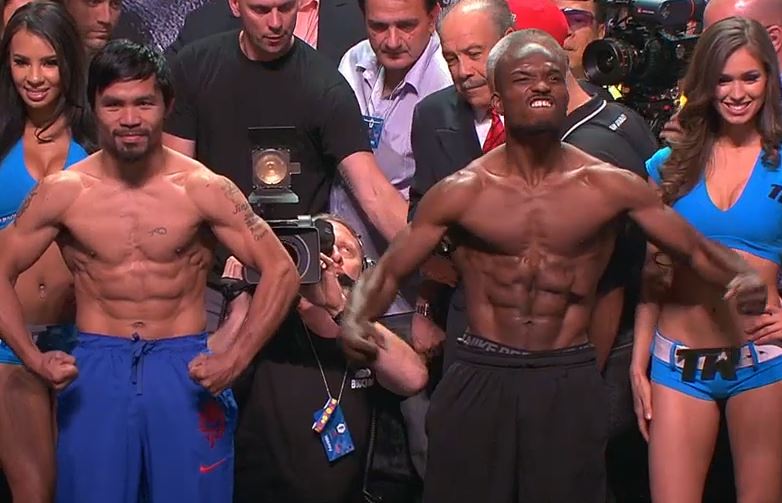 Manny Pacquiao vs. Timothy Bradley Weights & Photos:
The official pre-fight weigh-ins for the Manny Pacquiao vs. Timothy Bradley rematch were held on Friday afternoon from the MGM Grand in Las Vegas, Nevada. Right here, you'll find the complete Pacquiao vs. Bradley weigh-in results, with a photo gallery, analysis of what went down, and more. Take a look here.
Pacquiao vs. Bradley Weigh-in Photos
Don't forget to come back and check us out tomorrow night for our live Pacquiao vs. Bradley round by round results!
Pacquiao vs. Bradley Weights
Manny Pacquiao: 145 lbs
Timothy Bradley: 145 lbs
Both guys are in great shape, which comes as no surprise. Pacquiao is ripped, but there's no competing with how jacked Bradley always is. Bradley played to the crowd a bit, but it was all Pacquiao fans there, and they were chanting and going crazy for him.
Each man was taking his turn flexing, and the stare down was lengthy but not too intense. Both guys were smiling and kept their distance, but Bradley was doing plenty of jawing too.
Undercard Weigh-in Results
Raymundo Beltran: 134.5 lbs
Arash Usmanee: 135 lbs
Khabib Allakhverdiev: 139.5 lbs
Jessie Vargas: 140 lbs
Bryan Vasquez: 130 lbs
Jose Felix Jr:. 130 lbs
Adrian Perez: 130 lbs
Oscar Valdez: 129 lbs
Pubilo Pena: 162 lbs
Esquiva Falcao: 161 lbs
 Joe McCreedy: 173 lbs
Seanie Monaghan: 175 lbs
—-
There you have it, and the big fight is finally here tomorrow night. Of course, here at ProBoxing-Fans.com, we'll have everything you need all weekend long, but in the mean time, thanks for stopping by for the Pacquiao vs. Bradley II weigh-in results!