Live Manny Pacquiao vs. Timothy Bradley Round by Round Results
On Saturday, June 9th, Manny Pacquiao meets undefeated challenger and former junior welterweight champion Timothy Bradley in what promises to be a difficult encounter. Will Bradley be able to pull off the monumental upset, or will Pacquiao continue cruising right along and hoping for a mega-fight against Floyd Mayweather?
Right here on ProBoxing-Fans.com, we'll be providing live Pacquiao vs. Bradley results and continually updated round by round scores and coverage of the entire pay-per-view. This is the place to be on fight night – so don't miss out!
Pacquiao vs. Bradley Round by Round Scores
| | | | | | | | | | | | | | |
| --- | --- | --- | --- | --- | --- | --- | --- | --- | --- | --- | --- | --- | --- |
| Round | 1 | 2 | 3 | 4 | 5 | 6 | 7 | 8 | 9 | 10 | 11 | 12 | Total |
| Manny Pacquiao | 9 | 10 | 10 | 10 | 10 | 10 | 10 | 10 | 10 | 9 | 10 | 9 | 117 |
| Timothy Bradley | 10 | 9 | 9 | 9 | 9 | 9 | 9 | 9 | 9 | 10 | 9 | 10 | 111 |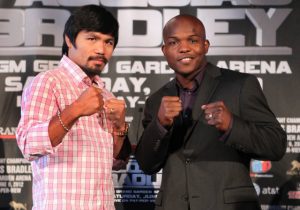 Check out all of our Pacquiao vs. Bradley fight pictures here!
Pacquiao vs. Bradley Round by Round Updates
Rd 1: They come out and start feeling one another out. Bradley looking to lead, throwing his jab, coming forward. Pacquiao doesn't look warmed up in there yet. Throws a 1-2, it's blocked. Crowd chanting for Manny. Bradley jabs. Comes forward, goes to the body. Looks for a hook upstairs, misses. Pacquiao shoots a straight left. Bradley looks for an overhand right. Bradley double jabs. Pacquiao lands a straight left, then lands another, crowd going crazy, but Bradley still wins the round.
Rd 2: Pacquiao finding a home for his straight left here. Landing it regularly now. Bradley gets him tied up, and he's just pounding him to the body with his other hand. Pacquiao lands a left, Bradley jabs. Pacquiao throws a quick jab. Bradley comes in wildly swinging. The two guys take a break and a breath and stare at each other a bit. Bradley comes in. Pacquiao takes the round with the big lefts he landed early.
Rd 3: Bradley being more aggressive than Pacquiao in the 3rd. He's looking to switch levels, going upstairs then back to the body. Pacquiao connecting with that straight left though basically whenever he throws it. Bradley flurries, Pacquiao retaliates with a big punch that sends the crowd into a frenzy, but wasn't actually anything much. Pacquiao lands a 1-2, Bradley answers with a big combination, stuns him, then Pacquiao answers with a big flurry of his own to get in the last word. Great action there.
Rd 4: Action continues where it left off in the 3rd, with both men trading combinations and looking for big shots. Pacquiao landing some very nice shots, but Bradley connecting with flush shots too. Bradley getting inside, holding. Then fires a big combination when Pacquiao tries to move forward. Now counters Pacquiao with a jab. Looks for an overhand right. Pacquiao picking his shots and answering at opportune times. Bradley;s hurt, he's on wobbly legs. He's barely standing up. They get broken up, round is almost over, Pacquiao is pouring it on, but Bradley stays on his feet as the bell rings.
Rd 5: Bradley looks to be back on steady legs now. Doesn't quite know what to do though, so he's pressuring. Now backs off, works behind the jab, Pacquiao letting him as he is clearly looking for a chance to counter. Bradley is jabbing, throwing 1-2s, Pacquiao not answering much, letting Bradley work. Then he lands a big left. Now he's pouncing, Bradley holds on. Bradley wading in and just winging shots, Pacquiao picking him off. Another round to Pacquiao.
Rd 6: Pace has slowed here in the 6th as Bradley isn't being quite so crazy and wild. It's working to his advantage too, as he's scoring some points with his jab. But either he can't help himself, or Pacquiao decides he has enough. He jumps in vintage-Pacquiao style, and forces him back to the ropes with a big flurry. He's been looking for the uppercut for a few rounds now, and he just misses with one here before the bell. Pacquiao wins the round with his late action.
Rd 7: At this point, when Bradley decides to trade, he's getting the worst of it. Pacquiao lands the better shots, and lands the cleaner shots. Pacquiao landing some heavy shots now, Bradley doesn't know how to answer besides wading in and looking for big shots of his own. Bradley is in a bad place: he does better if he lays back, but he's in a hole on the scorecards, and can't do that.
Rd 8: Pacquiao getting into the pattern of opening rounds slowly here. Bradley gets warned for a head butt. Bradley just walking straight into fire, and Pacquiao landing big shots. Bradley lands a big shot of his own, gets him to the ropes, but Pacquiao answers and reverses the position pretty quickly. Lands a few quick shots at the bell.
Rd 9: Bradley starting to look more resigned to his fate here. He's tired, and he just can't figure out how to get anything done. He's not stopping trying or stopping coming forward though, he's still working. Pacquiao just teeing him off though. If you ever questioned Bradley's chin or his heart, think again. The guy is a tank in there, and all grit and toughness. He manages to land a few decent shots, but the steam is off his punches now.
Rd 10: Bradley's corner has been talking about a problem with his right foot, which has slowed him down. That's fine, but that doesn't seem to be the issue here. The 10th has been one of the slowest rounds of the fight thus far. Bradley laying back more, and he's tired. Pacquiao appearing to take the round off. Round likely goes to Bradley as he was working with his jab and trying to pick some shots here and there.
Rd 11: They show a replay, and it does look like Bradley twisted his ankle back in the 4th round. Nevertheless, does not seem like it would have made a difference here. Bradley doing a better job here, or Pacquiao checked out. Pacquiao looking for big shots now though, lands one. Bradley comes in firing, lands some good body shots. Close round in the 11th.
Rd 12: Bradley swinging for the fences here. Pacquiao not going to let anything crazy happen here in the 12th, and his best defense is always his offense, so he's going to work and landing some decent blows. Bradley using the jab now, trying to set up something big. He's gassed out by still giving a good effort. The two men end the bout trading, and the crowd gives some solid cheers.
ProBoxing-Fans.com scores it 117-111 for Manny Pacquiao
Official scorecards read: 115-113 Pacquiao, 115-113 Bradley and 115-113 Bradley! Bradley wins a Split Decision! Whoa!
And Pacquiao loses! This is a pretty bad decision. We could have been generous and given Bradley another round (the 11th), to make it 116-112 for Pacquiao… but that still would have been 8 rounds to 4!
Looks like there will be a rematch after all.
—-
PPV & Undercard Updates
12:06 am – Let's get ready to ruuuumble! Fight time, folks…
11:58 pm – Alright, ring walks, finally! 12:04am – Bradley is in the ring, Pacquiao coming out now
11:51pm – OK, Pacquiao is finally getting his gloves on. Wasting time here for over half an hour! … And now we're moving into the national anthems…
11:45 – Pacquiao is just now getting his pre-fight instructions from the ref. Bradley still warming up, but looked like he had a much better sweat going on before.
11:40 – By the way, we're still waiting here. Pacquiao is warming up, Bradley is waiting in his dressing room. Finally, Pacquiao is going back to the dressing, still no gloves on.
11:22 – We get an update – Tim Bradley is ready to enter the ring, but Manny Pacquiao isn't even in his dressing room, and doesn't even have his gloves on. What's going on here? … 11:28pm – OK, now Roach says he's warming up on a treadmill to stretch out his calves. But he's not back in the dressing room, and won't be ready for some time either way now.
11:15 – Andre Ward and Chad Dawson join Jim Lampley ringside to talk about their upcoming fight.
11:06 – Arce vs. Rojas ends in a No Contest in just the 2nd round. Terrible end to the fight, which started out excellently for the 1st round, with Arce scoring a knockdown and then Rojas coming back. But Arce got sent down with a head butt and low blow, and then a series of punches, and Arce couldn't go on.
10:55 – Arce vs. Rojas about to begin.
10:40 – Randall Bailey just scored an explosive 11th round KO over Mike Jones to win the IBF welterweight strap, and hand Jones his first professional defeat! Huge comeback win!
10:17- They cut to Pacquiao's locker room, where he and his team are sitting around and watching the basketball game. He doesn't seem very focused on Timothy Bradley and his upcoming fight. Hmm.
10pm – Pacquiao arrives at the MGM with wife Jinkee along. All smiles.
9:47pm – 20 minutes since Rigondeaux's fight ended… and still waiting. Lame. 9:50 – OK, the fighters are entering the ring
9:37pm – We're killing time here, as the main event won't start until the end of the Heat-Celtics basketball game. So we're running through several video features here, one of Emmanuel Steward breaking down the fight, another with Max Kellerman interviewing Pacquiao, then with Bradley and more.
9:26pm – Rigondeaux made short work of Kennedy, TKO'ing him in the 5th round of their fight after knocking him down five times.
9pm – Alright folks, welcome to our round by round blog here tonight. The PPV is beginning its broadcast now, and Jim Lampley welcomes us to the broadcast from 100 degree Las Vegas, where Guillermo Rigondeaux vs. Teon Kennedy will be up first, in a few moments.
Lampley announces/confirms that Andre Ward will face Chad Dawson on HBO on September 8th, with Dawson coming down to super middleweight for the fight. The fighters will be on the telecast later to discuss.
Jorge Arce vs. Jesus Rojas
Arce wastes no time, knocks down Rojas in the first 20 seconds of the fight with a left hook. But he stays calm in there and by the end of the round is wading forward and tagging Arce and pushing him backwards, the two guys are trading big shots at the bell. More action here than in the first 10 rounds of Jones-Bailey.
Right at the start of the 2nd, Rojas nails Arce with a special combination – a head butt followed by a low blow, and then a series of punches! Arce is lying around on the canvas and the doctors come into talk to him, he's saying if he stands up, he's going to fall. They're going to have to call this one off, Arce is either in really bad trouble, or he's bowing out of this fight.
Bayliss is calling it an unintentional foul, and therefore a No Contest. Awesome.
Arce-Rojas: No Contest
Mike Jones vs. Randall Bailey Results
Bailey enters the ring wearing two axes on his backpack and a mask. Looks like a Mortal Kombat character. Will he land a monster punch to capture a world title, or will Jones' size, skills and youth win the day? After some pre-fight disagreement, the guys are wearing 8 ounce gloves.
Jones coming out looking to keep Bailey at a distance, looks like he's tight. Bailey trying to bull in. Not a ton of action in the 1st. Jones probably wins the 2nd by keeping Bailey away as the crowd gets antsy. Definitely intimidated of Bailey.
Bailey begins forcing the action more in the 3rd and working his way inside. He's timing Jones and trying to land a trademark big shot. This fight is SLOW. Not many updates to provide. Jones throwing more and doing some pitty-patty type punches.
Bailey puts all his weight into a huge counter pinch and just misses, Jones takes advantage and begins attacking. Jones lands a few big body shots, some of his best shots of the night so far. Bailey's trainer egging him on to get busier and follow up his shots with a hook.
Jones picking up the pace and getting more active, starting to seal up a couple of rounds, but putting everyone to sleep in the process.
God this is a slow, disappointing fight. I was looking forward to this fight more than the other two undercard fights. Not good.
Jones looking like he's taking complete control of the fight in the 10th. However, just when you say that, Bailey finally connects with a big shot, and Jones goes flying to the canvas. A straight right perfectly thrown and connected, and Jones just exploded backward, but he pops back up and survives the round.
So will Bailey be able to follow up in the 11th? He's throwing out his jab to try to set up the right. Jones covering up, finally starts to come forward and fight back. But Bailey connects with a pinpoint right uppercut, and Bailey just gets dropped. He rolls over and tries to get up, but can't.
Bailey left Jones a bloody heap on the canvas to score the huge 11th round KO win. What a comeback, and it almost makes up for the terrible fight. Bailey finally takes home a big fight win, hands Jones his first career loss, and walks away with the IBF welterweight strap. Good for him.
Bailey KO 11 Jones
Guillermo Rigondeaux vs. Teon Kennedy
Rigondeaux opens up the fight and immediately asserts himself. He hurts Kennedy early with a left hook, then piled on some power shots until Kennedy's glove touched the canvas, good for a first round knockdown. He stays patient the rest of the round and doesn't force things.
For Rigondeaux's sake, he should keep things up and close the show quickly, and spectacularly. Kennedy is a clear step down from his recent opponents.
The Jackal picks up in the 2nd round where he left off in the 1st. He sends him down to the canvas twice in the closing minute of the second stanza. Kennedy isn't badly hurt, but he looks resigned to the fact that he can't do anything in there against this guy.
Kennedy playing keep away in the 3rd and 4th to try to prolong his showing here. The passive Rigondeaux obliges, looking for an opportunity to land a crisp counter but not asserting himself much. Of course, as I type that – right before the 4th round bell Rigondeaux slams a straight left into his face and knocks him down for the 4th time of the fight.
Rigondeaux sends him down again in the 5th, and the referee waves it off.
Rigondeaux TKO5 Kennedy
—–
Thanks for checking out our live coverage of the Manny Pacquiao vs. Timothy Bradley fight and pay-per-view, also featuring contests like Mike Jones vs. Randall Bailey. Be sure to continue stopping back for more news, updates and aftermath following the Pacquiao vs. Bradley results.