Manny Pacquiao & Antonio Margarito Step on the Scales:
The Pacquiao Margarito weigh-in was held this afternoon, inside of Cowboys Stadium, live from Dallas, Texas. Both Margarito and Pacquiao were able to make the 150 lbs catchweight limit for their vacant WBC junior middleweight title bout. However, there was at least one major surprise at the weigh-in, and that's how much Pacquiao himself weighed when he stepped on the scales.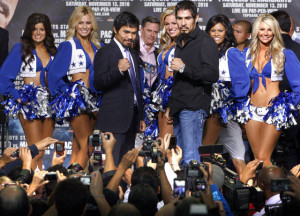 First up was Antonio Margarito. Margarito looked lean and strong, and weighed 150 lbs on the button to make the limit for the encounter. Nobody in his camp had been worried that he wouldn't be able to make the limit. He's been a welterweight his entire career, and had a stellar camp. The only concern would be whether he trained too much and peaked too soon. But we won't get a glimpse of that tomorrow evening, and how much he weighs on the day-of, unofficial weigh-in, should help shed some light on that as well.
Then Pacquiao stepped on the scales. Pacquiao, surprisingly, weighed just 144.6 lbs. This is obviously well below the catchweight limit. He was easily light enough to make the welterweight limit. Pacquiao made some noise earlier when on 24/7 Pacquiao Margarito he said that he was training at 147-148 lbs, instead of going heavier to try to match Margarito's power and strength. But 144.6 lbs is extremely light, even lighter than expected, and it raises some eyebrows in terms of what kind of shape Pacquiao is in for this encounter. He's of course well trained and prepared, but does he have the right body composition for a battle against the much larger Margarito?
Pacquiao's low weight was definitely the major surprise of the Pacquiao vs. Margarito weigh-in. Besides that, the undercard weigh-ins and everything else went off without much surprise or anything at all like that. However, it was certainly a raucous crowd, and a throng of fans were in attendance. Make no mistake, Margarito might have a lot of Mexican backers, particularly in Texas, but Pacquiao will be the fan favorite tomorrow evening in the stadium.
Pacquiao Margarito Weigh-in: Undercard Fight Weights
WBA Interim super bantamweight title
Ricardo Cordoba: 121 lbs
Guillermo Rigondeaux: 121.5 lbs
Mike Jones 145.5 lbs
Jesus Soto Karras 148 lbs
Brandon Rios 140.25 lbs
Omri Lowther 137.5 lbs
Non-Televised Undercard Bouts
Dennis Laurente 146.5 lbs vs
Rashad Holloway 147 lbs
Oscar Meza 137.5 lbs vs
Jose Hernandez 136.5 lbs
Richie Mepranum 112.75 lbs vs
Anthony Villarreal 112 lbs
Jose Benavidez 140.25 lbs vs
Winston Mathis 141.75 lbs
Roberto Marroquin 125.75 lbs vs
Francisco Dominguez 126 lbs
Mike Lee 175.25 lbs vs
Keith Debow 172.25 lbs
Juan Martin Elorde 131.25 lbs vs
Angel Rodriguez 132.5 lbs
Thanks for checking out our analysis of the Pacquiao vs. Margarito weigh-in, and remember to keep checking back in with ProBoxing-Fans.com for all of the breaking boxing news coverage you need, and more nonstop coverage of the Pacquiao vs. Margarito PPV.