On Friday evening, after the official weigh-ins were over and done with, the fourth and final episode of Pacquiao vs. Marquez 24/7 aired on HBO. The episode brought us completely up to speed, through the end of training camps through the fight week festivities in Las Vegas preceding the upcoming match and more. Take a look at the full recap of Pacquiao-Marquez 24 7 episode 4 right here.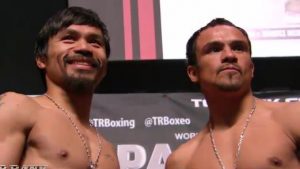 As always, this episode of 24/7 Pacquiao vs. Marquez began with a look back at what has been happening in previous weeks. That included a focus on Marquez's new strength coach and his past involvement with steroid investigations, as well as Marquez splitting time with trainer Nacho Beristain with Alfredo Angulo. At the Wild Card, Freddie Roach was fully confident in Pacquiao, calling him a machine who will execute.
And so we begin Pacquiao Marquez 24-7 episode 4, the last installment in the series. We're in California, and Pacquiao is cruising around in his new Ferrari on the way to the gym. He's greeted by a huge throng of fans, as well as his sparring partners who get handed tickets to the fight. Pacquiao is working with mitts with Freddie, and they are talking about slowing things down and just keeping this peak up through fight night and riding it out.
Everyone from Kobe Bryant to Mark Whalberg is at the Wild Card watching Pacquiao train. Then, Manny hands to the Jimmy Kimmel Show, for his 5th appearance in what has now become a popular tradition. We see Pacquiao practicing backstage for his epic duet with Kimmel.
Next in Pacquiao vs. Marquez 24/7 episode 4, we're in Mexico City, and Marquez also is talking about bringing things down a notch in terms of intensity and exhaustion. It's the 60th training camp of his career, and he has some guests, his sons, on hand. They think their dad looks strong and ready to win the fight.
The following morning at 5 am, Marquez is hopping on a private jet to fly to the states. Marquez talks about how the support of his children is very important to him, and how those little things make a big difference.
Marquez doesn't head straight to Las Vegas though. He heads to Santa Anita racetrack, for a public workout session held in conjunction with Timothy Bradley. He hops on a personalized tour bus with huge advertisements for the fight, and begins the trek to Las Vegas.
It's getaway day in Hollywood for Pacquiao at the Wild Card. Trainer Alex Ariza tries to convince Pacquiao to let him watch his Ferrari while he's gone. Meanwhile, Pacquiao goes through a workout session, crowded by admirers and team members. Roach is just ready to get the fight over with, and he's all about getting the knockout so there is no more crying and whining about the other fights.
Team Pacquiao heads to Vegas, with literally dozens of cars going along for the ride along with the tour bus. It's Pacquiao's 12th headlining turn in Las Vegas, and as usual, he's staying in a suite at the Mandalay Bay, and he gets an early night's rest as his team chows down on a huge buffet.
The next morning, Pacquiao gets up bright and early for a workout session at the UNLV track. It's Pacquiao's third fight against Marquez, but it's his first with Ariza in tow, who was hired after the second fight. So it means a lot for Ariza in that regard, and he thinks this is the best that Pacquiao has looked.
While Marquez is already in the US, Beristain is in Cancun, working with Angulo for his epic fight against James Kirkland. As we all know, Angulo had Kirkland hurt early, but punched himself out in the first round, allowing Kirkland to storm back and eventually get the stoppage win.
Beristain says the mistake was that Angulo assumed he was the stronger fighter, and forgot about defense to go along with his attack. Beristain also says that if he's learned anything with his experience, it's that no matter how good your fighter is, somewhere in the world there's a fighter who's better.
Marquez arrives in Vegas at the MGM, and then Beristain shows up, and then they talk about the Angulo-Kirkland fight and discuss how it all went down and what went wrong. The next day, it's the Grand Arrival for Marquez, and he gets greeted by a crowd of exciting fans and waiting media members. Marquez says he feels nerves before big moments and fights, but after 18 years, not pressure.
The next day it's Pacquiao's Grand Arrival, and it's that much grander than Marquez's. There's a massive throng on hand snapping photos and chanting, and Pacquiao soaks it all up, and his team talks about how much he loves that kind of scene and was made for it.
But then we switch to the sparse Top Rank Gym in Vegas, and Pacquiao is working the mitts with Roach, going over the game plan. Roach talks about how he won't sleep well until fight night, making sure he did everything right and second guessing everything that he did. Pacquiao mentions he just wants to make sure that everything is under control.
Now it's Wednesday of Fight Week as we continue with Pacquiao-Marquez 24-7 episode 4, and it's the final press conference for the fight. Marquez shows up in a track suit, talking about this fight being the reward for his 18 years of hard work. Pacquiao shows up in a suit, talking about setting an example for others and how this is the time, the moment.
Ultimately though, both fighters and their trainers are full of respect, and they don't talk much trash at the presser. They talk about quiet confidence and preparation and putting on a great fight and doing their best, and so forth.
And with that, we go into montage mode, an HBO 24/7 staple, as we get as pumped up as possible for fight night. Hardcore training footage, talking about overcoming obstacles and fulfilling destinies and pushing one's self and striving to do better things and conquering all. And on down the line. It's one day until the fight. Tomorrow is the day that will last for the rest of their lives.
Thanks for checking out our Pacquiao Marquez 24-7 episode 4 recap. There's only one place for boxing fans to be on Saturday night, and that's right here at ProBoxing-Fans.com with our live Pacquiao Marquez round by round results.