Manny Pacquiao vs. Juan Manuel Marquez III Results, Round by Round Updates & Live Blog Coverage:
On Saturday November 12th, the trilogy continues as Manny Pacquiao squares off against Juan Manuel Marquez for the third time in their close, hard-fought series. Tonight, there's only one place for boxing fans to be, and that's right here at ProBoxing-Fans.com, where we'll be offering live Pacquiao vs. Marquez results and ongoing round by round scores, continuous coverage and updates of the entire PPV and undercard and more.
Pacquiao vs. Marquez Round by Round Scores
| | | | | | | | | | | | | | |
| --- | --- | --- | --- | --- | --- | --- | --- | --- | --- | --- | --- | --- | --- |
| Round | 1 | 2 | 3 | 4 | 5 | 6 | 7 | 8 | 9 | 10 | 11 | 12 | Total |
| Manny Pacquiao | 10 | 9 | 10 | 10 | 9 | 9 | 9 | 9 | 10 | 10 | 10 | 9 | 114 |
| J.M. Marquez | 9 | 10 | 9 | 9 | 10 | 10 | 10 | 10 | 9 | 9 | 9 | 10 | 114 |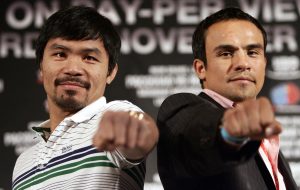 Pacquiao wins Majority Decision over Marquez. ProBoxing-Fans.com had it a draw.
Check out our huge Pacquiao-Marquez III pictures collection!
Pacquiao vs. Marquez Results & Live Blog Updates
Fight night weights: Pacquiao – 148 lbs; Marquez – 150 lbs
Rd 1: Both guys coming out cautious, lots of feinting and waiting, but high tension. Marquez jab to the body. Pacquiao 1-2s. Pacquiao throws a lead right, Marquez tries to the body in return. Pacquiao jabs. Marquez misses a hook, Pacquiao throws a right, they exchange at the bell. Not much in round 1, but probably for Pacquiao.
Rd 2: Pacquiao dictating more in round 2. He's super quick in there. Crowd getting restless though from a lack of action, at least the Mexican half of the crowd. Marquez counters Pacquiao, goes to the body. Marquez tries an uppercut, misses, goes to the body, then lands an uppercut.  Marquez lands a right hand. Pacquiao gets more active, hopping in and landing. Very close round I'll give to Marquez for a few clean shots.
Rd 3: Both guys getting more eager to make something happen and are opening up more, and getting a bit more wild. Marquez very measured with his aggression though. Both guys going to the body. Marquez opens up and throws a 4 punch combo, Pacquiao blocks em. Pacquiao lands a very nice right hook at the end of the round, then a straight right, and a good shot to close.
Rd 4: Pacquiao being aggressive here at the start. Lands with some good lead shots. Marquez backing up more now, trying to bring Pacquiao in and then counter him. Jumps forward with a lead right, misses. Pacquiao jabs to the body. Marquez still backing up, and Pacquiao obliges by coming forward and throwing leather. Marquez to the body. Pacquiao really opening up now. The two fighters get tangled up and separate. Crowd chanting for Marquez. Pacquiao straight left that lands. Marquez's jab blocked. Marquez storms forward with a combo, tags Pacquiao with a right hand at the end of the stanza. Probably still Pacquiao's round.
Rd 5: Marquez getting the better of some of these exchanges now. He's also more confident and aggressive after landing big at the end of round 4. Pacquiao may have slowed down a bit, or at least turned back the aggression. Marquez sticks a jab, Pacquiao gets his blocked. Pacquiao lands a jab. Marquez lands a hook. Marquez tags Pacquiao with a nice right hand, Pacquiao momentarily staggers.  Marquez lands an uppercut. Pacquiao misses a hook.  Marquez opens up and lands 3 shots. Huge, huge round for Marquez.
Rd 6: Pacquiao reins things in a bit to keep some of those openings closed off. Marquez jabs, blocked, then tries to the body. Pacquiao looking tentative. Marquez lands a nice right, Pacquiao lands a nice right hook. Now Pacquiao's mad, you can see it. He's throwing hard, lands another right hook. Marquez misses with an uppercut. Marquez lands a right hand, then a left hook that sends Pacquiao back. Pacquiao jabs to the body. Close, fun round to Marquez.
Rd 7: Marquez lands a solid right hand. Hurts Pacquiao. Pacquiao pounds his gloves, acknowledging. Marquez digs to the body. Pacquiao is looking tired, those body shots could be wearing him out. Pacquiao jumps in with a left hand, tags Marquez with another 1-2. Marquez lands an uppercut. Then jabs. Another Marquez round.
Rd 8: Pacquiao bleeding a bit from his mouth. Pacquiao with a left hook to the body, Pacquiao looks affected by it. Marquez's concentration is other worldly right now. He's dialed in. Straight right to Pacquiao's head. The two of them trade. Pacquiao with a lead right hook. Not a lot of oomph with it. They trade jabs. Pacquiao lands a 1-2, not enough to steal the round. To JMM.
Rd 9: Pacquiao's cut is on the inside of his lower lip. Marquez throws a hook, blocked. Lands a hook to the back of the head, but Pacquiao had jumped in first. Marquez 1-2s, then to the body, then another 1-2, a few of those land. Marquez parries a Pacquiao jab. Pacquiao with an uppercut. Marquez misses with a wide hook. They get tanglerd, clinch and break. Now they're trading toe to toe. Marquez lands a hook. Pacquiao lands a straight left. They're going all out. Nonstop action here. Each guy landing solid. Pacquiao jumps in, Marquez lands an uppercut. Marquez looks off balance, Pacquiao steaming forward. Great round. Pacquiao's last surge may have gotten him the round.
Rd 10: Lederman has it 6-3 Pacquiao. Don't agree with that. Marquez down, but it's a slip. They trade. Pacquiao gets the best of that. Maybe a headbutt somewhere in there. Pacquiao lands a straight left. Marquez is slowing down here in the 10th. Pacquiao cut above the eye, he's trying to signal that it was from a head butt. 10 seconds left, they tee off and go to town. Pacquiao's round. Tied up after 10 rounds.
Rd 11: Pacquiao coming back strong now. He has his second wind, while Marquez seems to be dropping off. Pacquiao lands a nice uppercut. Marquez lands a 1-2. Pacquiao comes forward and misses. They go back and forth. More of a quiet round after some of the previous action. Pacquiao coming forward the whole time. That's a close round, could have gone to Pacquiao with his aggression.
Rd 12: They come out firing in the 12th. Not all-out fury, but measured ferocity. Marquez backing up, not throwing enough. Takes my cue, opens up. Pacquiao on his toes, bounces in and lands a right. Marquez timing Pacquiao, countering. Pacquiao's mouthpiece out. 40 seconds left, time out. Time back in. Both men slow down. 10 seconds left. Pacquiao jumps in. Marquez lands a right, they trade crazily.
End of the fight. I hate to say it, but I have this a draw, 6 rounds a piece. If I could change any round, I'd change round 11 and give it to Marquez, and give JMM the fight 7-5, 115-113. But I'm not in the business of changing my scorecards just to see a result after the fact. So I have it 114-114.
Official scorecards: 114-114, 115-113, 116-112, winner by Majority Decision…. Manny Pacquiao!
Wow. Another razor-thin fight and Marquez gets the worst of the scorecards. Pacquiao wins the fight, and I can't argue too much with the verdict, I had it 6-6, so 7-5 to him is fair enough. But as I said, if I could have changed a round, it would have been in Marquez's favor. Clearly Marquez and his camp are going to feel they were wronged in this one, yet again, for the third time.
Marquez leaves the ring after the decision, not sticking around for the interviews. Pacquiao gets interviewed by Kellerman, and he gets booed rowdily by the Mexican fans. He says he surely won, but he acknowledges that Marquez is a difficult opponent for him. He's very unhappy that he's receiving boos, it's unsettling him.
Kellerman catches up with Marquez in the training room, and he of course feels he clearly won. When asked if he'd like another fight with Pacquiao in the future, he says he doesn't know. He feels defeated in having a fair shot to really win the fight. He says he might even retire. He's emotional right now, obviously.
They question Beristain about telling Marquez he was up on the scorecards, and maybe he should have pressed him on more.
That wraps it up for the evening.
—-
PPV Undercard Results & Event Notes:
11:55 pm: Fighter intros from Buffer. And it's here. Finally. I mean it. Let's do it… Let's Get Ready to Ruuumble…
11:47 pm: Marquez entering with some Mariachi music, and plenty of love from the Mexican portion of the crowd … then Pacquiao comes out to Thunderstruck, Arturo Gatti's classic entrance music. But he's taking his time, and he's still not out, and now it's Rocky music and Eye of the Tiger, with Jimi Jamison singing it live! Interesting choice.
11:44 pm: Doing some video previews, then time for Buffer's official intros, and then it's finally fight time. Crowd is going nuts right now, very excited, loud and intense.
11:35pm: Filipino national anthem with 11-year-old YouTube star Maria Aragon… then Mexican national anthem with pop-star Christian Castro… then US national anthem with American Idol star Thia Megia

11:32 pm: Buffer gives a touching tribute for Joe Frazier, and nearly breaks down in tears as he does it. Then the 10 count comes,  and the emotion is palpable even to viewers at home. Tyson doing the ringing of the bell. Then another video Frazier tribute.
11:30 pm: Just got done with a video preview for the fight. All of the ring entrances, anthems, etc to come next. It's go time!
11:23pm: Larry Merchant in a taped video tribute to Joe Frazier. Cool stuff.
11:20 pm: Alright, Bradley-Casamayor is finally done. Pacquiao-Marquez next!
10:59: We see an interview clip with Marquez and Max Kellerman. Marquez says he'll beat him with experience and intelligence, and his hard work… 11:03 PM… Now we see Kellerman chatting with Pacquiao, and he's talking about proving to everyone how he's better than Marquez, that he has improved, and that he'll get the job done without any chatter afterward.
10:37: Excellent Alvarado-Prescott match over. One more undercard fight to go… 10:46 Bradley-Casamayor getting started
10:25: Alvarado-Prescott is a blazing barnburner. After round 7, we get a glimpse of Tony Weeks giving Pacquiao his instructions.
9:50: Burgos-Cruz is now over, so that's one fight down! … 10 PM, Alvarado-Prescott underway
9:39: We see footage of Pacquiao's entrance. Looks calm as he walks into the arena with Jinkee and the team. Marquez already entered a bit earlier.
9pm: What's up everyone? It's 9pm eastern and the Pacquiao Marquez 3 PPV is officially underway. Let's do this. Cruz vs. Burgos is up first.
Timothy Bradley vs. Joel Casamayor
Rd 1: I'm just hoping that this match doesn't kill all of the excitement in the arena, and all of my own buzz. First two fights were great, it'd be nice to keep it up. At the start of round 1, both guys are throwing a lot. Bradley looking quick, Casamayor eager to throw too. And the headbutts start. Then Bradley staggers Casamayor with a nice right. Good opener for Desert Storm.
Rd 2: Casamayor is throwing those headbutts, no question about it. Bradley trying to pick up his aggression. Coming forward, getting off first, landing a bit and staying busy. His round.
Rd 3: Bradley buzzing Casamayor a few times here in round 3. Geez, 65-years-old Casamayor wasn't a competitive guy to put in with the top junior welterweight in the world. Who guessed it?
Rd 4: Bradley just keeping it moving, doing good work. Landing some good shots, coming forward. Casamayor throwing more head butts than punches, just about. He looks gassed already. Casamayor also lost a point for the headbutts.
Rd 5: Bradley sits Casa down with a body shot. He gets up slowly around the count of 7. Bradley threw a brutal 4 punch combo to the body, then came back upstairs. He's just going to town.
Rd 6: Bradley knocks Casamayor down again at the start of the 6th. Casamayor disagrees, but it was a legit KD.
Rd 7: For what it's worth, upon viewing the replay, looks like the knockdown last round shouldn't have counted. Whatever at this point. Bradley still dominating. In the 8th, Bradley puts Casamayor down again, and Casa's corner waves it off. Finally. What a waste.
Bradley TKO8 Casamayor
Mike Alvarado vs. Breidis Prescott
On the unofficial scales for the evening, these two guys are middleweights at 157 lbs. Alvardo comes out to some Tupac. Nice. Announcers forgetting that Prescott lost his last fight, maybe that's why the buzz died for a Khan rematch. Of course, a win here would get that going again. Here we go…
Rd 1: Alvarado working with a very high, tight guard. Prescott throwing a lot, using a solid jab to dictate. Goes to the body, pushes off, and keeps working. Alvarado starting very slow. Round for Prescott, Alvardo did nothing.
Rd 2: Prescott busier and throwing first. Alvardo better get busy or he's going to find himself down by a wide margin. Taking that cue, Alvarado begins throwing more, using his jab. Prescott doing good work on the inside. His round again.
Rd 3: Alvarado much busier to start the third. Doubling and tripling up his jab, bouncing around on his toes, moving around. Not holding the guard as high. Prescott lands a nice uppercut to the chin. He gets warned for throwing low. Alvardo lands a right and an uppercut, Prescott answers to the body. Things picking up. Close round.
Rd 4: Prescott opens up and hurts Alvarado. Wow, Alvarado is all sorts of busted up. He is bleeding bad, either a terrible cut over his eyes or a broken nose, or both. He's a mess right now. Doesn't seem like he can see the punches coming right now with the blood. Blood everywhere. Alvarado lands a left hook that slows Prescott down. Lands another two to close the round. They trade after the bell, getting heated.
The cut is directly on his left eyelid. The worst place possible. They better get that closed up or this fight could be done.
Rd 5: Alvarado doing good work to try to get into the fight. Prescott warned for going low again, and is slowing down a bit after his fast start. Alvarado still bleeding bad though. But he's opening up and going for it. Lands a hard left hook on the break. Alvarado's best round of the fight.
Rd 6: Alvarado keeping up the good work in round 6. His straight right is landing. He's getting in an uppercut in close quarters. But Prescott throwing big uppercuts too. He has slowed down though, needs his second wind, Alvarado getting the better of him right now despite the cuts. They are standing toe to toe, forehead to forehead, and just trading uppercuts. Lots of great action here, turning into a very good fight.
Rd 7: Action stopped to get some loose tape cut off. These two working more from the outside more. Prescott looking pretty gassed right now. Now they're back to close quarters. Alvarado's team has done a good job with that cut, but it still gets reopened every round. Alvarado the bull right now. Likely his third straight round. But his face is wrecked.
Rd 8: "Uppercut City" according to Jim Lampley. Agreed. these two love trading uppercuts. Prescott now looks to be cut as well. But Alvarado looks like a different person right now than he began the night. Prescott seems to have found some more energy right now. Alvarado maintaining better form. Close round, good action. Probably to Alvarado.
Rd 9: Alvarado feeling so good now he's back to bouncing around on his toes. Prescott just so much less crisp than he was early on in the fight. Alvarado pumping the jab. Back and forth, both guys looking tired now, action has slowed. That's a close round that could swing this fight, maybe to Prescott, in which case we have it 5-4 for Breidis.
Rd 10: Prescott getting back to his jab here in the 10th. It's working for him. Also throwing big to the body. Alvarado lands a nice right. Prescott keeps digging to the body. Alvarado answering to the head with more rights. Nonstop trading. Alvarado hurts him with an uppercut, then puts him down! That's huge! Lands another huge uppercut, and a few more. Prescott is badly hurt, almost ends up through the ropes. Prescott getting continually staggered. Jay Nady stops it! He calls it off, and Prescott argues and then collapses into his corner in distress. What a comeback by Alvarado! Great stuff!
Alvarado TKO10 over Prescott… and his cornermen and cutman deserve as much credit as anyone. Amazing they were able to get that cut closed and kept it under control. Alvarado really proves his mettle here. Impressive all the way around, and a great battle.
Juan Carlos Burgos vs. Luis Cruz
We learn that Burgos is 133 lbs unofficially tonight, and Cruz is all the way up to 139 lbs…
Cruz looks sharp right from the start. He gives Burgos a bloody nose midway through the first round. Cruz trying to time Burgos, both guys letting their hands go. Burgos throws an 8 punch combo, not allowing Cruz to counter, and lands to the body. Cruz faster, but Burgos is lankier.
In round two, Burgos looking to land the overhand right, and continues throwing to the body. When Cruz gets off first, he looks great. Better to tag Burgos then let him start throwing big combinations. At the end of the round, Burgos tags Cruz with a big left that staggers him. Cruz had been winning the round, but that was the best shot of the night so far.
At the start of the round, Burgos staggers Cruz again. He looks more hesitant now, and is holding his gloves up high. Then starts throwing his jab more. Burgos has no answer for the Cruz jab. Cruz backs straight up though and gets tagged by left hooks when he does. Close round, and close, entertaining fight so far. All as expected.
Things slowed down a bit in the fourth, and that was to Cruz's benefit. He dictated most of the action in the stanza. In the fifth, Burgos begins opening up more, and Cruz answers him, standing toe to toe. Burgos stands him up with a left hook. Cruz just following Burgos around now though as Burgos jumps in, throws a shot, dances around and reloads. Good Burgos round.
Burgos staying much busier in the sixth. Cruz looks like he's a bit lost in there. Doesn't know what to do. Surprised to see Burgos using so much movement. Cruz gets him against the ropes and lands a nice right. Not enough there though. Burgos sticking and moving, then opening up with longer combos.
7th has slowed a bit again, which as usual, is more to Cruz's advantage. Is Burgos gassing? Throwing less and dancing more. Cruz coming forward with aggression. They trade sloppy big shots. Cruz also looks tired. Burgos still looking tired in the 8th, allowing Cruz to dictate, get off first and land some shots. Two rounds left, this one is up in the air.
Burgos lands a big right in the first 30 seconds of round 9. Later on, lands two thudding body shots. Burgos also lands a nice left hook at the end of the stanza. Definitely his round.
Both guys swinging for the fences in the 10th. Cruz looks the stronger of the two now, but not really landing anything great. Cruz ends the fight with a badly swollen right eye, Burgos also bruised and swollen a bit. Close fight, I think Burgos won more rounds though by being busier and landing harder shots.
Official Scorecards: 95-95, 97-93, 98-92 for Juan Carlos Burgos
—-
Thanks for checking out all of our fight night coverage, with live round by round scores and updates and full Pacquiao vs. Marquez results!