Pacquiao vs. Mosley Results, Round by Round Blog Updates & Full PPV Coverage:
On Saturday, May 7th, the huge Manny Pacquiao vs. Shane Mosley welterweight title fight is finally upon us. The Pacquiao vs. Mosley results will be broadcast on Showtime Pay-Per-View, and regardless of what you think of who will win or how valid the match-up is, it's going to be a massive event. Come fight night, you can find live Pacquiao vs. Mosley round by round updates and results right here on ProBoxing-Fans.com, where we will be covering the main event as well as the entire PPV undercard.
Pacquiao vs. Mosley Results & Round by Round Scorecard

| | | | | | | | | | | | | | |
| --- | --- | --- | --- | --- | --- | --- | --- | --- | --- | --- | --- | --- | --- |
| Round | 1 | 2 | 3 | 4 | 5 | 6 | 7 | 8 | 9 | 10 | 11 | 12 | Total |
| Manny Pacquiao | 9 | 10 | 10 | 10 | 10 | 10 | 10 | 10 | 10 | 10 | 10 | 10 | 119 |
| Shane Mosley | 10 | 9 | 8 | 9 | 9 | 9 | 9 | 9 | 9 | 9 | 9 | 9 | 108 |
Pacquiao vs. Mosley Round by Round Results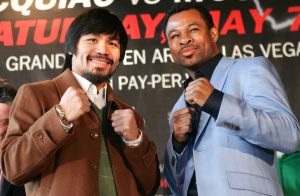 Mosley's ring walk features LL Cool J performing live… "don't call it a comeback!"… "I'm gonna knock you out… mama said knock you out!" Like the song selection. Mosley looks excited, perhaps a bit pensive, but focused.
Pacquiao comes out to another great song selection, with Jimi Jamison performing live "Eye of the Tiger". Awesome. Fight time here we go… Pacquiao looks super focused, and all smiles as usual.
Two good ring walks for Pacquiao and Mosley… Fight Time … finally! Huge amount of electricity in the air. Crowd is nuts.
Rd 1: – Fight starts out slowly. Mosley working his jab a lot. Both fighters keeping a high guard and being cautious. Mosley looks for a left hook and misses, then goes to the body with a nice right hand. Pacquiao answers with a hard body punch. Pacquiao not using a lot of movement, he's not quick on his feet right now.. he's just walking forward. Pacquiao blocks a Mosley right hand but gets pushed back. Close round, but I give it to Mosley for controlling more.
Rd 2: Pacquiao still not using much movement. Lands a right hook as he times Shane. That amps him up a little bit and he starts moving quicker. Mosley throws a 1-2 with force. Pacquiao answers with 3 punches, then digs to the body. Mosley pushes Pacquiao away. Pacquiao opening up more, and focusing on the body a good deal. Mosley has a "WTF" look on his face for a bit. The first real classic Manny Pacquiao moment comes in the last 10 seconds, as he darts in, throws a combo and darts around some more. Manny's round.
Rd 3: Mosley lands a good right in the start of the round, but Pacquiao seems undeterred. He keeps coming in and throwing, then unleashes a four or five punch combo as he lunges in a bit. Mosley ties him up and they restart. Pacquiao jabs, then combos and comes forward, and then suddenly he drops Mosley! Mosley is mad it happened, but Pacquiao attacks forward. Mosley looks super nervous now as he moves back and tries to hold. Pacquiao on a full-out attack now. Big 1-2 lands. Pacquiao goes body-body-head, Shane holds on and spins Pacquiao around. 10 seconds left, Mosley already breathing heavy, round ends and they knock gloves. Just the third knockdown of Shane's career, and the only not coming by the fists of Vernon Forrest. It was a 1-2 that did it, and Pacquiao's straight left, as usual did the damage.
Rd 4: Mosley looks a little tired and nervous as the round starts, doesn't know exactly what to do but he's trying. Pacquiao is still attacking. He gets down to the canvas but not from a punch. Mosley lands a right and a few other shots, Pacquiao answers to the body and Shane holds on. Pacquiao using his jab well, he's working off of it. Mosley throws a three punch combination with authority, Pacquiao blocks the punches and the round ends.
Rd 5: The two clash heads for the second time of the night, nothing major though. Mosley going to the body, trying to tire Pacquiao out. He has recovered well from the knockdown so far, although Pacquiao is still landing a lot of leather. Pacquiao's jab is looking maybe better than I've ever seen in the past. Mosley working on timing Pacquiao as he throws his own shots, but hasn't been able to land the big shot yet.
Rd 6: Mosley coming out strong at the start of the round, using his jab a lot. Pacquiao pressing forward though with combinations. He tries leading with a right hook and misses, Mosley pushes him away and tries to set his distance. Pacquiao feints with a jab, throws a lead left. Mosley lands a solid right, and he works the jab as the round ends. Mosley is fairly effective when he throws, but he's not throwing much. Pacquiao is busier and more aggressive.
Rd 7: Action continuing along the same pace here. Pacquiao is just doing a lot more. Mosley is keeping his guard, staying safe, and working behind his jab, but not much is actually following the jab. He tries to go to the body and then Pacquiao throws 4 punches, and Mosley backs off. Mosley backpedaling now, his eyes beginning to swell and redden. Pacquiao lands a right jab and a half hook half straight left. They exchange jabs, the crowd boos a bit, and the round closes.
Rd 8: Pacquiao pushes Mosley back with a jab. Then does it again. Mosley looks tired, and I don't want to say defeated, but he's not mounting much of an attack here. He's playing keep away a little bit. The crowd mixes in some boos with their enthusiasm for Pacquiao. Another Pacquiao round.
Rd 9: The fight continues along the same course as we've had for most of the evening here. About one minute into the round Shane begins throwing a little bit, he throws a 1-2, throws a straight right. Pacquiao still presses forward and attacking. He lands a good straight left. He throws an uppercut to the body, and another straight left to Shane's head. He's pressing forward, but not a guns blazing attack as we've seen from Pacquiao at times in the past. He looks a little bit tired too, and perhaps still wary of Shane's power.
Rd 10: If Mosley isn't going to open up and go for it, then I'd like to see Pacquiao open up more instead. Freddie Roach had been pretty vocal about his desire to stop Mosley. And then wait! Pacquiao gets sent to the canvas and it's called a knockdown. It seemed like Mosley threw him down, it wasn't a real knockdown. Pacquiao protests but the ruling stands. Clearly wasn't an actual knockdown. Maybe that will light a blaze under Pacquiao now, and it does. He opens up and is more aggressive than he has been. Throwing with bad intentions now. Really laying it on Mosley, downstairs and upstairs. Because of the official knockdown ruling, scoring on the round will be interesting… it was bogus and Pacquiao controlled the other action.
Rd 11: Pacquiao comes out looking to close the show in the 11th. Rushing forward, he is loading up on every shot. He is tagging Shane. A huge straight left comes home. Pacquiao setting up behind the jab, hooking off the jab, looking for the home run left. Mosley throws out a token jab, the crowd chants "Knock him out!" This is the vintage, trademark Pacquiao we have all come to expect. All aggression, fury and dominance. Big, big Manny round.
Rd 12: Pacquiao comes out looking to hurt Shane in the 12th, with the crowd chanting "Manny". Mosley has a brief flurry where he's throwing with KO intent, but it's all Pacquiao. The show closes without much of a bang, but the winner couldn't be more clear.
ProBoxing-Fans.com scorecard: 119-108
Official judges' scorecards: 119-108, 120-108, 120-107 for Pacquiao
Event Updates & Notes
1:00 am – The fight is now over, and it largely played out how most thought it would. Pacquiao says his legs have been having some problems, and that's part of the issue with why he wasn't as sharp as he normally is. He seems a little down on the performance, although he was dominant. Mosley seems dejected a bit, and isn't sure about his future…
11:47 pm – Now we're just waiting… seeing some Fight Camp 360 footage, training montages, Mosley talking about being disrespected, and so forth. Ring walks to come…
11:37 pm – National anthems.. Charice sings the Filipino anthem… Tyrese sings the USA anthem… Jamie Foxx sings America the Beautiful…
11:26 pm – Arce has just defeated Vazquez Jr via 12th round TKO. An epic war.
11:10 pm: Vazquez Jr – Arce in the midst of a war. With this fight extending, looks like Pacquiao-Mosley will have to wait a little bit later than anticipated before they get in the ring. We see a glimpse of Pacquiao wraming up in the locker room, and Mosley getting his gloves tied up.
10:25 pm: Pavlik-Lopez over, Pavlik wins via Majority Decision, and some very funky, wide scores there that I don't agree with. LL Cool J comes on the set and talks with James Brown. Vazquez Jr vs. Arce coming up next. Mosley and Pacquiao each have interviews of a few minutes with Jim Gray.
10:00 pm: Pavlik-Lopez still going on. We see that Pacquiao weighs 149 lbs tonight on the unofficial scales. Naazim Richardson is interviewed and continues talking up a good game like he always does. An interview with Freddie Roach follows.
9:30 pm – Alvarado-Narh has come to a sudden close with Narh quitting after 3 rounds. We see footage of Mosley making his way into the arena, and will wait to the next fight. What a strange ending for Alvarado-Narh. In the meantime, we get the Super Six semifinalists being interviewed in pairs, Andre Ward and Arthur Abraham and Carl Froch and Glen Johnson.
9:00 pm – Alright, the PPV is officially underway, we get some montages and an intro from James Brown as the festivities get underway. It does feel a little bit funny having a major Pacquiao pay-per-view brought to us by Showtime. But hey, with Gus Johnson making the blow-by-blow calls, you can't go wrong.
5:20 pm – Apparently Pacquiao has been in a car accident this afternoon. He is uninjured, and the fight seems to be unaffected, but we'll keep you posted if anything changes.
Wilfredo Vazquez Jr vs. Jorge Arce
Vazquez Jr. opens up the first round with some very effective boxing and movement. Arce though stalks him and lands a big left that looks to buzz Vazquez, and he lands a big overhand right later. Arce doing his best to turn the fight into a brawl… Vazquez will need to change that if he wants to win this fight. It's interesting that Arce looks so big and muscular, and Vazquez doesn't look to really have a big size advantage.
Arce continues applying a ton of pressure in the second, Vazquez Jr. looks a bit flummoxed in there. Arce taps his chin and taunts Vazquez, then turns up the heat even more and buzzes Vazquez. Vazquez answers back with digging body shots and the two trade a bit, before Vazquez circles for the final 30 seconds.
The third starts more to Vazquez's liking, as he picks his shots and keeps his pacing and distance more. Arce though won't stay in the background for long, and he begins landing shots by midway through the round. Arce looking great so far, and is winning the fight.
This fight has been turning into an absolute war. Arce has been tagging Vazquez Jr, but he isn't backing down. The two are standing toe to toe in the final 30 seconds. Then BOOM Vazquez Jr. crumples Arce with a beautiful left hook right at the tip of the chin right at the closing bell. Huge punch and big knockdown for Vazquez Jr. Arce's face is busted up now.
Arce comes back strong in the fifth though, and continues pressing forward. Vazquez and Arce exchange digging uppercuts to the body. More of the same in the sixth, it looks like maybe Vazquez has slowed a little bit more than Arce from all the landed body shots. But he's not shying away from the action at all.
In the 7th, Vazquez turns the tides a little bit as he walks forward aggressively. He gets Arce to the ropes and begins teeing off, but Arce lands solid leather with his back to the ropes, then reverses positions and gets Vazquez trapped on the ropes. In the final half minute of the bout, each man must have landed a dozen flush shots to the face, with Vazquez seemingly landing the crisper shots, and doing so more frequently.
The action in the 8th is a bit tamer, but that's only by comparison. They are giving it their all. Vazquez Jr. goes down in the 9th but not from punches… still, it shows how he is tiring. Arce looks to be holding  a bit now as he charges in, and Vazquez Jr. then wraps him up and keep them there. Both definitely may have gassed a bit.
Arce really hurts Vazquez in the 11th as he bulls forward. His legs look almost completely gone. Arce is laying it on him and Vazquez Jr. looks like he is running on empty right now. He falls to the canvas but not from a punch. Arce charges back in and keeps throwing to the body and head. Vazquez leans against the ropes for support and takes a few a punches as the bell tolls. One more round to go…
Arce jumps right on Vazquez Jr. at the start of the 12th, and immediately has him in big trouble. He continues throwing punches, seemingly in the dozens, and gets him pinned against the ropes. Vazquez Jr. looks like he's about to go out, and Joe Cortez is watching very closely to jump in and stop it. He doesn't though, and Vazquez keeps on trying to hang in there but doesn't hold on. Then his corner, his father Wilfredo Vazquez Sr., throws in the towel and ends the show.
What a fight! 12th round TKO win for Jorge Arce. Wow.
Kelly Pavlik vs. Alfonso Lopez
Introducing Kelly Pavlik, and we hear that he's the WBC #1 Super Middleweight Contender. What a joke, although not a surprise with the sanctioning bodies. Also interesting to see Pavlik with all of his new tattoos, and the crowd is starting to fill in a bit. Anyway….
Lopez comes right out firing, but then begins to showcase his quick foot speed and movement. Lopez looking confident and focused in, while Pavlik looks slower and perhaps more unsure, looking for a big right hand to land.
In the second, Lopez continues using movement effectively. Toward the end of the round, he puts together strings of punches that land pretty cleanly. Pavlik not looking great so far. Pavlik storms out to start the 3rd, and he goes to the body. He looks more "into" the fight now, although he's following Lopez around a little bit. Lopez still impressing with his speed and confidence.
We have a head butt in the start of the fourth, but nobody looks worse for it. Pavlik turning it up more now, working behind his jab, looking a bit more relaxed. Lopez is moving less, but is still throwing his hands, coming forward and landing.
Action continues in both ways in the fifth. In the sixth, Pavlik is walking down Lopez and is landing really well to the body. Lopez looked to have slowed down, and is breathing harder and laboring a bit.
Pavlik finding his range in the 7th, Lopez a shell of the guy he was in the first few rounds. Still has his moments, but Pavlik is dictating now. Pavlik lands a low blow and Lopez takes some time off, then comes back a bit re-energized.
Lopez looks better in the 8th than he had for a few rounds. Pretty even going in the round, with both guys having moments. Press row has it as wide as 79-73 for Pavlik, I think it's much closer than that, could be within 1-2 points.
Going into the 10th both of the guys come out swinging and looking to close the show and make a statement. Pavlik lands a big left hook that hurts Lopez, Lopez fires back but then retreats. Pavlik lands a few more big shots, and the crowd gets really amped up for probably the first time of the night.
The good news is that Pavlik looked better in the last few rounds than in the first few, so he was rusty but didn't "lose it". He needs to stay active and get back in the ring soon, and he needs a few more fights before he lands a major headline bout against one of the big dogs at 168 lbs.
Judges' scorecards: Majority Decision 95-95, 98-92 and 99-91 for Kelly Pavlik
Pavlik deserved the win, but those two scorecards are ridiculous.
Mike Alvarado vs. Ray Narh
The first fight of the evening is underway, and the two spend some time feeling each other out. Narh is tall and lanky, and plays the role of aggressor in the early going. He has pretty good technical skills and works behind that long reach.
Midway through Round 2 Alvarado lands a huge left jab that really thuds. Narh answers back with a stiff right a moment later. When Alvarado sits on his punches you can really see that body uncork and see the power that he throws with. He backs up Narh with an overhand right towards the end of the round. Big round for Mike Alvarado.
With round 3 beginning, Alvarado is in stalker mode, and it's clear that Narh has felt some of Mile High's power and is trying to keep clear of it. Alvarado throws a very wide, looping right hand, but gets away with it because Narh has completely gone on the defensive now.
STUNNING. In between rounds 3 and 4, Ray Narh decides to stay on his stool and quit. Inexplicable… Tarver says that his check should be taken from him. Just taps out for seemingly no reason in the very beginnings of a fight, and this was a guy looking to get a break. For Alvarado, it's onto bigger and better things, but he couldn't get the statement win he wanted.
——-
Thanks for checking out ProBoxing-Fans.com for the Pacquiao vs. Mosley results and coverage that you need. We strive to give boxing fans everything that they crave, so whether you don't want to shell out your hard earned cash for the pay-per-view, you won't be around to watch it live, or anything else, we have you covered.
The best Pacquiao vs. Mosley round by round and complete, live updates can be found right here. So when it's fight night and you need total coverage, want to connect with other fans, and more, come right here for your Pacquiao vs. Mosley results.