In a special four part series, I look at the careers of the men affectionately labelled 'Four Kings'. Sugar Ray Leonard, Roberto Duran, Thomas Hearns and Marvin Hagler were quite simply the fighters of a generation, picking up multiple titles and awards, whilst also fighting each other in the process.
Firstly, I take a look at Sugar Ray Leonard, a man needing little introduction.
Palmer Park, Maryland's Ray Leonard is one of the finest boxers to ever grace the ring. He started his boxing odyssey in 1969 at his local recreation centre, where looking at his brother collecting various trophies motivated the young Leonard into taking the sport seriously.
Several national accolades followed for him, including back to back Golden Gloves successes in 1973 and 1974. The 1975 Pan American games gave Leonard his first global success, with Gold in the Light-Welterweight division, and one year later, his star would reach its apex in the unpaid code with Gold at the 1976 Montreal Olympics.
This also seemed to be the boxing apex for Leonard, as he announced his intention to go back to school, with his journey ended and his dreams fulfilled.
His plans were changed by a lawsuit from his partner for child maintenance for his son, and the sudden illnesses of both his parents. With Leonard feeling a need to support all of his family, and a lack of endorsement following the negative press of the lawsuit, he decided to turn professional.
His amateur trainer, Janks Morton, introduced Ray to an attorney by the name of Mike Trainer.
Trainer sought $21,000 to be repaid within four years from investors, and made Leonard's own company in Sugar Ray Leonard inc.
The great Angelo Dundee was drafted in as manager and trainer, but he would leave the day to day work to Morton and fellow amateur coach Dave Jacobs. For this Dundee would receive 15% of future purses.
Leonard's debut in February 1977, a six-round points win over Luis Vega, earned him over $40,000, and immediately paid off his loan. He would be showcased almost monthly, and in his fourteenth pro fight, he stopped the well respected Floyd Mayweather Senior in ten rounds.
November 1979 saw Leonard at 25-0 and in his first World title tilt. In his way would be the formidable WBC Welterweight champion, Wilfred Benitez, and the combined $2.2 million on the line for the pair represented the highest non-Heavyweight purse at that time.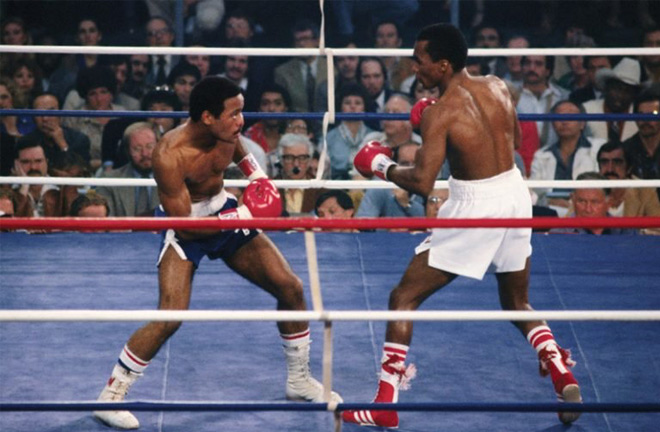 The fighters swung for the fences in the 15th and final round. A devastating left uppercut thrown off the jab from Leonard caught Benitez on the chin, sending the champion to his knees. Regaining his feet, he stepped groggily to a corner, kicking his legs to get the feeling back. Leonard threw two punches more, and referee Carlos Padilla stopped the fight, giving Leonard his first world crown.
A massive left hook accounted for Londoner Dave 'Boy' Green in his first defence, and next up for Leonard would be a grudge match for the ages back where he won Olympic Gold.
Sugar Ray Leonard and Roberto Duran would be forever linked together, and they met at the Olympic Stadium in Montreal, Canada in June 1980. 
Leonard was the warm favourite, and the star attraction, earning anything up to $10 million compared to Duran's $1.5 million. The fight was a boxer v brawler affair, but Leonard, supposed to be the boxer, elected to stand and trade with the Panamanian wild man and it was a fight you couldn't take your eyes off. 
It was a toe to toe epic, but Duran handed Leonard his first career reverse with a deserved unanimous decision win.
Just five short months later, the pair would rematch, with Leonard's trainer Dave Jacobs quitting as he wanted Ray to take some tune up fights before facing Duran again. Leonard though had a completely different mindset for the rematch.
When Leonard fought, he usually wore red, white, and blue trunks and had tassels on his shoes, but for the rematch Leonard wore black trunks, black boots and no tassels. 
Before leaving his dressing room, Leonard asked Mike Trainer "How do I Look?" to which Trainer replied: "You look like a mix of the Grim Reaper and an assassin". Leonard replied "good". 
Duran had partied hard in the months since becoming champion, and it showed. The fight would infamously be remembered as the 'no-mas' fight.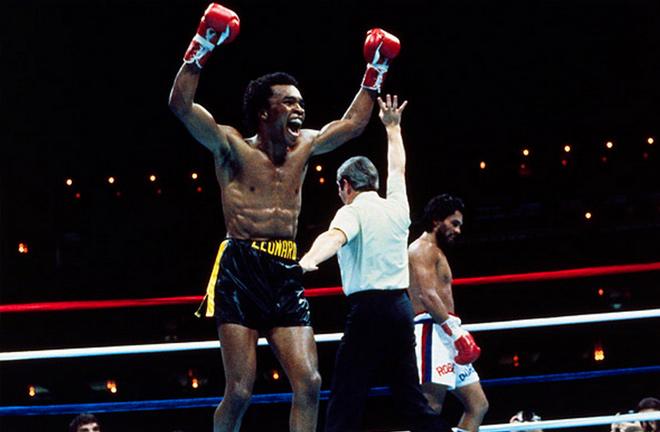 Leonard stuck to his boxing skills and was simply masterful, much to Duran's frustration and disgust. With Leonard posturing and showboating, Duran simply turned away from the action in the eighth round and insisted he had had enough, crowing Leonard champion once again.
After a simple stoppage defence agains Larry Bonds, Leonard moved up to Super-Welterweight, and relieved Ayub Kalule of the WBA belt via ninth round stoppage. 
'Sugar' would put his belt on the line in 1981 against Thomas Hearns, who held the WBC crown. Their contest was the fight of the year. With Hearns seemingly in control, and ahead on all cards in the 14th round, Leonard produced a bludgeoning flurry of punches that forced the referee to stop Hearns on his feet.
After a third round stoppage defence against Bruce Finch, Leonard was sensationally forced to retire due to a detached retina. 
After several consultations and operations, Ray reversed this decision, and returned in May 1984, some 27 months after his last fight. 
The ring rust showed as he was floored for the first time as a pro, but managed to stop Kevin Howard in nine rounds. Leonard promptly announced post fight that he was again retiring, citing that he just didn't have it anymore.
After witnessing "Marvellous" Marvin Hagler's Middleweight title defence against John Mugabi, Leonard was convinced he had Hagler's number. 
Not partaking in any 'warm up' matches, Leonard took on Hagler in April 1987 for the WBC Middleweight title. Leonard defied his critics and eked out a split decision to dethrone the great champion. 
The victor again retired, but a month after Hagler announced his retirement in 1988, Leonard again returned, this time to move to Light-Heavyweight to take on Danny Lalonde for the WBC and WBA titles.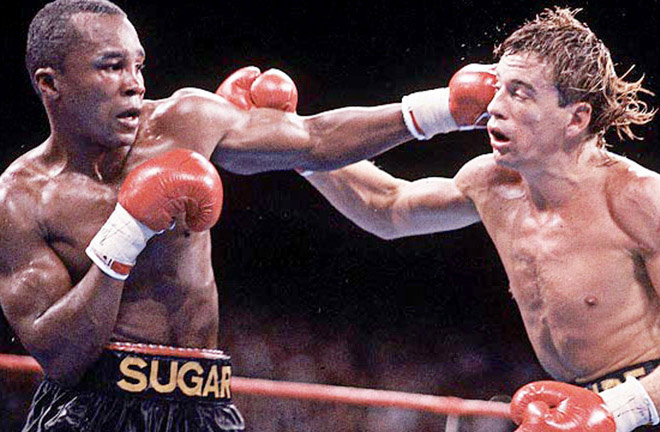 This would be his first fight without the legendary Angelo Dundee, who split due to contract issues. Leonard was off balance and knocked down in the fourth, but roared back to stop Lalonde in the ninth to become a four-weight World champion.
Next would be a rematch with Thomas Hearns in a challenge for the WBC and WBO belts at Super Middleweight, and, despite Tommy's best efforts, knocking Leonard down in the third and eleventh rounds, the verdict was a split draw. 
That seemed to be a fortunate decision for Leonard as many believed Hearns had won the fight. 
Leonard would then meet Roberto Duran for a third time, this time for the WBC Super-Middleweight crown, and Leonard dominated the affair with his superior boxing skills to take a wide points win. This would prove his final victory in the ring.
Leonard relinquished his belt in January 1990, but couldn't entice Hagler or Hearns into matches with him.
Instead, Ray went back down to Super-Welter, but, after another fourteen month lay off, he found WBC champion Terry Norris too much for him, and he dropped a wide points decision.
Norris was 11 years Leonard's junior and quicker. 'Terrible' Terry knocked Leonard down with a left hook in the second round and with a short right in the seventh. Leonard easily made it to the final bell. "I knew I didn't have it when I entered the ring," said Leonard.
Yet again he retired, but six years later in 1997 the boxing bug bit again. At 40 years old, Leonard simply couldn't pull the trigger, and Hector Camacho stopped him for the very first time in five rounds. This was the final farewell for this all time legend, and he never fought again, finishing with a 36-3-1 record.