Part three of our look at the Super Middleweight dominance of Joe Calzaghe begins with a defence of his WBO title at a famous landmark.
Defence Eleven – Miguel Angel Jimenez, 17th August 2002
Result: Calzaghe via unanimous decision (120-107 x3)
Calzaghe was out again relatively quickly following his trip to Denmark in April, with an August date outdoors at the iconic Cardiff Castle for his next outing.
WBO Latino champion, Miguel Angel Jiminez was the next contender for 'The Italian Dragon's WBO Super Middleweight title, and the Puerto Rican, who came in at just three days notice, had only lost once in 22 contests.
6000 passionate Welsh fans were in attendance as the home favourite dominated from start to finish, but he didn't convince in what was a flat performance against a fighter that had come to survive.
Jiminez was docked a point in the tenth for a head butt, as the champion frustrated his overwhelmed opponent to win every round in a landslide points win. Calzaghe again hurt a hand during the contest.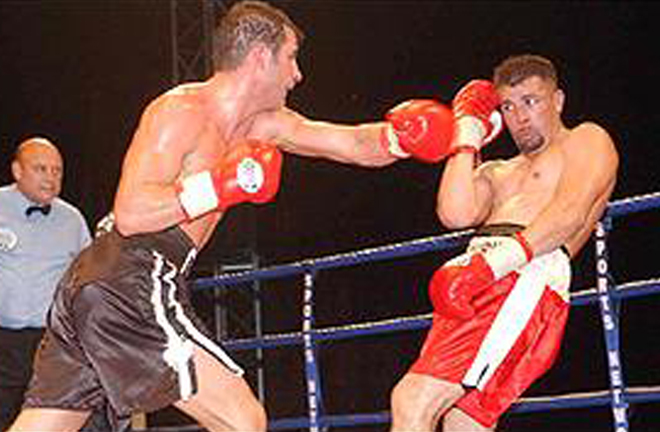 "He is a very tough fighter," the champion said on Sky Sports post-fight.
"I realised that after three or four rounds, I hurt my hand on his head, although all fighters use that excuse of course".
"It's no excuse – I injured my left hand, but at the end of the day I boxed every round and I won every round."
Defence Twelve – Tocker Pudwill, 14th December 2002
Result: Calzaghe by second round TKO
2002 was due to be rounded off by Calzaghe at the Telewest Arena in Newcastle against four-time World title challenger, Thomas Tate, but the Texan withdrew from the bout with just two weeks to spare, leaving Dakota's Tocker Pudwill to step in.
The card would also be a double-header, with Ricky Hatton defending his WBU Super Lightweight belt in the other main event.
Pudwill had been another victim of IBF champion Sven Ottke, widely outscored in June 2000 in an attempt at the IBF belt.
The visitor was a distant second favourite to beat Calzaghe, and Sky Sports' commentator Ian Darke described the challenger's task as "like flying to the moon in a paper aeroplane," and so it proved.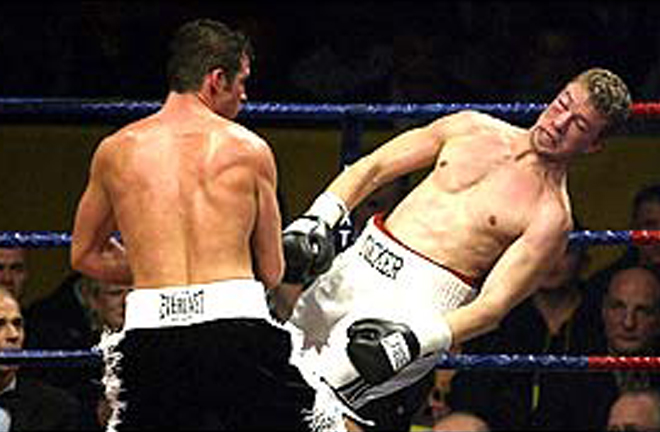 After a wild exchange, Calzaghe nailed Pudwill and floored him with a straight left with 20 seconds of the opener remaining.
The challenger groggily made the count, and a solid counter left hook put him on the canvas again, but he was rescued by the bell.
The end was most certainly nigh, and after an accumulation of punches floored the visitor again, referee Dave Parris had mercifully seen enough.
Decked in a Newcastle United Football shirt post-fight, Calzaghe addressed the crowd.
"This showed the difference between me and Sven Ottke, he (Pudwill) went the distance with him, and I've just blown him away," a jubilant Calzaghe explained.
"I want the best pound-for-pound fighters in the world, I'll knock Bernard Hopkins out".
Defence Thirteen – Byron Mitchell, 28th June 2003
Result: Calzaghe by second round TKO
Two-time WBA Super Middleweight champion Byron Mitchell would be the next man to test Calzaghe's mettle and their meeting would be a thriller.
It would turn into a fight where the World would truly take notice of Calzaghe, and it was a memorable two round shootout, with the Welshman forced to overcome adversity for the first time.
The first round saw Calzaghe looking to trade with Mitchell, loading up and looking to remove his foe early.
This continued in the second, and an overhand right from Mitchell sensationally dumped Calzaghe heavily to the canvas for the first time in his career.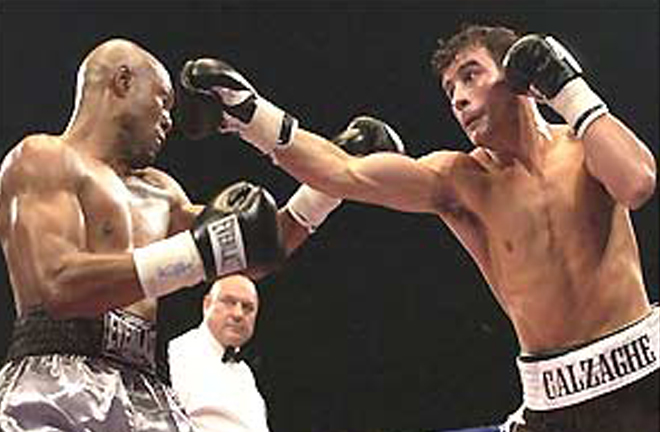 He rose on wobbly legs, but with Mitchell going for broke, a counter left dropped the challenger.
He also rose shakily, but reminiscent of Hagler vs Hearns, the action continued with the pair trading frantically.
Calzaghe got the better of the exchanges, stiffening Mitchell and leaving him tottering towards the ropes where referee Dave Parris called the fight off.
"I took six months of frustration into the ring," Calzaghe said post-fight.
"I was going well but I dropped my hands and got caught.
"You wonder about what happens if you go down and it had never happened to me before. But I wasn't hurt, I was embarrassed more than anything.
Frank Warren yet again ignited the fires for a clash with Bernard Hopkins.
"I will talk again to Hopkins' promoter Don King and see if we can make the Hopkins fight happen.
"Roy Jones has moved up to heavyweight and James Toney has signed to fight against Evander Holyfield in October, so Hopkins does not have too many options".
Defence Fourteen – Mger Mkrtchyan, 21st February 2004
Result: Calzaghe by seventh round TKO
The fight with Mitchell was Calzaghe's only assignment of 2003, and 2004 began with a defence against little-known Armenian-born Russian, Mger Mkrtchyan.
The challenger and number one contender had only been twelve rounds once, in a split decision win for the WBO Asia Pacific belt against Vage Kochariyan in November 2002, so the omens didn't look too good.
The fight was scheduled for December 2003, but Calzaghe had to withdraw due to flu.
The champion was no nonsense in a seventh round stoppage win. After chopping the tree down for six-and-a-half rounds, a variety of punches finally broke Mkrtchyan's resistance, and he fell to the deck. He beat the count, but the fight was rightfully waved off.
Calzaghe had insisted he wanted to move up to Light Heavyweight in the build up to the fight,
"I think I'll be a better fighter moving up in weight, I'm hopeful that I can be a two-weight World champion."
Defence Fifteen – Kabary Salem, 22nd October 2004
Result: Calzaghe via unanimous decision (118-107, 117-109 & 116-109)
It wouldn't be a foray into the 175lbs division for Calzaghe next. Instead, it would be another lacklustre challenger for his WBO belt.
Egyptian-born Brooklynite Kabary Salem faced Calzaghe at the Royal Highland Showground in Edinburgh and Calzaghe's frustrations boiled over pre-fight and during the contest itself.
The pair had clashed at the weigh-in, and it was a messy fight when the pair finally got in the ring.
Salem would stun Calzaghe in the fourth though, as the champion took his eye off the ball. Incensed by a blatant use of the shoulder by Salem, a counter right hand floored Calzaghe for the second time in three fights.
Calzaghe got back to the task in hand though, but still remained frustrated and was docked a point in the eleventh for an intentional head butt.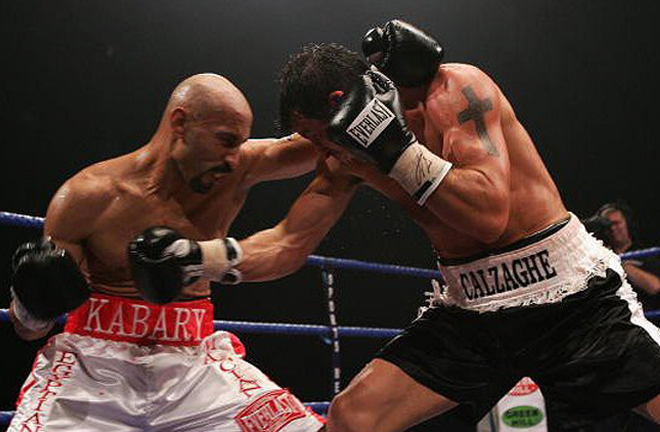 The Welshman would score a knockdown of his own in the final round, as he came through an untidy battle to retain his title.
"I'm not superhuman and need to be active and fighting more regularly," explained Calzaghe post-fight.
"I'll stay in the gym and be back in February, it's made me more determined to show I'm better than that display. My first priority is a World title fight at light heavyweight."
It would still prove to be a little bit longer for Calzaghe to truly prove his Hall-of-Fame credentials.