Williams and Cintron Clash in a Junior Middleweight Bout in May
On May 8, 2010, "Tall" Paul Williams, the former two-time WBO Welterweight Champion, one time WBO Middleweight champion and also one of the most avoided and physically intimidating fighters in his division, will battle against the hard-hitting "El Asesino" from Puerto Rico, Kermit Cintron. This promises to be a battle as Cintron is an extremely hard puncher who isn't afraid to stand toe to toe with anyone (as seen in his fight with Margarito) and Williams is extremely rangy and powerful, utilizing a very busy style in which he can remain aggressive while using his reach to his advantage. Williams and Cintron were previously scheduled to fight in 2007 but Cintron pulled out due to injury.
Paul "The Punisher" Williams

38-1 (27 KO's)

Augusta, Georgia

Height: 6'2"

Reach:  82"

Last 5 Fights: Although Williams is riding an impressive 5 bout winning streak, he is coming off of a very tricky, very close fight against a slick Sergio Martinez in December. Williams is currently at his peak and has fought his most impressive fights in the past few years, most notably being his 2008 rematch against Carlos Quintana (who defeated Williams by decision in their first fight) in which Williams avenged the loss by stopping Quintana in the first round. He also defeated the always tricky Winky Wright as well as the veteran Verno Phillips in convincing fashion. Although most of his previous fights were very strong performances in which his opponents were baffled by his height and long reach, his most recent fight against Martinez exposed some of Williams' vulnerability, yet also proved his resilience since he was down early and was able to come back and win the middle rounds and the final round against a very gutsy Martinez.

Kermit "El Asesino" Cintron

32-2-1 (28 KO's)

Carolina, Puerto Rico

Height: 5'11"

Reach: 74"

Last 5 fights: Cintron is coming off of two recent one sided victories over two fighters who only have a combined 32 professional fights, including his surprising win over hot prospect Alfredo Angulo. He also fought to a draw against Sergio Martinez in February of 2009, the fighter who gave Williams all he could handle later that year. In this fight, Cintron and Martinez fought a very closely contested fight and in the twelfth round, Martinez was deducted for a rabbit punch, which cost him the decision in the end. Cintron has appeared to have been knocked out earlier in the bout, adding great controversy and confusion to the results. In another battle against a big name opponent, Cintron was finished off by Antonio Margarito in a vicious brawl via 6th round TKO to determine the new IBF Welterweight king.
Williams vs. Cintron Preview:
Styles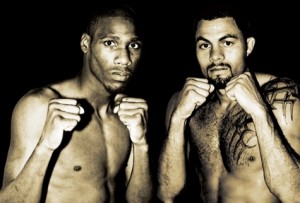 Paul Williams is a powerful and aggressive fighter with the height, range and wingspan of a Heavyweight, making him a dangerous opponent for anyone he faces. His one of a kind physical attributes (Middleweight fighter with a height of 6'2" and reach of 82") gives him the obvious advantage over the shorter, less rangy, yet slightly more powerful Kermit Cintron, but Cintron will certainly not be afraid to exchange shots with Williams in the ring. It should be interesting to see Cintron's game plan against Williams. Will he attempt to stand toe to toe with Williams? Or will he remain patient and look for an opening or weakness in Williams' defense and try to work his way inside to eliminate Williams' extreme reach advantage? We will see on fight night.
Will William's desire to fight Pavlik cause him to overlook Cintron?
It has become very clear over the past year that Paul Williams wants to challenge Kelly Pavlik for his WBC and WBO Middleweight belts, but Pavlik has backed out twice, most recently due to a staph infection in 2009. Instead of waiting for Pavlik, Williams is doing the right thing by moving forward and taking on other formidable fighters.  Cintron will be no walk in the park. Cintron is a hard punching warrior who will stand toe to toe with Williams and leave it all in the ring. I believe that Williams will come into the fight prepared because he knows that he must defeat Cintron if he wants to land that big fight with Pavlik.
Can Cintron give Williams as much trouble as Martinez did?
Cintron and Martinez are both tough fighters but for different reasons. Cintron is a hard punching battler who fights very aggressively but his hand speed has been questioned. Martinez is slicker and quicker than Cintron, but not quite as powerful, seeing as he has a KO% of 50% and Cintron has a KO% of 80%. I feel as if Williams will be able to read the right-handed Cintron better than he read the southpaw Martinez.
Williams vs. Cintron Prediction:
Due to the styles of the fighters, I see the Paul Williams vs. Kermit Cintron bout ending in a stoppage. Cintron will press forward and try to battle at the center of the ring with Williams while Williams will use his range and height to hit Cintron with powerful shots from all angles. This will not be a pretty win for Paul Williams and he may not look extremely good in earning this victory.  I see Williams hitting the canvas once in the fight, but again, the resilience he showed against Martinez will resurface as Williams will defeat Cintron by 10th round TKO in an exciting, closely contested match-up in which Cintron will have his chances.