Ward & Green Both Confident of Victory on June 19th
Two days after it was announced that undefeated World Boxing Association (WBA) 168-pound champion Andre Ward (20-0, 13 KOs) would defend against world-ranked "Sweetness" Allan Green (29-1, 20 KOs) in a Group Stage 2 bout in the Super Six World Boxing Classic on Saturday, June 19, at the Oracle Arena in Oakland, Calif., on SHOWTIME® (10 p.m. ET/PT, delayed on the West Coast), the boxers spoke with the media before the Andre Dirrell-Arthur Abraham tournament bout here Saturday night.
Here's what they had to say:
ANDRE WARD (who'll be making his first defense of the WBA 168-pound title)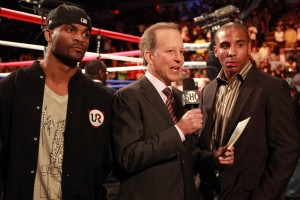 "It's time for all the bravado and all his talk to end. It's time to show up and take care of business. I feel great and I'm really looking forward to it.
"I'm ready to rock. I'm human and I hear what he is saying. But all he is doing is adding gasoline to the fire. I'm always highly motivated anyway, but now I'm highly stimulated, too.
"In terms of all his talk, whatever he's been saying to the media, none of it bothers me. It certainly doesn't rattle me. I've been accustomed to it, first at the highest levels of the amateurs and now as a pro.
"There's a reason behind what he does and says and a lot of it has to do with fear and insecurity. Like he is trying to convince himself what he can do.
"I'm sure it will help ticket sales. The fans are going to be like, 'Who is this guy and what's he all about?' But when you talk, you've got to back it up. Believe me, we are going to get to know each other really well in the ring on June 19. I can't wait.
"The victory over Kessler confirmed to me that I belong and it brought me closer to being the best in the division, the No. 1 fighter at 168 pounds."
ALLAN GREEN (who is ranked No. 3 in WBO, No. 4 in WBC, No. 5 in IBF, No. 7 in WBA).
"I am truly excited about June 19 and feel that justice has been served because I felt I deserved to be in this tournament from the beginning and am ready to take advantage of the opportunity. I can't say if this will be my toughest fight but it definitely will be the biggest event I've been part of.
"For Ward to say what I say is out of fear or whatever is unfair. I can't believe he'd say that. It's unfair for anybody who doesn't know another person to say things like that. I speak what I feel. But it's OK.
"We have contrasting styles in the ring so I am not sure what kind of fight this will be or how it will play out.  Ward is a smart, crafty boxer and he's a good guy, but I can box, or punch or make it a dogfight if I have to.
"I'm actually glad the fight is in Oakland. It didn't have to be, you know. But a ring is a ring, and no matter what the city, it isn't going to change the outcome. So I don't mind going there and fighting him in his backyard. I am ready to rise to the occasion. I will rise to the occasion.
"Growing up, before you start thinking about making money or providing for your family, you dream of winning a world title. That is every boxer's main goal at the beginning.
"This is going to be a great fight. I am very confident.''
Comments
comments