Juan Carlos Payano defeated Alexis Santiago in the main event of Premier Boxing Champions Toe to Toe Tuesdays, in Las Vegas Nevada, presented by Mayweather Promotions, with an impressive decision victory.
Dominican Payano, was consistent with his punches which Santiago couldn't handle as he was focused on landing the big shot to his opponent. The fight had its rough moments, with Payano receiving a cut above his left eye in the 3rd round, though did not discourage the Dominican.
American Santiago had his fair share of shots, landing big right hands late in the 4th and 5th rounds that had Payano having to re adjust, but he was eventually able to gain control of the fight with plenty of shots back.
At the end of the 10 rounds, all three judges ruled in Payano's favour, scoring him 100-90 and 99-91 twice.
Payano was confident coming into the fight and his game plan looked to have worked.
"I felt like I was winning every single round," said Payano. "There were small moments on the inside that I gave away but I think I did the better work each round."
"The strategy was to wear him down and then really try to walk him down and take him out," said Payano. "Santiago was a little too tough for his own good so I kept some distance at times and controlled the fight."
Santiago, who last fought in September 2016, felt the layoff and could tell during the rounds.
"I felt the long layoff when I got in there," said Santiago. "I was a little tight and I loaded up too much instead of using my speed."
Accepting defeat, though believing the score should have been closer, Santiago wont let the loss get him down and will train harder when gaining his next opportunity.
"I thought the fight was a little closer," said Santiago. "He did more work than me but I thought I had good moments. I wanted to box him a little more but I couldn't find my range so I just tried to close down the gaps. We just have to go back to the drawing board and stay more active. I want to get a tune-up fight then get right back to fighting top guys."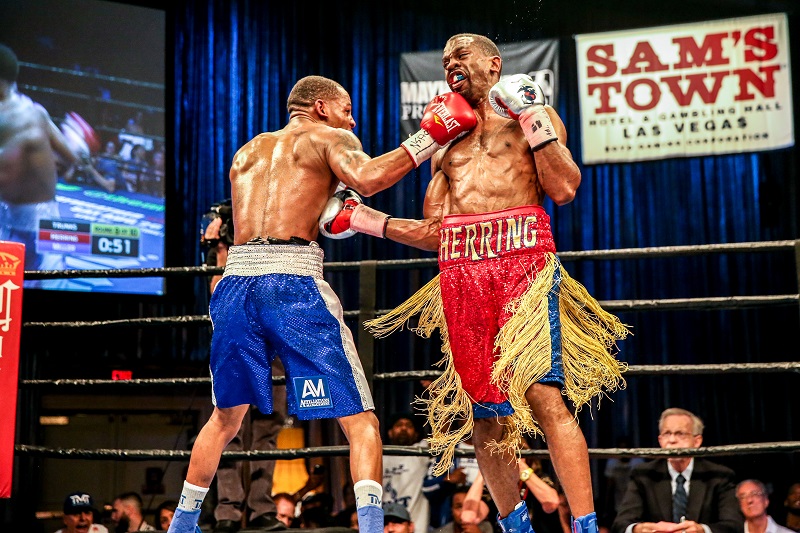 On the same night, the co-main event saw Ladarius Miller defeat Jamel Herring by a unanimous decision victory in their lightweight clash.
Both fighters were cautious, with Miller trying to establish his jab and Herring using his movement to gain the upper hand. The 2nd round was similar to the first, though more jabs were thrown.
Miller looked to take control in the 3rd, as he threw jabs at Herring and a straight left hand caught Herring in his head. The following rounds saw Herring try to counter Miller but that left the 2012 U.S Olympian frustrated as Miller's movement and left hands kept threatening.
The final three rounds saw both fighters trying to land the 'money shot' and leave victorious, but neither could capitalise and thanks to Miller's consistent work throughout the fight, was given the victory via unanimous decision.
Miller now looks to the future as he begins the climb up the ladder.
"I thought 97-93 was the right score," said Miller. "I took it easy in round nine and felt him out in the first two rounds. But the rest of the fight I felt like I dominated. It's a process. I'm just climbing the ladder right now. I want to get another test and fight more strong fighters. I want to be on the biggest stages. I'm ready for the step up."
Herring was disappointed with the decision and believed he should have won the fight.
"I thought I landed some heavy shots in there and was more aggressive," said Herring. "Obviously the judges saw it differently. I'll get back with my team and see what's next, but I did think I won the fight. I thought I won the last two rounds and pulled it out."