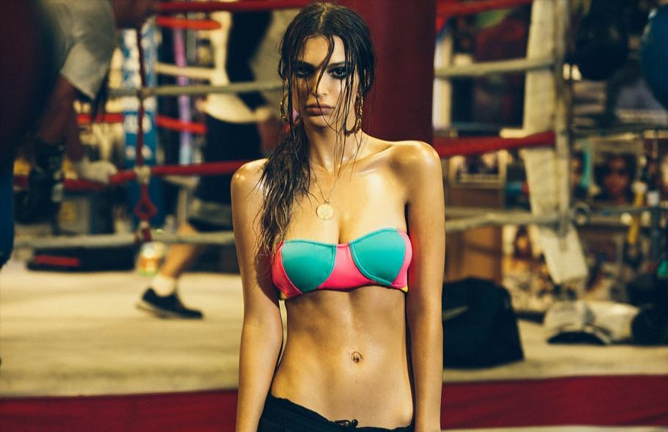 Emily Ratajkowski Pictures as a Sexy Boxer
Emily Ratajkowski has been taking the world by storm. At least, that is, according to the few hundred million people who have watched her star in the Robin Thicke, Pharrell and T.I. "Blurred Lines" music video, including both the rated and unrated versions. When she hasn't been busy making the internet collapse from all the attention she has received from Blurred Lines, she's also been taking part in plenty of photo shoots, including this one, where she's in a boxing gym.
Take a look at this great collection of hot Emily Ratajkowski pictures as a boxer.
Emily Ratajkowski Photo Gallery
All of these photos were taken by photographer Olivia Malone. Check out her website here.
Emily Ratajkowski would make quite the boxer, wouldn't she? I don't know if she actually has any experience with the Sweet Science, but she is sporting that USA jacket in some of these photos along with some red, white and blue… and she does seem to know how to wear those hand wraps and all of that gear… maybe she has some aspirations? Hey, you never know.
Of course, if she were a pro boxer, she wouldn't be the first to dress up for some scantily clad photo shoots. Just recently, Olympic medalist from Team USA Marlen Esparza posed nude for ESPN's Body Issue, and Cecilia Comunales has caused plenty of heads to turn in her own sexy photo shoots, amongst others over the years.
You can also check out this interview with Emily as she shares her thoughts on Blurred Lines with Esquire Magazine. It's worth a read to be sure.
Be sure to check out the rest of our boxing ring card girls after you enjoy all of these sexy pictures of Emily Ratajkowski!