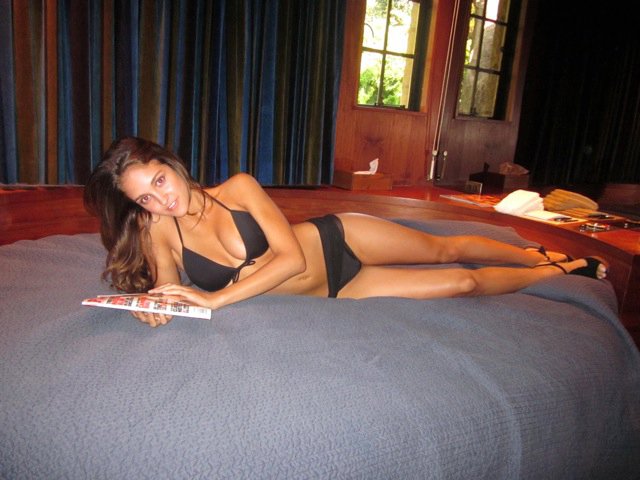 Get to Know the Heart-Stoppingly Sexy Jaclyn Swedberg: Pictures & Interview
Jaclyn Swedberg is the 2012 Playboy Playmate of the Year, and is now working with the martial arts network BlackBelt TV as one of their "Fight Jocks". She's already gotten the chance to interview Manny Pacquiao — and oh yes, she believes that Pacquiao could probably take Floyd Mayweather should the two ever meet.
2012 Playmate of the Year Pictures: Jaclyn Swedberg Photo Gallery
Quick Jaclyn Swedberg Bio
Born: August 14, 1990
Age: 22
From: Chin0 Hills, California
Where You've Seen Her: Miss April 2011 & 2012 Playmate of the Year
Career Goals: Broadcast Journalism
Jaclyn Swedberg Video: Message to Boxing Fans

So she's a gorgeous Playboy Playmate, a fight fan, and a completely down to earth and fun gal.  She's probably the sexiest boxing fan on the planet… and yes, she's real. Check out our special interview and our sexy collection of Jaclyn Swedberg pictures right here.
Also be sure to check out Jaclyn's Facebook page and Twitter account — she frequently updates both with some great statues and photos. If you ever use either of those services, you'll definitely want to follow her. And for more information on BlackBelt TV, check out their website, BlackBelt.com, and tell your provider that you want BlackBelt TV.
Jaclyn Swedberg Interview: Playboy Playmate, 2012 Playmate of the Year, Boxing Fan & Fight Jock
Hey Jaclyn, thanks so much for taking the time to talk with us today. You're a busy woman, and you were named the 2012 Playboy Playmate of the Year a few months ago. What's that been like for you?
Jaclyn Swedberg:  Oh gosh, it has been amazing. I still feel like that it's not really something that happened when I wake up in the morning and am like oh wow this is so exciting! It is everything I hoped it could be and I have gotten so many great opportunities from it, I can't even believe it.
How did you get involved with Blackbelt TV and the Fight Jocks?
JS: Through Playboy, they were searching for new girls and had sent me to a casting to go in and read over some stuff, and I remember thinking that this could be a great thing to do if I got it. It's a reoccurring job and it would be a lot of fun, and then becoming Playmate of the Year kind of upped it with them. And now I have my own little role with them, interviewing people and all of that.
So, the "Juijitsu Jac" nickname – their idea or yours?
JS: That was their idea! I can barely say the word (laughs).
Well it works… So what else can fight fans expect to see from you and from your involvement with Blackbelt TV?
JS: Well I have a lot more interviews coming up with movies and fight based movies. I just interviewed the cast of 'The Expendables 2', and that's going to be coming out. I'm hoping to do a lot more fighter interviews! My Manny Pacquiao one was so much fun, it was really awesome. I hope to do more of those.
What was interviewing Manny Pacquiao like for you?
JS: Amazing, he's somebody that the whole world knows! It was right before his last fight, a really big fight, and I was nervous being there next to people from the major news networks and then there I am! It was really great and cool, he gave me good answers and I got fun pictures with him, so it was really good.
OK, be honest… what's the better accomplishment: 8-division boxing champion, or Playboy Playmate of the Year?
JS: (Laughs) Oh man, I don't know… it depends. If I wasn't a girl, I wouldn't choose Playmate of the Year… but I think I might go with that! (laughs)
Well, fair enough, it's OK to boost your own cause a bit… I know you want to pursue a career in broadcast journalism, and this is a step towards that for you. What's the next step with your career?
JS: Every day I get a new opportunity, a new email saying 'hey are you interested in doing this or that?' I don't want to be an actress or do anything like that, but I would definitely do hosting and the more skills I get with interviewing and being on video the more I can figure out what I want to do.
Getting so many opportunities must be a great perk for being named Playmate of the Year.
JS: Exactly. I've learned to just say yes to everything, you never know what good may come out of it!
Sounds like a good approach… I'll have to keep that in mind. Have you always been a boxing and MMA fan?
JS: It's kind of a new thing for me, I watched it before, but as I first got started working with BlackBelt I was wincing a bit, but now that I learned more about it, I understand the sport more. So I understand how there is so much more that goes into than just hitting another guy, and I have a lot more appreciation for it now.
Any recent fights you particularly enjoyed watching?
JS: Well, sometimes I'm bad with names, but I learned that when I'm watching a fight, I have this skill where I can guess who can win the round pretty easily. I don't know how.
Well usually the guy losing looks the worse for it…
JS: Yes, that's true, but I can call it from the beginning!
We'll add it to your list of good qualities then! So I'm sure you hear this all the time, but you're basically every man's dream. You're a gorgeous Playboy Playmate. You're a boxing fan. You are planning a career. You're down to earth… How'd you pull that off?
JS:  You just can't let anything get to you and you have to be appreciative of everything that happens, and just be normal. I'm pretty normal (laughs). I have to say that, I hang out with my family and stuff and just try to have a good time.
So you just turned 22 on August 14th. A little bit less special than 21, although with all of that extra good news this year it must have been pretty special nonetheless. How'd you celebrate?
JS: I went to Catalina for the weekend, a long weekend. I had never been, it's an island really close to me but I had never been there before so it was fun.
Sounds nice… So are there any specific fighters you're hoping to interview in the future?
JS: I liked how the Manny Pacquiao interview I did was right before his fight, so I'd like to do more of that. I want to talk to BlackBelt about who else we can get right before a big fight! I'm open to talking to anybody.
So, Pacquiao or Mayweather?
JS: Well, I think maybe Pacquiao will win that one, personally! But they are both great fighters and are who they are because of that.
Thank you so much for the time, it's been great chatting with you. We'll all be keeping tabs on what's next for you and your involvement with boxing and MMA!
JS: Thank you!
Don't forget to check out BlackBelt TV when you want to see more Jaclyn – Juijitsu Jac, that is. Thanks for checking our exclusive interview with Jaclyn Swedberg and our photo gallery of the 2012 Playmate of the Year!
Comments
comments