Last year Anthony Crolla lost to Derry Mathews in an instant classic, which went on to win our British Fight of the Year award. This Saturday the two meet again, in the chief support bout on the Tony Bellew – Isaac Chilemba card, and we managed to catch up with Anthony Crolla to discuss the fight.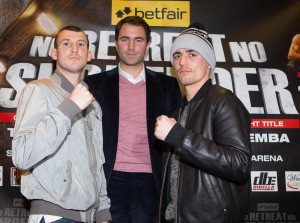 Last time the two of you met Derry Mathews won. What have you and Joe (Anthony's trainer) been working on to make sure that doesn't happen again?
AC: We don't want to give too much away but we've learnt our lessons. We've been doing a lot more strength work and working on the little mistakes we made. But at the same time we felt up until the knock down we were dominating the last fight so not everything has to be changed.
In that fight Derry caught and hurt you. Could he do that again?
AC: He hurt me last time and he can hurt me again, I'm under no illusions there. However, despite what Derry says he was hurt last time as well, so we can hurt each other.
The last clash between you was a fight of the year winner. Do you think this one will follow in a similar vein?
AC: Yea why not? I think we can definitely pick up from where we left off last time and the fans will be the winners if we put on another great show.
You've been in a number of other enthralling fights such as the one with John Watson. What is it about your style that makes these great fights?
AC: I don't know, but everyone seems to appreciates them besides my mum who nearly has heart attack. I guess I just attract those types of fights and I enjoy being in them because to be named in great fights means a lot to me.
Against Kieran Farrell in your last fight he collapsed at the final bell and suffered damage to the brain. Do you think that will affect you or change your style of fighting?
AC: No not at all. It was obviously sad and I was upset about what happened because Kieran is a friend of mine, however, that's in the back of my mind now as I know he's making a good recovery. I've got the mindset that I could be in for another brutal fight and I've got to be ready once that bell goes.
This time you're fighting in Derry Mathews' backyard  will that be a factor come fight night?
AC: Not at all. If anything it puts more pressure on Derry.  I'm under no illusions that I'm going to be coming into a very hostile reception, however, once that bell goes it just the two of us.
Do you feel the Liverpool-Manchester rivalry adds a little extra spice to proceedings?
AC: Of course it does, it always has for years and years. He will have great support and Liverpool is a great fight city but I'm also bringing great support with me from Manchester. I'm sure the fans will enjoy it and it will make for a great atmosphere.
If you come through this successfully what are your plans for your next fight?
AC: First and foremost, my mind is solely on Derry Mathews and getting a win on Saturday night, but there's no doubting if I can get the win on Saturday night there will be big fights in the pipeline.
Finally what's your prediction for the fight?
AC: Without a doubt a Crolla win. I see it being another great fight, how I win I don't know, but I will win.