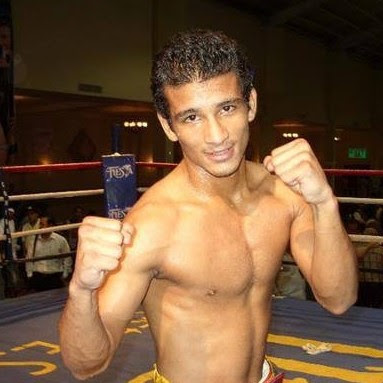 With just a few days away from his first title opportunity, WBA #6 rated super-featherweight contender Oliver Flores (27-1-2, 17 KOS) talks about his upcoming fight with champion Takashi Uchiyama (23-0-1, 19 KOs). Uchiyama vs. Flores is set to take place on New Year's Eve, December 31, 2015 at the Ota-City General Gymnasium in Tokyo, Japan.
Flores speaks on his upcoming showdown with Uchiyama…
On December 31, 2015 you fight WBA super-featherweight world champion Takashi Uchiyama for his title. This will be your first would title opportunity. How do you feel going into this fight?
Oliver Flores: I'm very excited for the opportunity to be fighting for a world title. I'm very grateful to my promoter Havoc Boxing, who came through and put this fight together for me. I've worked my whole life to get in this position. I'm 100 prepared to give Uchiyama the fight of his life. My body is healthy and I'm in the best shape of my life. I'm going to seize the opportunity to the best of my ability.
What kind of fight are you expecting from the champion?
Oliver Flores: Takashi Uchiyama is an incredible fighter. He's defended his title many times over and his record is unblemished. Most of his title defenses have ended in a knockout so I know he's a very powerful puncher. I'm expecting him to be aggressive in his approach.
How is the relationship with you and your father, who also serves as your trainer?
Oliver Flores: My father Roger Flores is a former pro boxer who has been guiding my corner since I turned professional. He knows my strengths and weaknesses and is very good at finding flaws in my opponents. He's been with me from day one and I wouldn't want it any other way.
How special would it be for you if you were to bring the World Championship home to you countrymen of Nicaragua?
Oliver Flores: To bring the title home would be a dream come true for me. I have a lot of support from family and friends that will be looking forward to the outcome. I know I'm the underdog going into this fight but I have a country that will be showing support when I go to battle in Japan. My goal is to follow in the footsteps of Alexis Arguello and Roman Gonzalez, who brought great pride to Nicaragua?
Can you talk about training camp?
Oliver Flores: Training camp has been very demanding. I'm on a strict diet that has me at my optimum best. I've had some great sparring here in Nicaragua where I'm working out with a few different guys. Everyone is pushing me to the limit. It's this type of training camp that's going to get ready for Uchiyama, who I know is going to be at his best. I'm executing every possible situation that I feel will come up in this fight. I'm ready for battle.
Without giving up your game plan, what do you feel you'll need to do to come out victorious against Uchiyama?
Oliver Flores: I need to be aware of his powerful right hand power punchers. He also likes to land he left hook to the body, so I need to be ready to counter those punches.
Are you concerned about getting a fair decision in Japan where Uchiyama resides?
Oliver Flores: No, I believe the WBA judges will be fair. Of course my goal is to end the fight early if possible, to avoid any argument. I know it's going to be a very difficult task to come out with a victory, but a task I feel I can accomplish.
Talk about you relationship with Havoc Boxing Promotions.
Olivier Flores: Fighting for Havoc Boxing has been a tremendous blessing to for me and my career. I signed with them in June and shortly after I had a fight in August. Now remarkably I'm fighting for a world title and I couldn't be happier. As a fighter you want to stay busy and put yourself in position to take your career to the next level. With Havoc Boxing, I've been able to do all of the above. My dad and I are very pleased to be part of Team Havoc Boxing.