Juergen Braehmer (43-2, 32 KOs) is still aiming for big and career-defining fights. However, before all that can happen he has to defend this title in his hometown of Schwerin, Germany. Moreover, his upcoming opponent Robert Bolonti (35-2, 24 KOs) wants to upset Braehmer's plans.
The challenger from Argentina sees himself well prepared to crown himself a world champion on June 7. In the following Q&A, Bolonti talks about how he is going to beat Braehmer and what it is all about him being nicknamed "La Bestia".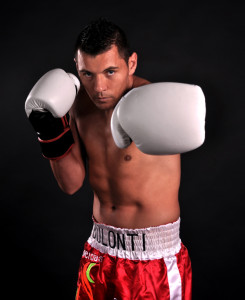 Roberto, do you feel ready to dethrone Juergen Braehmer as the WBA Light Heavyweight Champion come June 7?
Roberto Bolonti: Of course! Every professional fighter works for this chance. If you are not ready when such an opportunity arises, you do not take this sport serious and should quit it.
Many fighters lament about a short time of preparation they had after losing…
Roberto Bolonti: …which is nearly always an excuse. But why should a talk about losing – I come to win this fight! I did know for a long time that there is a strong possibility to land a big fight. Therefore, I kept myself in shape. In mid-April, I was offered to fight for the WBA Belt and signed for it. In total, I will have enjoyed more than six weeks especially preparing for Braehmer. You will see me at my best on June 7.
You did not show your best when you fought Tony Bellew in England in November 2012. What went wrong for you back then?
Roberto Bolonti: That was my first fight abroad. Unfortunately, I ate something wrong and suffered from gastroenteritis at the start of fight-week. With this handicap in mind, I was proud to go the distance. In retrospect, I think that this experience will help me to beat Braehmer.
With Braehmer you will have to deal with a southpaw – is this going to be a problem?
Roberto Bolonti: Not in the slightest. I have already fought many southpaws in my career and beat them all. Certainly, Braehmer is on a completely different level to them. I still think, that my coach Harold Guevara and I will have the right game plan to come successful trough this challenge.
Where do you see your advantages over Braehmer?
Roberto Bolonti: Both of us might be 35 years of age but he is far more battle-worn than I am. I am simply fresher and not depleted like him. When it is going to get tough over the rounds, my advantages will get bigger and bigger over the rounds. In addition, I can punch hard with both my right and left hand. Braehmer will not know what is happening to him.
So you will do credit to your in-ring name "La Bestia"?
Roberto Bolonti: Bet on it! I am a real warrior inside the squared circle, devote myself and fight on until the fight is over. I will make this clear to Braehmer as soon as the first bell rings.
Who will be the WBA Light Heavyweight Champion after June 7?
Roberto Bolonti: Bolonti! Bolonti! Bolonti! I will not respect Braehmer as the champion inside the ring and wrest the title away from him. I will fulfill my dream – for my family, friends and fatherland. Viva Argentina!