Ustinov Meets Pulev on Sept 29, Wlad Klitschko Next for Winner
On September 29 in Hamburg, Germany, three title fights will top the bill at Alsterdorfer Sporthalle. The bout which should steal the show features Kubrat Pulev and Alexander Ustinov collididing not only for the European and the IBF International Championship but also the number one spot in the IBF rankings. So the winner will come closer to challenge current World Champion Wladimir Klitschko in the not too distant future. In the following interview, the heavyweight colossus Ustinov talks about his chances of beating Pulev and earning this coveted position.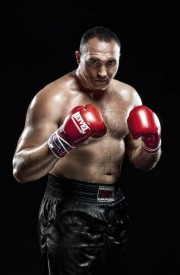 Alexander Ustinov, On September 29, you will challenge Kubrat Pulev for the European and IBF International Heavyweight Championship. How is yourpreparation going?
Alexander Ustinov: Everything is going well. I am currently in the final moments of my sparring, so on the day of the fight I will be in tip-top shape and ready to win!
What do you expect from Pulev and how are you going to deal with it?
Alexander Ustinov: We are both experienced professionals and know the boxing business pretty good. Kubrat will enter the ring to win just like me! It is going to be a great fight!
You have won 21 of your 27 fights by knockout – Pulev 8 out of 16. Would you say that you are the bigger puncher and that his power is not as much of a concern to you?
Alexander Ustinov: I do not consider myself just as a big puncher. I just do my job inside the ring. However, if there is a possibility to finish the combat in the early rounds – then why not? I will take the chance!
You are currently fighting for K2, the banner of the Klitschko brothers. Have you actually sparred with them and if so, what have you learned by sparring them?
Alexander Ustinov: I have helped Vitali twice to prepare for a fight and it was always a great experience for me. After that, I have realised one very simple but very important thing: If you want to be the best, then you have to deal with the best! I am proud of being able to help Vitali.
The fight against Pulev is not only for the European Championship but also for the number one spot in the IBF world rankings. Therefore, if you should be able to beat Pulev, your next opponent could be Wladimir Klitschko. Are you thinking about that?
Alexander Ustinov: The Klitschko Brothers are currently the heavyweight kings. Everybody wants to face them, but not everybody has the chance to get into the ring with them. Well, if I should get that opportunity I will be very happy.