The 5 Top Factors That Make Andre Ward a Great Fighter
Andre Ward seems to have some off-the-radar skills that have taken his career to the next level. When we look at other great fighters, we can easily identify why they succeed. Manny Pacquiao is an offensive whirlwind. Floyd Mayweather is a supreme boxer with great defense. Sergio Martinez has great athleticism and speed.
While Ward has a lot of those qualities, they don't jump out at you like with some other great fighters past and present. Sure, he's fast, but he doesn't flash speed that has you in awe. He can hit hard, but doesn't have a trail of knockouts on his highlight reel that a knockout artist might have.
In other words, it's a little bit more difficult to really pinpoint how in the world Andre Ward has cleaned out the super middleweight division, while recently adding the name of the best light heavyweight in the world to his resume. Ward is unusual in that the ways he wins is not so easy to see with the naked eye. His style is actually a little over everyone's head–including mine.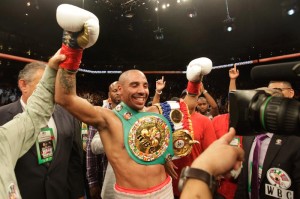 The odds on his fight with Chad Dawson and how the public reacted to it spoke volumes. Ward was in the -400 to -500 area–basically a 4 or 5 to 1 favorite. A lot of people found those odds to be over-inflated and took Dawson. After all, Dawson was bigger, seemed about as fast and hard-hitting, and possessed comparable boxing skills.
It turns out the guys who get paid the big bucks to form betting lines knew what they were talking about when it was all said and done. If anything, they gave Dawson too much credit. The fact that some of us thought that the line was inflated in favor of Ward were perhaps guilty of placing too much stock in what we can plainly see. The brilliance of Ward, however, lies a little more off-the-grid.
Even when Ward entered the Super Six Tournament, he wasn't the favorite. Despite being an unbeaten gold medal winner, most picked a different fighter to take the tournament crown. Maybe you liked the punching power of Arthur Abraham, the street-fighting tenacity of Carl Froch, the sheer speed of Andre Dirrell, or the skills and durability of Mikkel Kessler. But it turns out that the guy whose abilities are more subtle was the most dangerous one of the whole lot.
We are used to being able to pinpoint exactly why a boxer is great. When a guy puts together a string of dominant wins as Ward has, we like to be able to make sense of it all. Why is he so good? How did he beat all these good fighters without a hiccup? With the S.O.G., it's not so obvious. He does everything well, but you would almost expect to be more in awe of his skills because what makes him great just isn't so obvious.
Here are some areas where Ward is a master, making him the frontrunner to take over the number-one PFP rankings in a few years.
Versatility
In boxing, most fighters pit their abilities against their opponents' and let the chips fall where they may. Sure, they have strategy and different things they will do more or less of against a certain fighter. It just seems that Ward is a more advanced study in the art of pugilism than any of his contemporaries. He doesn't fight the same way against every opponent. Against Kessler, he was an in-close mauler. Against Abraham, he was more of a stick-and-move guy. Against others, he used a mixture of the two, while throwing in other wrinkles.
Ward is a chameleon, able to change and fit whatever landscape he finds himself in. It all boils down to his opponent. You might see a totally different version of Ward from one fight to the next. His game revolves around his opponent. Seems obvious, but no one does it to this extent. Ward and his team come up with an approach that is designed to shut down their opponent's best weapons. And so far, it has worked to a tee. Ward, more than any other fighter, focuses most of his attention not so much what he's going to do, but how he will prevent his opponent from using his bread-and-butter.
Not only has Ward beaten top fighters like Mikkel Kessler, Arthur Abraham, Carl Froch, and Chad Dawson, but those fights were routs. Ward and his team just have a knack for being able to isolate their opponent's main strengths and form a strategy that renders it moot. Then he has the all the right stuff to carry it out.
Training
You gotta give it up for Virgil Hunter. The way he has whipped Ward into shape makes one think that he always had this stuff swirling in his head and just needed the perfect pupil to showcase his elevated view of boxing. They're practitioners of science, not just fighting. They're not just working on punches–power and speed. They're working on the finer points of the game and I suspect that when Hunter and Ward are training, they are ahead of the curve. They are going over stuff that is on a different level.
With most fighters, they are always more or less the same. Even the top guys. They might make adjustments, but look about the same from fight to fight. Ward's style is prone to major overhauls from one outing to the next. Ward and Hunter prepare according to the fighter they are facing. Depending on his strengths and weaknesses, Ward will adapt accordingly.
Watching Ward dominate each opponent he faces confirms his thoughtful approach. He's fast, but he isn't overwhelming his opponents with blinding velocity. He can hit, but with 14 knockouts in 26 wins, he's no Julian Jackson. While showing a good chin, it's not invulnerable. There are other things at play, things that aren't as widely-celebrated as power and speed–the factors listed here such as preparation, defense, focus, and perception of himself and the opponent. It takes off-the-charts poise and professionalism, and world class training, to pull it all off.
Focus
It seems like a foregone conclusion that a successful boxer needs to have high levels of concentration in the ring. Ward, however, takes it to another level. With Ward, you won't see him pull a Sergio Martinez and give Chavez, Jr. a chance in the last round. His concentration is unshakeable. He steels himself for the full 12 rounds with a singular tunnel vision that doesn't give opponents an "in."
Ward has the unique ability to be laser-focused, while maintaining a sense of calm that allows him to react quickly. He's completely keyed-in, but then also has the placid presence of mind of a person watching the fight from their couch. His concentration and focus is unrivaled. It literally does not wane for a split second. Regardless of the opponent. Regardless of how much he might be winning by.
Defense
It's a key part of what has made many great fighters. But Ward's defense is not of the flashy variety. He doesn't woo audiences with the radar-like "D" of a Wilfred Benitez or possess the eye-popping reactive type of defense that Pernell Whitaker once had. Ward's defensive genius is less visible–a sixth sense of knowing what his opponent can or can't do. You'll see him do things like throw a few punches with his head laying in a position where his opponent can't really hit him.
Ward's defense is multi-fold. He uses his legs, blocks and parries punches, and can slip or duck. He knows the angles and how to lie on the edges where his opponent's punches will be dulled. But you'll see him do weird things, like plant his face on a spot on his opponent's torso so that while he's landing punches, his head is in a position where all his opponent really has is a sloppy countering opportunity.
He has a great awareness of distance and when he's in or out of danger. A lot of fighters, however, can do that. Not many can be in the eye of the storm and still have the presence of mind and calmness to execute inside defense. Being close represents danger to most people. Ward finds dead spots on the inside, and not many fighters want to do that. It takes a lot of moxie. The urge is to block, duck, or move away.
When most fighters look to nullify the offense of their opponent, they stay away and avoid. Ward , however, is a master of in-close defense. He is just as adept at making an opponent miss by being out of range as he is by smothering them. Not too many fighters have as versatile of a defense as Ward, who uses every trick in the book to render his opponents an impotent shell of themselves. Not many of them have the confidence or nerve to lie in the eye of the storm.
In most sports, they say that defense wins championships. The very reason that has become an expression is that people neglect defense. It's not why they watch football, basketball, or especially boxing. The biggest stars in any sport are the offensive marvels. That's what gets the people in the seats and tuning in on television. But in any area of sports, the truly transcendent champions are the ones who master not only what they're doing to their opponent, but how they handle what's being done to them.
Intelligence and Instincts
Ward is able to analyze the situation in the ring and has the instincts to apply it fluidly to a fight and moving target. He has the smarts to be able to set his opponent up for traps, stay one step ahead, and avoid dangerous spots. And he can find the bunkers–the little spots in the ring where he is safe from incoming fire.
Some of us could maybe figure out how to stand in front of a guy and not get hit–if he stood still. When an opponent is constantly moving, shifting, and trying different things, it's not an easy thing to do. Ward has tapped into a style of fighting that enables him to find offensive opportunities while somehow being in a position where he can't be harmed. He has the ring know-how to always be in the right spot.
In addition, Ward seems to have an instinctual sense of what his opponent is trying to do. Then he has the ring smarts to strip his opponent of the weapons he plans on using to achieve his goals. It's no coincidence that all of his top wins came against guys who when fighting Ward, had their career-worst performance. Ward adapts to each new situation he faces in the ring and so far, a deep and differently-talented group of fighters have gotten nowhere with him.
Conclusion
For a lot of us fans, we need to make sense of things. We need to understand what makes the top dogs great and Ward forces us to dig a little deeper for an explanation. With guys like Leonard, Tyson, and Jones, it was easy to see why they were great. If someone asks us what made them so good, we can immediately form an explanation. Ward may one day reach those same levels of greatness. If one day years from now we begin telling our grandkids about this great champion from yesteryear named Andre Ward, we might struggle to describe him. In a weird way, maybe that makes him all the more great.