In a very enticing welterweight match-up, new IBF Welterweight titleholder Randall Bailey makes his first defense against former 140-pound standout Devon Alexander. Bailey will be a few days from 38 when this fight happens, but he is coming off his biggest win, when he starched undefeated Mike Jones on the Pacquiao-Bradley undercard in June. Way behind on the cards, Bailey floored Jones in the 10th, before flattening him with an uppercut in the 11th round.
Date: October 20, 2012
Where: Brooklyn, NY
Titles: IBF Welterweight Title: 12 Rounds
Randall Bailey, 43-7 (37 KOs), Miami, Florida, IBF Welterweight Champion
Vs.
Devon Alexander, 23-1 (13 KOs), St. Louis, Missouri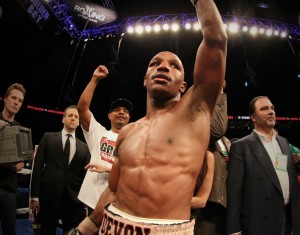 Alexander, still just 25, is coming off a great performance against Marcos Maidana, where he widely outscored the Argentine. It was a needed win and even more importantly–a clear-cut victory for a fighter who had been on a bit of a slide. He looked better at welterweight poundage and should enter this bout a favorite, despite being the challenger.
After a nice win over Juan Urango in March of 2010, Alexander struggled in his next 3 fights. He received what a lot of people considered to be hometown decisions against Andriy Kotelnyk and Lucas Matthysse, which sandwiched a disappointing loss to Timothy Bradley.
I thought he lost both the Kotelnyk and Matthysse fights. He seemed to hit a wall after zooming to the top at such a young age.
Alexander's performance against Maidana can be taken in one of two ways. One is that he had emerged from a funk that was perhaps caused by him trying to make 140 pounds. Another school of thought is that he benefited from a nice stylistic match-up by facing the tough but crude Maidana. The truth probably lies somewhere in the middle.
Bailey's win over Jones is also hard to place into perspective. On one hand, Bailey did manage to flatten a highly-regarded and big welterweight contender who was 26-0. Then again, he was well behind on the cards and some of us never thought Jones was much of a fighter to begin with.
At the end of the day, you have to tip your cap to a fighter many had forgotten–a 7-time loser who had first held a world title all the way back in the 90's. He was a giant underdog against Jones and it's nice to see the veteran getting this late-career success. And rather than take credit from Bailey for being behind on the cards against Jones when he knocked him out, give him credit for being able to bring that power to the table, which has accounted for 37 knockouts in 43 career wins.
The problem for Bailey as I see it is that he is facing a far more complete fighter in this fight than when he fought Jones. Alexander is a battle-tempered young veteran who knows how to win big fights. Jones was a guy who looked good, but whose sum total wasn't as impressive as his individual parts would suggest.
I don't see Alexander putting himself in the same positions Jones did if he manages to build a big lead. Alexander has experienced some disappointing moments in the ring, but through it all, he's always carried himself with professionalism in the ring. I don't see him unraveling like Jones.
Bailey vs. Alexander Prediction
You can never rule out a fighter like Bailey. His record clearly indicates that he has the kind of equalizing power that can render all analysis moot. It's not a very comfortable feeling picking against a guy who can close escrow with one punch. While Alexander has shown himself to be a durable campaigner, no one is impervious to the kind of power Bailey brings to the table.
In this fight, I feel Alexander's skills are the more bankable commodity. Bailey's power comes in flashes. But Alexander's boxing abilities are more dependable. Look for Alexander to utilize superior speed and mobility to out-maneuver Bailey and win a comfortable decision or even late-rounds TKO if Bailey is taking too much punishment.
Prediction: Devon Alexander wins a unanimous decision.
Comments
comments