This weekend was a loaded one for boxing fans, with a handful of important fights taking place from Texas to Munich, Germany and elsewhere in between. As such, it's time to update our rankings, and after Cloud vs. Campillo and Williams vs. Ishida, in particular, we've updated the top 10 in those two divisions. Check out our updated 175 lbs rankings and 154 lbs rankings right here.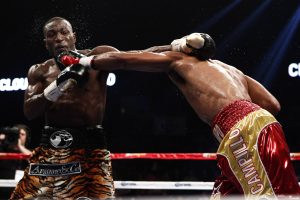 In the Cloud vs. Campillo contest, we saw what we already knew about Tavoris Cloud… that he's still raw, and isn't a "complete" fighter. Campillo exposed him, and was robbed in a fight he definitely deserved to win. Since we don't follow the rules of dubious decisions, we've adjusted the top 10 accordingly, and Campillo emerges midway through the list, and Cloud tumbles down from #2.
With a comeback win for Paul Williams, he establishes himself as a fringe top 10 guy at 154 lbs. Williams still has question marks as well, but a win is a win, and he looked good against Ishida, who limited as he may be too, rose to prominence last year with his shocking KO over James Kirkland, a top 3 guy in the weight class right now. Junior middleweight is loaded with talent but light on the top, so the division really needs some high quality fights to sort through the contenders to find some legit top guys.
There's been some other recent action in both of these divisions as well, so be sure to check out the updated rankings for each.