Another weekend is in the books and now it's time to make sense of the aftertaste. And make no mistake–there is one. To be fair, there was a weekend of interesting fights. In Germany, we got what turned out to be the most interesting heavyweight title fight in about a decade. That's not saying a lot for the division, but hats off to Dereck Chisora for trying. That has to be considered a boon in today's age of uninspired heavyweight challengers.
And the action in the ring in Texas was actually pretty good. But once again, piss-poor officiating and questionable commission practices cast a pallor over what should have been a good weekend.
Exhibit One: A 196 lb Light Heavyweight
As if the career development of 2008 Olympian Shawn Estrada wasn't disgraceful enough, now he's getting a 20-pound cushion too? On Friday, ESPN2 televised what was supposed to be a super middleweight 8-round attraction featuring the unbeaten Estrada. Problem was Estrada checked in at 196 pounds. A few maneuvers settled the issue and the fight went on.
The opponent, Terrance Woods, with a heart as big as the state of Texas, gave it his all but was thumped for 8 rounds. Many of the rounds were uncomfortable to watch. People watch boxing to be entertained, not to sit there and pray for there not to be a ring death. Clueless referee Robert Chapa sat there like a big lump on a log while Woods was graphically pelted over the final two rounds. Thankfully, Woods appeared to be O.K. as he became only the 2nd man to last the distance with Estrada.
Why not just scratch the fight? It's not exactly a bout that had much clamor. It's obviously a mismatch on paper. But we're gonna throw in a 20+ weight advantage for the favored fighter? And on top of that, we're gonna assign the fight to a ref who evidently learned about how to stop fights by repeatedly watching Jack Dempsey vs. Jess Willard? God help us all.
First it's time to take a shot at Estrada's promoter. Why is this man being fed stiffs 4 years into his pro career? There was a time when Olympians would be fighting for titles by the time the next Olympics came around. I've been on hand live to see several of Estrada's "wins." They're more like human sacrifices. I don't care what the opponents' records were–they had less business being in the ring with Estrada than Butterbean has being on the same track with Usain Bolt.
This is not directed as a shot against Estrada personally. Sure, he showed up out of shape on Friday, but he seems like a good kid with a lot of talent who has overcome a lot in life. All the more reason to have some purpose in his growth from prospect to contender. No one is saying throw him in with killers, but this absolutely mindless matchmaking is costing him.
Does it make sense to turn a fighter pro and have him fight guys who are infinitely worse than the opponents he faced as an amateur? And if so, for how long? Does the fact that Shawn showed up to fight looking like Erik Estrada clue them in that maybe this career course isn't keeping him very riveted to the task?
Exhibit Two: Gabriel Campillo got jobbed again!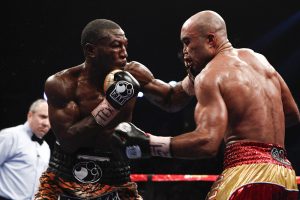 Watching him get deprived of victory twice against Beibut Shumenov and now Tavoris Cloud makes me absolutely sick for him. He should hold a pair of wins over consensus top-5 light heavyweights and he has bupkis to show for his efforts.
To be fair, the scoring of the fight is what should be looked at, more than just this general feeling that Campillo was the better man. The vibe was that Campillo was the better man, but this is a numbers game. Dropped twice in the first, Campillo was up against it, but he sure looked to outbox Cloud over the rest of the way.
Perhaps the Showtime announcing crew fell victim to inertia, where they're slow to acknowledge that the dominated fighter is turning it around a bit. There were rounds where Cloud might have outworked Campillo. It was nothing captivating, but after jumping out to a 3-point lead, all he really needed to do is win 4 of the next 11 rounds to get a draw. He might have done that.
But David Robertson's 116-110 score in favor of Cloud is beyond anything I can fathom. And Joel Elizondo wasn't much better with his 114-112 card in favor of the reigning champion. After the 10-7 round in the first, Robertson had Cloud winning 7 of the next 11 rounds–a stunningly inept appraisal. And why are judges with no world title experience presiding over a televised championship bout anyhow? What's goin' on, Texas?
Commissioner Dicky Cole, who along with his son Laurence are boxing's version of Buford T. Justice and his son "Junior" from Smokey and the Bandit, really came up short this weekend. If this is how you want to operate away from the spotlight–fine. But when the bright TV lights come into town, how about stepping it up a notch? And if this is how things are run when the world is watching, it makes one cringe at the possibility of what's taking place when there is less scrutiny.
Why is Texas so depleted of boxing officials that rookie judges are deciding world title bouts? In no sport is there a more important arbiter, where a boxer's entire career hinges on an individual's opinion. It's crucial that judges deciding fights on a world title level are experienced and have exhibited competence on some kind of regular basis. You don't have Pop Warner refs presiding over NFL games. Seems like a no-brainer, but for some bizarre reason, we ended up with a situation where a pair of novice and apparently incapable judges decided that Campillo didn't deserve to be champion.
One would think the results of championship fights should boil down to more than the opinions of what basically amounts to two guys. They have no problem shipping in the big-name ring announcer, so why are we leaving key results in the hands of an Orange Julius manager and a guy who works at Avis?