Boxing fans got more than we bargained for last weekend, with the likely Upset of the Year, as Jhonny Gonzalez flattened Abner Mares in Round 1, the emergence of the latest hopeful threat to the Klitschkos in Kubrat Pulev, and the continued ascent of the undefeated Leo Santa Cruz.
Well, all of that means it's rankings update time, and we've gone back to the top 10 at Super Bantamweight, Featherweight and Heavyweight to reflect the latest results.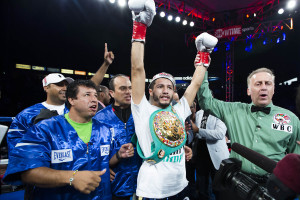 The most shocking result was of course the dramatic KO defeat of Abner Mares, a fighter we regarded as one of the top 5 pound for pound boxers in the sport. He had taken on a near-unending list of top fighters, and eventually, one caught up with him.
He'll bounce back to be certain, but of course his standing has taken a hit for the time being.
Leo Santa Cruz has continued his rise, but along Mares, he hasn't faced the toughest of opposition. It looks likely that he's on his way to 126 lbs as well, but we have him ranked at 122 lbs for now, until we see what his next move is.
At Heavyweight, Kubrat Pulev defeated Tony Thompson, saving us the fiasco which would have been Wladimir Klitschko vs. Tony Thompson III. But how high should Pulev be ranked in the top 10 of the division?
Take a look at all of our latest boxing divisional ranking updates, and keep on checking back with ProBoxing-Fans.com for more news and fight coverage all day, every day.