Hard-hitting Ray Narh steps in against Ronald Cruz in a scheduled 10-round welterweight fight on Friday evening, June 14, at the Sands Casino Resort Bethlehem. The match-up is part of a triple header telecast on NBC Sports Network Fight Night beginning 8PM ET.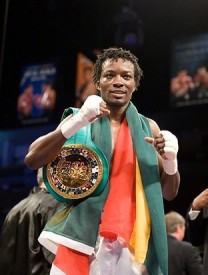 The Narh-Cruz contest is part of the big NBC Sports Network Fight Night series tripleheader. On tap are a pair of-world class fights featuring heavyweight contender Bryant Jennings, of Philadelphia, PA, against Andrey Fedosov, of Shuya, Russia, in a 10-round contest and Sergey Kovalev, of Chelyabinsk, Russia, against Cornelius White, of Houston, TX, in a 12-round fight for the No. 1 slot in the IBF world light-heavyweight rankings.
Narh, 34, steps in for Jaime Herrera, of Franklin Park, IL. Herrera suffered a lower back injury last week while training to face Cruz. He will be on the shelf for six weeks.
Ray Narh
A pro since 2001, Narh is 25-2, 21 knockouts, but has not fought since May 7, 2011, when he was stopped in three rounds by Mike Alvarado, of Denver, CO, on the Manny Pacquiao-Shane Mosley card at the MGM Grand in Las Vegas, NV.
Originally from Ghana, Narh won the vacant Pennsylvania lightweight title in 2006 when he stopped Ramazan Paliani in the loser's Philadelphia backyard. He also has wins over former WBA featherweight champion Freddie Norwood, of St. Louis, MO, and Steve Quinonez, of Palm Springs, CA.
Cruz, 26, of Bethlehem, has not boxed since Sept. 21, 2012, when he lost for the first time, dropping a 10-round split decision to Antwone Smith, of Miami, FL, at the Sands. His record is 17-1, 12 K0s.
The Jennnings-Fedosov, Kovalev-White and Cruz-Narh fights top a seven-bout card at the Sands Casino Resort Bethlehem. Doors open at 6;15pm ET. Tickets priced at $50 and $75 and $130 (luxury suites) can be purchased through www.SandsEventCenter.com and www.Ticketmaster.com. NBC Sports Network will televise the Jennings-Fedosov, Kovalev-White and Cruz-Narh fights, beginning at 8 pm ET, Friday, June 14th.