After his thumping TKO8 victory over a 13-0-1 Jason Escalera this weekend, Edwin Rodriguez has become the darling of boxing blogs and columns. Capturing plenty of press, Rodriguez called out Kelly Pavlik, and suggested if he didn't get the Pavlik fight, he might move up to light heavyweight and seek out Jean Pascal. Both of these statements gave me a case of the "what the hell is he talking about's?", and therefore deserve a serious reality check.
What, You Mean THAT Kelly Pavlik?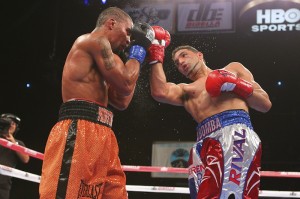 The Ghost from Youngstown has been on the comeback trail for more than a year now, racking up four wins over journeyman-level opposition. Indeed, his last opponent was Will Rosinsky, a man who Rodriquez defeated back in October, and had an easier time doing it at that. That underscores the reason why Rodriguez calling out Pavlik isn't that impressive: Pavlik has a name, but he hasn't looked good since 2009, and in between he succumbed to alcoholism. How much hard-banging prowess Pavlik has left at this point is anyone's guess, but he clearly isn't what he was.
This is doubtless why Rodriguez called him out (especially when you consider Lou DiBella was whispering in his ear as he said it): the perception that Pavlik is still vulnerable, and would therefore serve as the perfect gatekeeper for a rising young 22-0 boxer like Rodriguez.
Even so, why use your precious HBO live TV time to call out Pavlik? Although the slugger still has his fans, most of boxing sees him as damaged goods. If you are going that route, why not call out Andre Dirrell? Or how about George Groves or Arthur Abraham? You don't even have to go to the top of the charts to find names with better current recognition than Kelly Pavlik. Calling out Pavlik is so 2008.
Nevermind the fact that while Rodriguez could use Pavlik as a stepping stone, it's hard to see what good fighting Rodriguez would do for Pavlik. The Youngstown slugger doesn't need a dangerous fight with an up-and-coming banger like Rodriguez to land a big fight, as his name recognition alone ought to secure that. To cite just one example, Arthur Abraham started talking about a clash with Pavlik years ago, when they were both middleweight champions. Rodriguez needs to get in line.
Jean Pascal? Are You Nuts?
Now onto the idea of mixing it up with Jean Pascal. If Rodriguez needs to move up to 175, then he needs to move up, but what makes him think he is ready for Jean Pascal? Just a minute before, he was talking about a reasonable gatekeeper-level fight with a probably washed-up Kelly Pavlik, and then he goes on to calling out the #3 light heavyweight in the world … the guy who slugged it out toe-to-toe with Carl Froch? The guy who out-worked Chad Dawson and took his title? The guy who went 0-1-1 with the wily grandmaster, Bernard Hopkins? Rodriguez wants to tangle with that guy?
If calling out Pavlik was perhaps under-ambitious, calling out Pascal is over-ambitious. I know Rodriguez is an exciting, hard-fisted comer from the Dominican Republic, and has a good amateur pedigree crowned by a National Golden Gloves title, but the closest he has come to taking on a world class fighter is Don George. "Da Bomb" George is set to fight Adonis Stephenson next, and if he loses that one, he gets reclassified from lower-tier contender to gatekeeper in my book. The bottom line is that Rodriguez is not ready for the likes of Jean Pascal.
What makes mentioning Pascal silly isn't just that Rodriguez isn't ready for Pascal, because talk is cheap and rising boxers call out the big names all the time. It's that Pascal isn't the biggest name out there. If you are going to shoot your mouth off, why not call out Andre Ward or Chad Dawson? Talking about Jean Pascal smacks of Mitt Romney's $10,000 bet with Rick Perry: it's beyond everyday realism, but not big enough to be obviously and ridiculously out-of-bounds.