Danny Garcia vs. Zab Judah, Peter Quillin vs. Fernando Guerrero and Amir Khan vs. Julio Diaz Results:
Showtime presented a unique tripleheader tonight, with the Danny Garcia vs. Zab Judah title fight headlining a card from the Barclay's Center in Brooklyn, New York, also featuring Peter Quillin defending his strap against Fernando Guerrero, while also showcasing from the other side of the pond, Amir Khan's continued comeback against Julio Diaz.
Right here, find the results for all three bouts and see how they went down.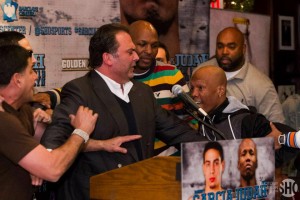 Garcia vs. Judah Results
Judah, the veteran southpaw is looking to spring the upset in his hometown in Brooklyn. He opens the fight against WBC and WBA 140-pound champion Garcia with  long-range exchanging. Clubbing right by Garcia. Judah flicking his right lead. Close opener, with Garcia's right hands probably giving him an edge.
Garcia is controlling Judah with a the big right hand he keeps lashing out there with menacing intentions. Judah is getting a few in, but it's clear who is able to land the more consistently hard shots. Nice shot by Judah at the bell. Fight heating up, with both having their moments.
As of now, Judah is spritzing in the right lead, with an occasional left meant to do damage. Meanwhile, Garcia is sjust throwing the right hand and is getting a little overly-dependent on it. Judah, 35, still able to generate speed, had a good 3rd and seemed to establish a bit of ring generalship. 29-28, Garcia.
An active 4th begins with Judah landing a few nice lefts, with Garcia wisely going to the body. Some more hurtful right hand swats to the body by Garcia. Good hook by Garcia, as Judah tries to answer upstairs. The decade-younger champ is walking Judah down in this round, with Judah not able to let his hands go as well as before. In the 5th, Judah opens with a stinging left, but Garcia answers with a left and a right. Tempo picking up. Garcia beginning to open up his arsenal, with his left getting additionally active in the form of jabs and hooks. And that right hand, thrown with a weird trajectory, is finding a home on Judah's gut. Garcia starting to take over now a bit. A right buckles Judah! A mini-version of the chicken dance he did against Tszyu ensues. Garcia goes for the kill and Judah barely makes it to the bell.
Garcia tees off to open the 6th, as he staggers him with another right. Garcia in firm control, with Judah in survival mode, but still dangerous. Another Garcia right and Judah tries to answer. Great action! Judah is getting backed into the corner and that's bad news. Judah showing a lot of heart, but now in constant threat of being run over at this point. Another tough round for the Brooklyn veteran.
Judah needs something big as the 7th begins. Garcia's right is undeniable and Judah really has no answers for it. Much to Judah's delight, Garcia is a little more inactive this round, before ratcheting it up in the last minute. Judah's punches still pack some sting, but even when he does land, it has little visible impact on Garcia. Still, a nice comeback round for Judah who a round earlier appeared to be on his way out of the fight. Judah further rebounds in the 8th, landing some nifty combos. Then, a right between Judah's gloves sends him reeling backwards onto his backside. Judah is now cut under his left eye. Judah had built a little momentum, but Garcia shut it down quickly. With a knockdown, Judah is now hopelessly behind on points and with 4 rounds left, needs to do something dramatic.
A big 9th again for Garcia. Judah is showing a tremendous amount of personal and professional pride, but Garcia keeps working him over, for which Judah has no real means of retaliation. Judah lands a nice combo in the 10th. A left by Judah seems to hurt Garcia, as Judah mounts an impressive comeback once again in what has really been a difficult  fight for him. A right bothers Garcia. Best round for Judah! At least something to look forward to in the championship rounds in what appeared to a rout a few rounds ago.
The 11th was a little slow, but Judah had a nice round again, landing a big left and then again. A sizzling right hook careens off Garcia's head in great action. Judah continues landing in the 12th. A head-butt bothers both men and action is paused. Both men are bleeding–Judah under the left eye and Garcia from the hairline and nose. Nice left off the ropes from Judah, who is rallying well, but who probably needs a KO. Judah is rallying wonderfully in the 12th. Both are having their moments as the bell sounds to end a really good fight.
Judah normally fades late, but not tonight. Admirably, despite a one-sided battering for the first 8-9 rounds, he came back strong and close the fight well. It wouldn't be enough. Scores were 115-112, 114-112, and 116-111 for the winner and still champion–Danny "Swift" Garcia, who is now 26-0 (16 KOs). Judah falls to 42-8 (29 KOs).
It's one of those fights where each man boosts his stock. For Garcia, he continues on as the top 140-pounder in the business, as unified champ. Judah, meanwhile, shows he can still hang with the best after giving the young champion his toughest fight.
Quillin vs. Guerrero Results
In a middleweight shootout, WBO middleweight champion Peter Quillin defended his belt with a dominant 7th-round TKO over game and talented Fernando Guerrero. The strong and insistent Quillin downed Guerrero twice in the second, before handing out a drubbing. Guerrero had his moments and tried his best to work his way back into the fight in pleasing action.
Quillin was too strong, in addition to appearing to be 2 weight classes bigger than the smaller Guerrero. The now 25-2 (19 KOs) Guerrero didn't falter through a lack of effort, as he really gave it all he had. It's just that Qullin is one of the best middleweights in the world and Guerrero isn't. Quillin looked really good. He's hard-hitting, relaxed, and probably has more craft than what he is credited. He is now 29-0 (21 KOs).
Khan vs. Diaz Results
In a pivotal fight for who was once considered one of boxing's rising stars, Amir Khan barely edged resurgent veteran Julio Diaz by 12-round unanimous decision in Sheffield. It was an excellent battle that saw Khan rise from a 4th-round knockdown and withstand a late Diaz assault to hold on for the win.
Khan is consistently one of boxing's more entertaining performers–probably to his detriment. Barely getting by Diaz is probably not a great sign. Though Diaz has righted his ship in the past year or so, he was considered finished a few years ago and still isn't what you would really call a top-flight 140-pounder. Khan's lack of chin and ring identity continue to plague him. Nevertheless, when a guy rises from the canvas and comes out ahead in a Fight of the Year candidate, one can only be so critical.
—
Thanks for checking out our coverage of all three of these fights, and be sure to stay tuned for more updates and post-fight coverage and analysis of the Qullin vs. Guerrero, Garcia vs. Judah and Khan vs. Diaz results over the next few days.