Sergio Martinez made his long-awaited return to the ring on Saturday night. Even more long-awaited was his homecoming return to Argentina, where a legion of screaming fans awaited the middleweight champ. Did he deliver on their expectations against unbeaten British challenger Martin Murray?
Below, find our complete Martinez vs. Murray results, as well as coverage of the Chris Arreola vs. Bermane Stiverne bout from the same night.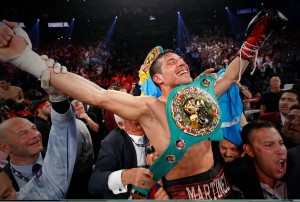 Martinez vs. Murray Results
On the HBO telecast, the fight was started earlier than expected due to mounting weather concerns. In Buenos Aires, a big fight has a bit of a different look. Martinez made his ringwalk through tight quarters, as if he were trying to barge his way through a moshpit. It appears they are trying to get this one started quickly, with the weather providing a lot of problems that have the top brass a bit concerned.
The first round saw little action, with both men posturing and feel out each other. Murray is extremely defensive, as Martinez opens up a tiny bit in the second. While the action is slow, it has the look of a tense fight that is due to break open soon. A number of Martinez straight lefts to the body won him the round. Murray opening up a little bit.
By the third, the rain was blowing sideways into the ring. Martinez is trying to goad Murray into taking chances, but the British challenger is using his offense sparingly. Nice right by Murray, who seems to be getting into better range. Martinez using the straight left to the body, but Murray landing some hooks to the body. Close round. Each man landed some nice single shots in the 4th in nondescript action. Low blow by Murray brings action to a pause. Murray works the body and seems to have Martinez a bit thrown with his ultra-calculating approach. Martinez hones in with some straight lefts to the face and a good right hook as the round closes. Let's call it 3-1 Martinez.
Martinez is doing well, but Murray is subtly finding a home for the right hand up top. Action heating up. Another nice right by Murray. The Englishman, while not lighting the world on fire, is quite accurate. With gloves pinned high, he is also a difficult target. The superior athleticism of Martinez gives him an edge during the majority of moments, but Murray seems to be getting better as the fight wears on into the middle rounds.
Murray is really pressing, trying to forge his way forward. at times, the wheels of Martinez seem to be suffering from the drenched canvas. Nice body work by Murray and some well-placed rights and jabs even my scorecards at 3 rounds apiece. In addition, Martinez is now having a cut tended to above his left eye.
Murray is aggressive, but perhaps a bit too thoughtful. He's not letting his hands go enough and when in a champion's hometown, that's not a good thing. These rounds could be easily going to Martinez and it's not enough for Murray to simply make a case that he won a round, he needs to do it decisively.With a little over a minute left in the 6th, Murray hit Martinez on the break, getting a stern warning from the ref. Martinez strafes Murray upon resumption of the round, winning it in the process. Then again, Lederman is going against me in seemingly every round, so who knows?
Murray connects with a nice right in the 8th. Then a few seconds later, he lands another one that sends the champion to the canvas! Martinez is unhurt, having been caught a bit off-balance, and starts using his wheels to avoid further trouble. But after 8 rounds, it's clear: he has a fight on his hands. I have it 76-75 Murray going into the 9th. All 3 judges have it for Martinez, with two scorecards very close. This fight is featuring open scoring.
Slow 9th, with Martinez more active. He seems to be navigating his way better around Murray's damaging right. Decent round for Martinez, who landed enough good swats to the face to cause a Murray nosebleed. In the 10th, Murray is throwing more punches and landing the more authoritative blows. Martinez looking a bit gassed. Murray finding a home for the right again. Martinez is digging in, but Murray is undeterred and digging in nicely now. Murray's round in the 10th. Could this be another crazy finish for the Middleweight Champion.
Murray looks good to open the 11th, but Martinez finds his groove as little more as the round gets deeper. Martinez landing some light shots, but his ring generalship is a bit stronger in this round. I have this even going into the final round.
Couple nice right hands by Murray. Martinez goes to the body. Murray flurries, but his sharpness is a bit compromised by his fatigue after almost 12 rounds of fighting. Martinez lands a few nice one-twos. He then peppers Murray, bringing the crowd alive. Nice right by Murray, but another Martinez flurry scores more points. Sergio does a little dance as the round ends. Not a great performance for Martinez, but by sweeping the championship rounds, he appears to have narrowly edged Murray, who made an excellent challenge here tonight. Scorecards to come…
All 3 scores are 115-112 for the winner and still Middleweight Champion–Sergio Martinez!
Good performance from Murray. The word on Martinez after this may be that he's lost a step after barely getting by his last two challengers. I'm not so sure. Murray is a talented fighter and sometimes fighters falter a bit fighting in front of their home crowds. That's especially true in packed soccer stadiums with a driving rainstorms.
Luis Carlos Abregu vs. Antonin Decarie
Argentina's welterweight contender Luis Carlos Abregu, now 35-1 (28 KOs) continued his winning ways with a tough 10-round decision over gritty Canadian Antonin Decarie, now 27-2 (8 KOs). Known as "El Potro," Abregu now has two good wins in a row, with his last outing being an upset knockout win over ballyhooed Cuban Thomas Dulorme. Since losing to Timothy Bradley in 2010, Abregu has won 6 straight–all but this win being by knockout.
The bout was abbreviated from 12 rounds to 10 due to awful weather. In the 8th round, Abregu had Decarie going at the end of the round, with the referee hating action at the tn-second warning, thus depriving Abregu a chance to follow up when he had his opponent at his most vulnerable. To Decarie's credit, he had a tough road assignment here and still managed to give Abregu a very tough evening.
Arreola vs. Stiverne Results
Chris Arreola and Bermane Stiverne opened up their 12-round WBC title eliminator in spirited fashion. Arreola, 248, took the first with some nice barrages with Stiverne, 247, against the ropes, while the Haitian-Canadian answered well to the body. A promising round for those who hoped this might be a sort of poor-man's Foreman-Lyle.
The second began with more hard-hitting exchanges. Arreola is aggressive as always, throwing more punches, while Stiverne is looking to club with the right hand. Action slowing at the end of the second. Let's hope each man's extra poundage isn't already catching up with them.
Action slowing down. Some nice body shots by Stiverne in the 3rd. Arreola looking a bit unsure of himself, not throwing many shots. . He opens up a bit, but right before the bell–a crunching right crumples Arreola to the canvas! He drags himself up late in the count! The bell rings, saving Arreola. What a right hand!
Stiverne opens up the 4th swatting Arreola with a big hook. Arreola is bleeding and now showing even more respect after the Stiverne power surge in the 3rd. Stiverne is shaking Arreola with big shots. "The Nightmare" appears to have a busted nose, but he's trying to come back. It's just his punches look like pushes while Stiverne's are cannon-blasts. Stiverne being too conservative, though. Decent comeback round for Chris.
Stiverne looking more comfortable, with Arreola looking a bit worried to open the 5th. Both trade in the first minute, with Arreola looking more confident. It's just that Stiverne is such a harder one-shot puncher and he's standing up extremely well to Arreola while the opposite isn't the case. Still, Arreola is busier and Stiverne is looking a tiny bit gassed suddenly. Arreola is really in a fight. As the 6th round carries on, Arreola is looking battered about the face area. Then suddenly, a few Arreola right hands have Stiverne reeling to the ropes. Best moment of the fight for Arreola. The crowd is getting into it at the Citizens Bank Arena in Ontario and Arreola looks to have some good mojo going. Some nice chopping shots from Stiverne at the end of the round.
Some nice exchanges in the 7th. Stiverne is becoming busier than Arreola and all those punches are adding up, especially on the face of Arreola. Chris looks like he's in a tough fight with his face starting to betray him. In the corner before the 8th, Arreola is looking like he's beginning to have some negative thoughts. He's been hurt by Stiverne. Arreola looking bad in the 8th. He recoiled after an exchange as if he just hurt something, like a hand or shoulder. Stiverne is being allowed to dictate the fight at a pedestrian pace. The bodywork is adding up and even if Stiverne is getting tired, it's doubtful Arreola can do much about it at this point.
Arreola is in the corner and seems to be telling his corner to stop the fight. God forbid Bob Papa could shut his yapper for a second during revealing corner moments. If Leonard-Hearns were today, we would have never heard Angelo Dundee tell Sugar Ray "You're blowin' it, son!" Arreola comes out for the 9th and soldiers on. Stiverne looks sharp, though, to his credit and is continuing to dominate. Suddenly, Arreola comes alive and hits Stiverne a few times. Stiverne seemed briefly worried.  Nice right by Arreola, but Stiverne then comes back. Couple more nice rights by Arreola in a tremendous comeback round, even if he didn't win it on the cards.
A slow 10th opens. Stiverne is moving around and in total, has fought a very smart fight–dictating the fight with subtle movement. Arreola finds a home for a few rights in the last minute. Tough round to score. After 10 rounds, the math of the rounds might not have Arreola that far out of the fight. I've got Stiverne up a by 2 points, despite an overall vibe that he's doing a job on Arreola.
Stiverne doing well, moving around. Arreola is clearly gassed, though still trying valiantly. Stiverne has done a lot of things right tonight. He has used a nice punch variety, good movement, and showed true grit for 11 rounds +. Stiverne hooks off the jab, throws sneaky right hands to the body, and is staying out of Arreola's range. Nice round for Stiverne and Arreola may need a knockout.
Stiverne opens the last round with a stiff right. Arreola tries opening up and buckles Stiverne with a right. Nice hook by Stiverne and he opens up against Arreola on the ropes. Nice shots by Stiverne again and Arreola is really taking a pounding. Great performance by Stiverne, who hadn't been near this level at any point in his career. He's throwing heat in the last round. Arreola is really busted up. Body shots are doubling up poor Chris as the round comes to a close. Good stuff from Stiverne. He really showed a lot tonight in what is really his coming-out party.
Scores are 117-110 (twice) and 118-109 for the winner by unanimous decision–Bermane Stiverne. He is now the mandatory challenger for the WBC title, held by Vitali Klitschko. Stiverne is now 23-1-1 (20 KOs), while Arreola falls to 35-3 (30 KOs).
—
Don't forget to keep coming back over the next few days as we offer more analysis, post-fight coverage, rankings updates and more, and thanks for checking our our Martinez vs. Murray results.