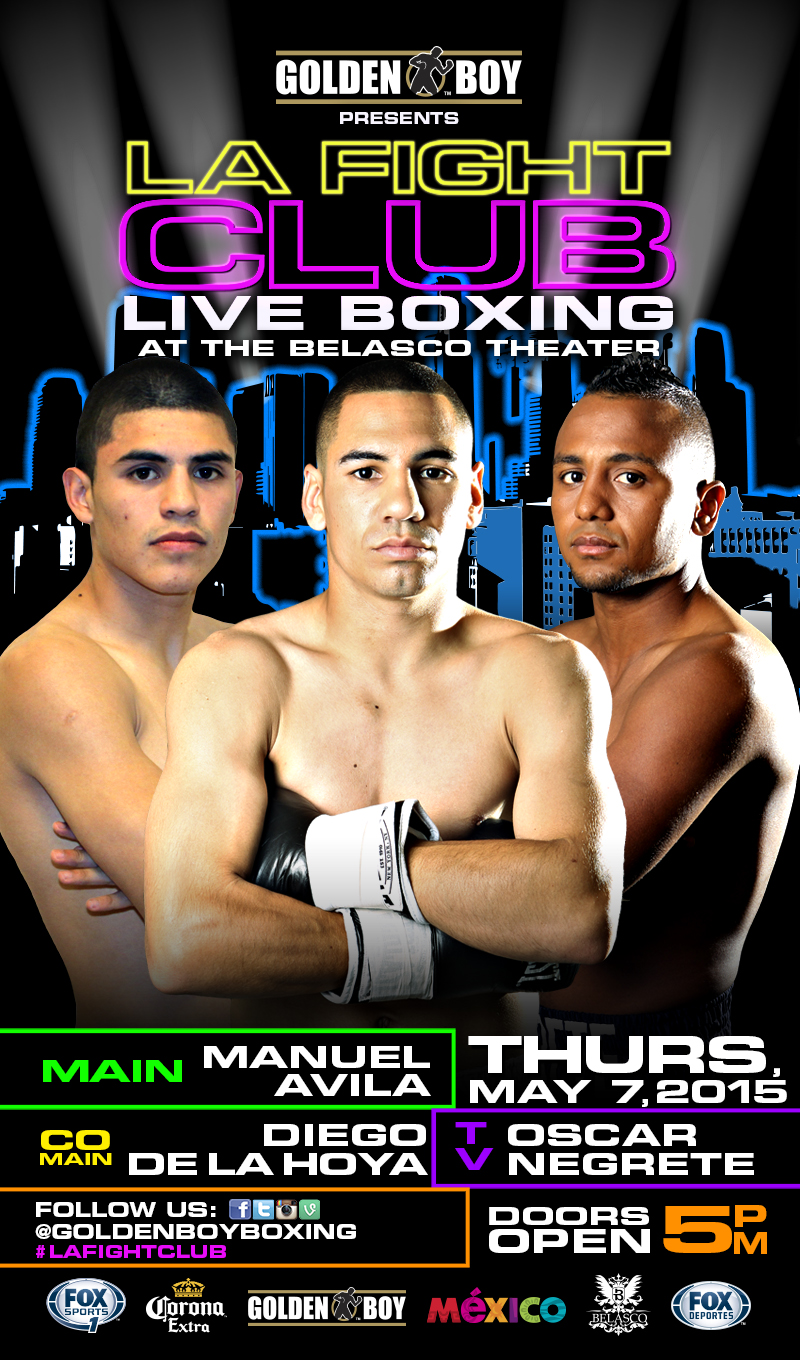 The third installment of Golden Boy Promotions' LA FIGHT CLUB on May 7, delivered another big night of fights at the historic Belasco Theater. The main event featured Manuel "Tino" Avila (17-0, 7 KOs) who took on Mexican-American fighter Erik Ruiz (13-3, 6 KOs) in a 10-round super bantamweight bout.
These two well matched opponents served up a close fight, each choosing their moves expertly, leaving little room for the other to capitalize on errors. Clearly fatigued by Avila's combination of moves in the sixth round, Ruiz came out swinging to start the seventh round off strong, keeping Avila on the move. Both fighters however finished strong, with Avila emerging victorious with a unanimous decision.
"I was training to fight Rolly Lunas," said Manuel "Tino" Avila. "I didn't know much about Ruiz. I stuck to my game plan and relied on my best punch, the left jab. I get careless and that is where he came in, but in the end, I was able to go after him and come out with the win."
"I took this fight thinking I could get a huge upset but it wasn't enough," said Erik Ruiz. "I think it was mostly the conditioning that was my problem. With the proper conditioning, it could have been a hell of a fight. Ultimately, he had a strong jab. I tried to neutralize it but just couldn't."
In the co-main event of the night, promising undefeated fighter Diego De La Hoya (10-0-6 KOs) of Mexicali, Mexico faced fellow Mexican Ramiro "Zurdo" Robles (12-3-1, 6 KOs) of Guanajuato in a high-octane eight-round featherweight bout. De La Hoya absolutely dominated right out of the gate in round one with an unrelenting flurry of combinations that had Robles on the ropes. Robles however answered with a powerful blow that knocked De La Hoya to his knees to end the fifth round. This exciting fight that had the crowd cheering ended with a definitive win for undefeated De La Hoya with a unanimous decision.
"It was very exciting to give the fans a good fight, said Diego De La Hoya. I came up against a tough opponent. It was a hard fight but I think it will be the fight of the night."
"De La Hoya is very intelligent, said Ramiro "Zurdo" Robles. "He knows how to move around the ring. My last fight was in July against Joseph Diaz Jr. so inactivity was a factor for me, but there is no excuse. I will have to work a little harder to make up for it."
In the first televised bout of the night, Paramount's very own, Oscar Negrete (9-0, 3 KOs) faced Luis Maldonado Jr. (38-14-1, 29 KOs) of Calexico, California in a scheduled six-round super bantamweight bout. Negrete drew blood early with a powerful blow to Maldonado's head in the first round and overwhelmed Maldonado in both the fourth and fifth rounds with a flurry of uppercuts. Negrete won the bout by technical decision in the fifth round.
"Going up against an experienced opponent showed me that I am ready for big things and that I am at the same level as champions. I'm definitely reaching my goals, said Negrete. "I won this fight tonight for my family back in Columbia and am proud to still be undefeated."
Nick Arce (3-0, 3 KOs) also a Los Angeles native faced Marco Alcaraz (0-6) of Greenville, Texas in a scheduled four-round featherweight fight. Arce fans came out in full force and electrified the Belasco for the final bout of the evening. Arce's quick footwork and power punches had Ruiz on the ground three times, in round one. Arce followed up in round two with a flurry of combos that had Alcaraz on the ropes. Arce won the bout with a second round TKO.
"I was smart about my opponent," said Nick Arce. "We had a gameplan and executed it. He was a shorter opponent I relied heavily on reach advances tonight."
Early on in the evening, fans got an exciting matchup when Jesus Delgado (5-0-1, 1 KO) of Los Angeles, California, took on Benjamin Vinson (1-3, 1 KO) of Nogales, Arizona in a scheduled four-round lightweight bout. Delgado looked strong, delivering a flurry of combinations and precise body shots, quickly tiring out his opponent. Ultimately, Delgado was victorious with third round TKO, adding another win to his undefeated record.
"I feel good about the fight," said Delgado. "I didn't know much about Vinson, so I tried to go in calm and test him out early on. Once I did I started to capitalize on his mistakes and fortunately was able to come out with the win."
In another power-packed super bantamweight matchup, scheduled for four rounds, Emilio Sanchez (8-0, 6 KOs) went head to head with Eliezer Agosto (2-5, 2 KOs) of Vega Alta, Puerto Rico. Sanchez had Agosto to the ground early in round two, but Agosto dug deep to stay in the hard fought battle. In the end Agosto wasn't able to overpower the undefeated Sanchez, whose consistency and speed guaranteed him the win with a unanimous decision.
"I am feeling good about my victory and remaining undefeated," said Emilio Sanchez. "Agosto gave me a good fight though. I think I am ready for a 6-rounder next time. The LA FIGHT CLUB fans are great and I can't wait to give them even more next fight."
Opening up the night, Diego Padilla (1-0) of Los Angeles, California had an impressive professional debut as he took on Zachary Cooper (2-1-2, 2 KOs) of Seattle, Washington. Though Cooper came out aggressive, Padilla successfully landed consistent head shots that ultimately overwhelmed Cooper. In a unanimous decision Padilla wins the match-up, showing himself to be a bright prospect with a promising future.
"The fight was good," said Diego Padilla. "I was really anxious to get this fight under my belt, but LA FIGHT CLUB was a perfect debut"