Colorful Southampton light-middle Joe Pigford is causing quite a stink down on England's south coast. The undefeated 21 year old, who debuts for Queenberry Promotions at Wembley this Saturday, has amassed a fast growing and increasingly raucous band of swine who illuminate arenas every time he fights.
'My dad and older brother were both known as 'Piggie' and quite a few of my mob turn up to my fights wearing pig costumes, pig masks and snouts,' explains Joe who meets Nottingham's Simone Lucas over six rounds.
'Before I fight they all chant: 'Release the pig!' It draws attention to me so I don't mind. Something different.
'There'll be about 150 coming to Wembley and it'll be quite lively by the time I fight!'
Unquestionably the gimmick has helped court welcome interest in the gifted former national junior finalist but, in boxing, nothing draws recognition more than a genuine knockout punch.
Since joining the profession 30 months ago, the young piglet has placed seven big bad wolves in the pot to boil. Of those, only 57 fight Atherton veteran Willie Warburton huffed and puffed his way across the finish line.
'Obviously you can teach technique to improve power but true punchers are born punchers,' insists Smokin' Joe who has dispatched three victims in the first round, two in the second and one in round three.
'I could always bang a bit. I stopped my first four opponents and probably half of my amateur wins were stoppages. I've always had a really strong jab and hook.
'Once, when I was about 15, I remember finishing a kid with a body shot. They took my head guard and wraps off, called me to ring centre to raise my hand and, minutes later, the poor kid was still writhing on the floor being attended to by the doctor!'
'People who just see my record probably expect a short, squat guy who'll storm out like a steam train but I'm actually a 6ft 1in light-middle who prefers to stand off, work the jab and pick my punches. I just happen to be able to whack with both hands.'
His initial fascination with the noble art was sparked at the family parties held for fight nights featuring domestic legends such as Naseem Hamed and, Joe's personal favourite, Nigel Benn.
At the age of 12, he decided to assume a more active role.
'No one else in the family ever boxed but I started having a go at the Millbank ABC run by Wayne Batten, now my pro trainer. To be truthful, I weren't great at school, always in trouble. They'd send me home for break times because I was a bit too rough with the other kids!
After just three bouts, Pigford switched to the Golden Ring club where his club mates included European amateur finalist Iain Weaver and ex Commonwealth middleweight challenger Tony Hill.
'All told, I suppose I had about 35 amateur fights and lost maybe eight,' recalls Joe.
'Twice I got to the NACYP final but the scoring in amateur boxing was shocking for a puncher like me. I'd knock a kid down and still lose the round.
'I once beat Scotland's Charlie Flynn who won the Commonwealth Games last year but I never went in the Senior ABAs or boxed for England. I just enjoyed training and fighting. It was always my plan to box professional from as soon as I started.'
To that end, he sought the guidance of Mr Wayne Batten, the coach who inducted him into the sport as a schoolboy at Millbank and who is currently overlord at Batten's Boxing, a pro stable at the Pound for Pound training ground in Southampton. It has served as Pigford's sty for the past 30 months.
'I see more of Wayne than anyone else in my life. We train together twice a day. He's an ex amateur who's the best pad man I've ever seen. He always gives good advice and I trust him,' says Joe.
'My dream is to win titles: British, Commonwealth, then maybe European and world. I intend to keep in the gym, stay as fit as I can and fight as often as I'm able. That way, I'll soon be challenging for titles. I'm always 100 confident that I can beat whoever is placed in front of me.'
Thus far, there are few names of real substance on the apprentice's perfect 7-0 slate. However, he has quietly been developing his craft, away from the spotlight, as a spar hand to several of the leading players in the 154-160lb divisions.
'I've done a lot of sparring with (WBA interim middleweight champ) Chris Eubank Jr,' disclosed Pigford.
'It's been great experience and I've learned a lot. He's heavier than me and very strong physically but he's also very sharp. You can never afford to switch off. (Ex WBO International light-middle czar) King Davidson also taught me a lot and I've had spars with (British and Commonwealth middleweight challenger) Nick Blackwell and (Commonwealth light-middle boss) Liam Williams. Very good boys.'
A huge fan of Southampton FC, the Saint goes marching into battle again this weekend with the added incentive of impressing new promoter Frank Warren and a live BoxNation audience.
He concludes: 'I'll be looking to make a statement. I'll set out looking to box, box; dominate the fight without taking any punishment. I won't go looking for a kayo and it'd be good to get a few rounds under my belt. We'll just have to see if my opponent can take my punches.'
The Angel faced assassin Boy Jones Jr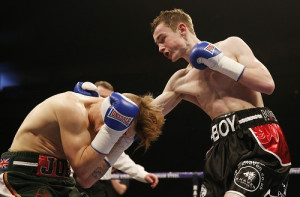 The cheeky chappie with the boy band looks and bad boy banter would struggle to gain entry to a 15 certificate movie but is presently earning his living, and a growing reputation, as a prizefighter worthy of attention.
Even more remarkable, the 18 year old Dom Negus mentored super-feather swerved the amateur code to cut his fighting teeth on the hardened 'unlicensed' circuit, where he swiftly acquired a cult following.
And in late February, the 'Boy Army' landed en masse at London's O2 Arena, creating an ungodly din for Jones' hugely impressive debut win over Swindon's significantly more seasoned Joe Beeden.
Jones Jnr returns to action this Saturday night at the SSE Arena, Wembley, in a four-round contest against Aaron Flinn.
'I've always been a ticket seller, I suppose because I'm cheeky. 'Kickin' off and chewing gum! Looking at me, no one would think I'm a fighter,' chuckles cherubic of Chingford.
'I rarely go out and I never drink so Dom, my mum and brothers shift the tickets. But I'm never horrible so everybody seems to take to me. I try to be a likeable guy. I like to meet up with my fans and chat to them.
'I sold about 280 for my debut and the noise and atmosphere from that corner where they were based was mental. It gave me a big boost. I was close to tears. No one was going to beat me after that reception.
'My opponent, Joe Beeden, was the best kid I've fought. He had bundles of experience. And the three minute rounds really suited me. It was less of a rush than the two minute rounds on the unlicensed circuit.'
Though already in his mid teens, Jones Jr still carried the air of primary schoolboy when he first dipped into the Five Star ABC in Romford three years ago.
'I was always boxing with my little brother in the front room but I didn't actually start until I turned up at Dom's gym when I was 15,' recalls 'Essex Boy'.
'People were quite surprised with how quick I took to it cos I was I shy little skinny kid who hardly spoke. But I was hooked. From the age of 15, I was training five days a week.
'I just really like being at the gym. There's so many positive people there. I work a few extra hours at the gym but, other than that, I just like to stay indoors with friends and family.
'From day one Dom was always very generous with his time and did a lot of one-to-one stuff with me. He's been a real father figure not just with the boxing but also with how to treat people with respect.
'We start our pad sessions every day at 6am which is perfect as we have the gym to ourselves. I do circuits in the afternoon or evening and track with Dan Harding on weekends. That's horrible!'
From the onset, despite his youth, the six foot super-feather had no desire to scrap for cups and cutlery.
'Though I had three or four paid fights on the 'unlicensed' circuit from the age of 16, I weren't interested in amateur boxing. I didn't have the patience for it. I always liked to sit down on my shots,' he says.
'Fighting pro is every young boxers dream. From the moment I stepped into Dom's gym, I wanted to be a pro like Lee Markham, though I'm surprised it's happened so quick for me. From the very start, I adopted a pro style. All my early sparring was done with pros like Ohara Davies, Louis Adolphe and Kay Prospere.'
The 'Boy' applied for a Board of Control professional boxer's license as soon as he was legally able. Though the administrators overlooked his prior escapades on the 'underground' scene, they insisted he find a fresh fighting 'handle'.
'My real name is Ben but as there was already a pro called Ben Jones I needed to find something different,' he explains in his infectious youthful tone.
'One day I was acting like a kid with my mates at the bus stop so they called me 'Kid' Jones. Later someone said 'Boy' Jones was more catchy. It was (manager) Andy Ayling who added the 'Junior' at the end. Well, it helps sell a ticket!
His fresh 'boat', and a willowy frame that suggests he'd get blown away by an autumn gust, disguise the heart and spirit of natural born fighter.
He says: 'Though I'm a six foot super-feather, I'm quite strong for my age and I like to come forward and fight in range, deliver excitement. But I can box back foot if I need. I'm not one dimensional. Obviously there's loads still to learn. I cuff a bit with the left hook and my head movement needs a lot of work.'
Away from the gym, he further advances his fistic education by studying DVDs of the past masters.
'Ricky Hatton was my hero growing up and he left me a voice message on my phone before my debut which was unbelievable. Lately, I've been watching more tapes of old fighters like Arguello and Chavez,' says bashful Ben who has decades to master his craft.
'I need to get my first three years out the way before I start thinking about titles. Mind, a few fans are trying to get a bet on that I'll be British champion before I'm 25. I've gotta be worth a punt!'
He'd be tempted to stick a few quid on himself, if he could convince a bookie to serve him!
Ex Southern Area cruiser king Dom Negus has served as mentor for Boy Jones Jr's entire fighting life.
And the man known as 'The Milky Bar Kid' during his own fighting prime at the turn of the millennium clearly thinks his young starlet is chocolate!
'It's impossible to meet Ben and not fall in love with the kid,' claims Big Dom, who once took Olympic champion Audley Harrison the distance.
'Sure, he's silly as a bag of spanners. The only time he's serious is when he's fighting but we hit it off straight away. Only he and my daughter have kept me going through mad times these last 18 months.
'The kid can really fight. Despite the baby face, he loves a row a bit too much at the minute but he's naturally gifted and we're trying very hard to persuade him to box long range so he can enjoy a bit of longevity.
'I've sat down with (manager) Andy Ayling and got Ben a three year contract which should cover his apprenticeship. By the end of this year, it'd be great if we could get him half a dozen four round fights – different problems; a rucker, a southpaw, a counter puncher etc – then advance him to six round level next year. I've high hopes for him.'