Women's Olympic Boxing Results: Katie Taylor vs. Natasha Jonas Thrills Crowd
In the early session of Olympic boxing on Monday, two USA women were in action, Marlen Esparza and Claressa Shields, both coming off first round byes in the tournament. Right here, find the complete women's Olympic boxing results for the day, which was also highlighted by a Lightweight match-up between Ireland's Katie Taylor and Britain's Natasha Jonas.
Esparza vs. Magliocco
First up was Flyweight Marlen Esparza going up against Karlha Magliocco. The Venezuelan started the fight aggressively, storming forward and throwing big shots at the highly touted American. Esparza kept her calm and was looking to pick off her opponent. On the strength of her cleaner punching, she took the first round 8-4.
The pattern continued into the second and third rounds, although Magliocco never attacked with quite the same fury as she had in the first. Esparza also began sitting down on her punches a bit more, throwing with greater power. Esparza took the 2nd round 6-4, and the third round 5-4, building her lead to 19-12 entering the final session.
In the fourth, Esparza continued to she her strong defensive skills, as well as her crisp jab and sound technical game. The Venezuelan landed a few punches, but couldn't consistently make her way inside. The round stopped and started a few times for gear adjustments, and in the last 30 seconds Magliocco had perhaps her best moments of the fight, landing several big overhand rights. But Esparza's lead was too big, and she took the fourth for good measure, winning 24-16.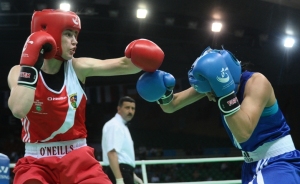 Taylor vs. Jonas
The crowd was going nuts for the start of the Taylor vs. Jonas fight. Katie Taylor is viewed as the top female amateur right now, while the home country fighter Jonas was coming off a big win over Queen Underwood in her first match.
The action began immediately, with both women engaging and looking for openings. Taylor stays constantly bouncing on her toes, and then explodes with combinations. She also has quick hands, and thudding shots. She controlled the first round as Jonas couldn't quite figure out how to approach her, winning 5-2.
The second saw some fantastic exchange and intense exchanges. Jonas decided to suck it up and get inside, and make things a little bit more rough and tumble to get Taylor out of her rhythm. Taylor was more effective at a distance, but Jonas had a much better round by forcing the action. The second was scored 5-5, giving Taylor a 10-7 lead.
The third round began a bit choppy with the fighters needing to be broken. Taylor lands a big shot and Jonas is given a standing 8 count, the crowd, which has been chanting and going nuts the entire time, disagrees with the call. Jonas gets inside and goes to the body, Taylor pushes off and then opens up with several combinations. Taylor wins the session 9-4, building a 19-11 lead.
Jonas came out strong in the fourth, fighting for her Olympic life. Landed some nice shots, but every time she did, Taylor would begin her attack anew, and find an effective answer. Jonas was given another standing 8 count with about 30 seconds left, and Taylor continued pouring it on until the bell. Fantastic fight, fantastic crowd, another fantastic showcase for women's boxing as Katie Taylor wins by a final score of 26-15.
Shields vs. Laurell
Team USA Middleweight Claressa Shields was lined up against a former two-time world champion, Sweden's Anna Laurell. Laurell stands at 6 feet tall, and towered over the American teenager.
In the first round, her size proved to be a difficult task for Shields to overcome, as the Swede kept her distance and didn't allow Shields to get inside. She won that stanza 4-2.
After the first though, Shields figured out how to punch her way inside, opening up her combinations with a looping overhand right. She continued to battle her way in behind that right hand, and began landing the cleaner shots, winning the second and third rounds by one point each to level the score at 12-12 going into the fourth.
The final session was all Shields. She knew what she had to do, and she went out there and took home the fight, winning the round 6-2 and the fight 18-14.
Full Women's Olympic Boxing Results
Women's Fly (48-51kg) REN Cancan wins 12:7 SAVELYEVA Elena
Women's Fly (48-51kg) MAGLIOCCO Karlha loses 24:16 ESPARZA Marlen
Women's Fly (48-51kg) RAHALI Maroua loses 15:6 HMANGTE Chungneijang Mery Kom
Women's Fly (48-51kg) PETROVA Stoyka loses 16:7 ADAMS Nicola
Women's Light (57-60kg) TAYLOR Katie wins 26:15 JONAS Natasha
Women's Light (57-60kg) DONG Cheng loses 13:8 CHORIEVA Mavzuna
Women's Light (57-60kg) OUBTIL Mahjouba loses 16:12 ARAUJO Adriana
Women's Light (57-60kg) PRITCHARD Alexis loses 22:4 OCHIGAVA Sofya
Women's Middle (69-75kg) MARSHALL Savannah loses 16:12 VOLNOVA Marina
Women's Middle (69-75kg) LAURELL Anna loses 18:14 SHIELDS Claressa
Women's Middle (69-75kg) SPENCER Mary loses 17:14 LI Jinzi
Women's Middle (69-75kg) OGOKE Edith TORLOPOVA Nadezda
Thanks for checking out our women's Olympic boxing results including team USA women's boxers Marlen Esparza and Claressa Shields, and the fantastic bout between Katie Taylor of Ireland and Britain's Natasha Jonas.