The hottest rising heavyweight prospect in America right now is Bryant Jennings, eclipsing even 2008 Olympic bronze medalist Deontay Wilder. Beating former beltholder Sergei Liakhovich in March vaulted the 27 year old Jennings to the front of the U.S. rankings, and praise from super-trainer Freddie Roach focused still more attention on him.
Even so, the point of being a prospect is to become a title challenger. For American boxing fans eager to bring a world title home, the question therefore becomes "is Bryant Jennings ready to strike down a Klitschko?" as we showcase our latest in the Klitschko Readiness Rating series.
Bryant Jennings: Among the Best?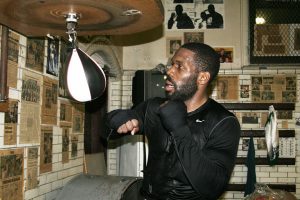 "By-by" is 6'2″ tall and around 220-pounds, making a him a solid, mid-sized heavyweight, but with an 84-inch reach. Those are freakishly long arms for a medium-sized heavyweight (Wladimir Klitschko has only an 81-inch reach), and akin to the height-and-reach equation of Hasim Rahman. Unlike the Baltimore Knucklehead, however, Jennings is a fighter of the rugged Philadelphia school, and relies on speed, mobility and agility as the foundations for a busy offense. He certainly has the tools to tangle with a much larger man and prevail.
Jennings' main weaknesses are his merely average power, and his lack of experience. While hardly a feather-fist, Jennings has a low knockout ratio for a fighter in his third professional year, when most of the past opponents have been tomato cans and journeymen. Furthermore, most of the opponents Jennings has taken out were stopped rather than kayoed.
As previously mentioned, Jennings is in the third year of his professional career. He is only 14-0, and only made the jump from six-round to ten-round fights earlier this year. The Liakhovich win garnered Jennings plenty of attention, but it was his first and, thus far, only bout against a name opponent. Moreover, it isn't like Liakhovich is that impressive a name. His biggest win was capturing the WBO belt from Lamon Brewster, a fringe contender at best. That win is the Belarussian's only claim to fame, and his status is really that of a gatekeeper, since he has lost 4 out of 5 medium-to-big fights. Realistically, Jennings has only gotten past his first medium-scale test.
Bottom Line: Jennings' Klitschko Readiness Rating
The KRR – C
Jennings has the raw material to make a nightmarish experience for Vitali Klitschko. The elder brother is a little slower, a little more awkward, and a little less skilled than his younger brother. While Vitali's style makes him the better of the two brothers for mixing it up with big punchers, his weaknesses make him more vulnerable to speedsters, slicksters, and technicians. Jennings scores well on both points, and more to the point is substantially larger than any of the other slicksters and technicians in the division, present or recent past. He even outreaches both brothers to boot, and has a surprising six-inch reach advantage on Vitali!
The problem for Jennings is that he has not yet won the experience to temper his raw material. He is a prospect, and not yet a contender. He needs at least one more year and a couple more name-quality opponents, and preferably even more than that. The problem there is that his best target, Klitschko the Elder, will likely be retired before Jennings is ready to fight him. That leaves little brother Wladimir.
Wladimir is a less attractive opponent for Jennings, since he is better equipped to deal with a fighter with Jennings set of talents and skills. Even so, Jennings has the stuff to pose a stiff challenge to the biggest, baddest man in boxing. The guys Wladimir fights who have the reach to get to him are always much slower, while the guys who can match him in the speed department are always much smaller. Jennings is smaller, but not small like Eddie Chambers or Chris Byrd, and can match Wladimir in the speed and reach department. In a year or two, when Wladimir is in his late 30s and slowing down, Jennings will actually have the edge in speed.
That is all speculation, however. The bottom line at the present time is no, Bryant Jennings is nowhere near being able to take on either Klitschko brother. He would do better against Vitali than Wladimir, but he needs a lot more seasoning before he has a fighting chance against either of the big Ukrainians.