Former Contender Champion Could be Next for Steve Cunningham after Godfrey Bout Cancellation
Following the cancellation of Steve 'USS' Cunningham's fight, for the vacant IBF Cruiserweight Title, with Matt 'Too Smooth' Godfrey the former Champ, and his esteemed coach Naazim Richardson, must be wondering if he will ever get the chance to regain the belt that he lost to Tomasz 'Goral' Adamek some fifteen months ago.
On the 11th December '08, one most exciting and intriguing boxing matches ever seen took place between Steve 'USS' Cunningham and former WBO light heavyweight champion, Tomasz 'Goral' Adamek. The result, a split decision in favour of Tomasz Adamek, could have gone either way and it would have been fair and unarguable as many neutral observers scored it a draw or a single point victory with virtually a 50/50 split between Steve and Tomasz being the victor!
The fight was instantly hailed by the media as late contender for 'Fight of the Year' honours, and many called for a much deserved rematch. However, Adamek and his team would not entertain a rematch with 'USS' Cunningham, instead choosing to defend his new title against against Jonathan Banks and then Bobby Gunn.
On the very same night in July '09 that Adamek faced Gunn in Newark, NJ, 'USS' Cunningham, now coached by 'Trainer of the Year' Naazim Richardson, locked horns with former WBO Cruiserweight supremo Wayne 'Big Truck' Braithwaite at the BankAtlantic Center, Sunrise, Florida, in the IBF final eliminator.
Following the totally dominating victory over the former WBO champ it seemed that 'USS' Cunningham's dream of facing his old foe,Adamek, again and the opportunity to regain his coveted crown was finally set to be a reality.
Alas the mouth watering prospect of these two great champions in battle with each other once more was not to be. The final 'nail in the coffin' for the rematch came back in October '09 when Adamek relinquished the IBF Cruiserweight title to campaign in the lucrative heavyweight category.
The IBF reacted quickly to Adamek's resignation by announcing that Matt 'Too Smooth' Godfrey would be the next available for the newly vacated title and ordered negotiations to start for the fight with 'USS' Cunningham.
Cunningham-Godfrey was originally to take place in Sunrise, Florida on the 19th March but was moved back one week, to the 26th March, and scheduled to co-headline with Spinks-Bundrage on the ESPN broadcast Friday Fight Nights show at the Treasure Island Casino in Las Vegas.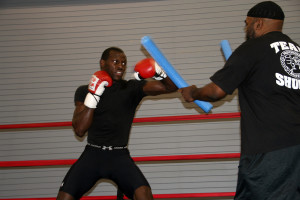 10 days before the fight was scheduled news filtered out that the the revised Cunningham-Godfrey date was now also in jeopardy, due to a contract dispute between Don King and ESPN. The IBF reacted quickly, after the negotiations fell through, passing the fight rights over to second highest bidder Main Events as Don King had failed to make the fight within 90 days of winning the purse bid.
Main Events' President, Kathy Duva, along with Godfrey's promoter Jimmy Burchfieild, ESPN and Chicago promoter Dominic Pesoli 'burned the candles at both ends' to save the fight and date, albeit moving the whole show to Pesoli's already established Mollo-Zumbrun headlined show in Chicago on the 26th March.
The final nail in the coffin of Cunningham-Godfrey came just after the newly revised date and location was announced. Godfrey's trainer, John Scully, went on record saying that Godfrey would not be fighting. Scully claimed that both he and Godfrey had been told the fight was off and as such Godfrey had stopped training immediately on the Wednesday. Scully claimed that the first they knew the fight was still on was when they were watching Friday Night Fights on ESPN.
An incredulous Naazim Richardson, who had been preparing 'USS' Cunningham for the showdown with Godfrey, explained why, unlike Scully and Godfrey, they had kept on training throughout the period the fight looked in doubt. "There are different levels of boxing, in my opinion Matt is a talented guy and has a talented team, but everyone is not prepared for every level. When they said the fight was off, and didn't give a valid reason, I kept Steve in the gym, if nothing else we'd start working on what was next. Before he broke camp, when we were waiting on the final word on the fight, we spent the last two days working on Ross already.
This is for a World championship, this opportunity changes your life in boxing, Scully is an experienced guy and Matt is astute and experienced as well, they should have known to be ready for whatever. Having a problem with your promoter should push you to train more diligently, once you are in the top 10, you must be prepared at all times. Not all athletes have the same determination, some need to chase a carrot in order to run. But I was looking forward to this fight and I thought it was going to be a good match up."
As Godfrey had withdrawn from the fight IBF President Marian Muhammad wrote to his promoter, Jimmy Burchfield, notifying him that as Godfrey was not prepared to participate in the bout on March 26th, he would lose his position in the rankings and his opportunity to fight for the title. With Godfrey 'out of the frame' as such who would now be facing 'USS' Cunningham for the vacant IBF belt now?
Instantly the news was out that Godfrey had withdrawn from the fight the 'smart money' went on 'USS' Cunningham's new opponent being Toronto, Canada domiciled Guyanan Troy Ross, 23 (KO16) – 1, who is currently ranked fourth by the IBF and next in line.
Ross, who portrayed Light Heavyweight Champion John Henry Lewis in the movie "Cinderella Man", is most famously known as the winner of The Contender Season 4 reality TV show, after he stopped Nigerian Ehinomen 'Hino' Ehikhamenor in the 4th round of the final.
Having competed in 91 amateur fights, 81-10 record, and represented Canada at both the 1996 and 2000 Olympic Games, Ross turned pro in 2001 and got off to a great start by winning his first twelve fights. His thirteenth fight, in March 2005 against Willie Herring, produced his only loss to date.
Just two months later Ross bounced back, from the disappointing points loss to Herring, by stopping fellow Toronto resident, Rumania's Claudio Rasco in the eighth round to lift the Canadian Cruiserweight crown.
Following an eighteen month period of inactivity Ross returned to the ring on 20th January '07 to conclusively beat Hastings Rasani, at Alexandra Palace in London, by a third round knockout. This was quickly followed by a second round knockout of Sheffield, England's perennial favourite John 'Buster' Keeton to win the coveted Commonwealth (British Empire) Cruiserweight title.
In his most recent fight, on the 5th December '09, Ross knocked out Brazilian Daniel Bispo after just 1 minute and 12 seconds of the first round.
The ever astute Naazim Richardson, who had already switched Steve's focus away from Godfrey and onto the next likely contender during the final days in training camp, shared his thoughts on Ross and the challenge that he would present to his esteemed charge, "Cunningham put a lot of focus and hard work into training for Godfrey, now I have to take him down to bring him back up for Ross.
Ross is solid competition, he knows how to win and is a very focused athlete. I have seen some of his fights from the contender, but you can't really go by those too much because they are edited for television, you only get bits and pieces.
From what I have seen, I respect him and put him on a higher plain than most athletes, but Steve will be prepared to take on this challenge.
I am confident in Steve, I believe he will be the face of the Cruiserweight division because of his athleticism and eagerness to learn more and be the best. I look at Steve training and I see that he is capable of so much more than what he already does, I can't believe no one else has showed how to use all of his talents."
Watch this space for further news as it is just a matter of time before we will know for sure if the mouth watering prospect of Cunningham Vs. Ross, for the vacant IBF World Cruiserweight title, is indeed to happen.
Comments
comments