Ricky Burns vs. Kevin Mitchell Fight Preview and Pick to Win
WBO Lightweight Champion Ricky Burns defends against top challenger Kevin Mitchell to determine the identity of the best lightweight in the U.K. Burns is from Scotland, where the bout is being held, with Mitchell hailing from Essex, England and this fight should generate considerable national interest.
Date: September 23, 2012
Site: Glasgow, Scotland
Weight Class: WBO Junior Lightweight Title: 12 Rounds
Ricky Burns, 34-2 (9 KOs), Coatbridge, Scotland, WBO Junior Lightweight Champion
Vs.
Kevin Mitchell, 33-1 (24 KOs), Dagenham, Essex, England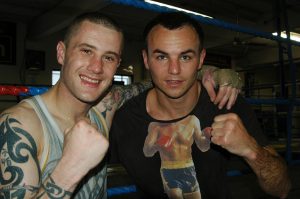 Burns, 29, has made strides in the past year or two and really impressed in his last two fights. The first of those came against Michael Katsidis, against whom Burns scored a comprehensive decision. This is the same Katsidis who provided the only blemish on Mitchell's record, knocking out the Essex product in 3 brutal rounds. But while Burns only beat Katsidis a year-and-a-half after he beat Mitchell, it looked like Katsidis had depreciated during that time.
That's a faulty way to gauge fighters, anyway. While it's not a source of much confidence for Mitchell backers, going off of common opponents has resulted in a ton of losing wagers over the years. And not to besmirch the quality of opponents that Burns has faced, but it might be Mitchell who has faced the tougher opposition.
In late-2009, Mitchell defeated Breidis Prescott, the same man who knocked out Amir Khan. Mitchell showed a lot of promise in that fight, widely outpointing the hard-hitting Colombian in gutsy fashion. And Mitchell also holds a win over John Murray, one of the best lightweights of the U.K.
Frankly, Mitchell's career hasn't been going so well lately. Since being stopped by Katsidis in May of 2010, he has fought just twice. He dealt with a legal issue after a drug-related arrest and perhaps that led to him having just two fights in 26 months. And while Mitchell has looked good in spots during his career, the Katsidis mauling looked like a man versus a boy. Watching him get crumpled by the raw Australian is not an easy image to shake.
Burns is a fighter that is hard not to like. He has guts and cunning. He is a clever boxer and perhaps a better puncher than his 9 knockouts in 36 fights would suggest. He likes to work behind solid fundamental skills–with his hands up, offering movement, and working his jab. He has good size for a 135-pounder, standing 5'10" with a 71-inch reach. He will have a few inches height and reach advantage over Mitchell.
Mitchell might have slightly more talent from a natural, god-given sense, but Burns could be the more poised and resourceful pro. Mitchell is dynamic, with a slashing offense and deceiving power–with 24 knockouts in 33 wins. He hasn't been active, but his win over Murray was very impressive and the "Dagenham Destroyer" is eager to prove his naysayers wrong with a smashing performance over Burns.
Burns is game. He is also quick and very clever. But it seems like Mitchell's Kryptonite is power. The crunching attack of Katsidis quickly saw Mitchell falling apart. If not for that, Mitchell would have likely outboxed Katsidis. Regardless, Burns is not as soft a swatter as his knockout percentage suggests, but he is nowhere in the league of Katsidis. Mitchell will surely find that to his liking.
Burns vs. Mitchell Prediction
This is not an easy fight to pick. Burns is one of those guys who is in actuality a little better than his record or his video footage suggests. He is a winner and a world champion and deserves the respect that has eluded him–at least on a worldwide scale.
At the same time, Burns has always seemed a little uncomfortable when facing pressure. And against Mitchell, he might find the sheer volume and intensity of his offensive attack to be too much. I like Burns, but believe Mitchell is cut from slightly better stock. Look for a hard-charging Mitchell to break a close fight open in the final 3-4 rounds to cross the wire with his nose ahead.
Prediction: Kevin Mitchell wins by unanimous decision.
Comments
comments