Amir Khan vs. Danny Garcia Preview and Pick to Win
Amir Khan and Danny Garcia fight on July 14 at Mandalay Bay with Garcia's WBC belt at stake. Garcia won the WBC belt in his last win–a dominant decision over Hall of Famer Erik Morales. Khan, meanwhile, is looking to get back on the winning track after losing to Lamont Peterson.
When: July 14, 2012
Where: Mandalay Bay, Las Vegas, Nevada
Weight Class: WBC Junior Welterweight Title: 12 Rounds
Amir Khan, 26-2 (18 KOs), Bolton, England Vs. Danny Garcia, 23-0 (14 KOs), Philadelphia, Pennsylvania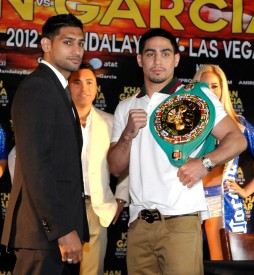 Khan was supposed to fight Lamont Peterson in a rematch, but Peterson tested positive for PED's and the fight was canceled. It puts yet another light on Khan's "loss" to Peterson in Washington D.C. in December of 2011. Most felt Khan won as Peterson benefited from two dubious point deductions to squeak out a split decision, the point deductions providing the margin of victory.
Now that Peterson tested positive, it casts even more doubt on an already-iffy loss for Khan. Peterson fought his butt off, but with the bizarre officiating and now a positive drug test, it can be said that Khan's loss wasn't really a setback after all. But it is a little worrisome that Khan was set on avenging that loss and now gets unbeaten Danny Garcia as a fill-in opponent.
Garcia is hardly a guy you want to fight as an afterthought. Khan better be ready and not suffer a letdown after the change in plans. Then again, he has had time to make the adjustment.
Garcia, 24, is a an unbeaten Philly fighter who has developed nicely. There are still some rough edges to smooth out, but he's done everything asked of him so far. He beat a lot of trial-horses and journeymen on his way up. His first recognizable foe was Ashley Theophane, the British contender. Garcia escaped with a close split decision.
After a nice knockout over Mike Arnaoutis, he won a decision over former champion Nate Campbell. Garcia then won a split decision over Kendall Holt that should have been unanimous, leading up to a dominant decision over Erik Morales.
Garcia looked good against Morales, but Khan represents a completely different level of opponent. Not taking anything away from Morales, as "El Terible" is a Hall of Famer for a reason. But those reasons do not include his run in this decade as a 140-pounder. He gave it a great go against Maidana, but Morales looked very spent against Garcia, who deserves credit for a good win. I'm not so sure his wins over Holt and Morales have put him in line to beat the best 140-pounder in the world, now that Tim Bradley is at welterweight.
Khan is still only 25 and the things that had people so excited about him are still in place. It seemed like he had overlooked Peterson in his last fight. He went into his challenger's hometown and Peterson needed a Rocky Balboa-like performance and help from a dingbat ref to pull off the win. And who knows what else?
Khan is by far the sharper fighter. Talent is subjective, but I think it's safe to say that Khan is the more gifted of the two fighters. As we know, it often does not boil down to sheer talent. A lot of other things come into play and that's what Garcia is banking on. He will need to overcome the superior athleticism of Khan with ruggedness and doggedness.
Khan vs. Garcia Prediction
I like Garcia. In 2-3 years time, he could be "the man" in this weight class. He has developed nicely and when asked to take a step up in class, he answered the call. Now they're asking him to take another leap up in class and I sense he will fall a bit flat. Khan can be inconsistent and the change in opponent here might have him a bit thrown. But coming off a loss, one should expect a focused Khan to go all-out to get some positive momentum going again in his career.
Prediction: Amir Khan wins by unanimous decision.