Working your way to the top and capturing a world title is obviously a massive achievement for any fighter. Keeping it in your possession once you have it however, is an even greater task. With every defense comes another hungry challenger who desperately wants what you have.
Scotland's Ricky Burns aims to keep his WBO super featherweight belt firmly wrapped around his waist when he lays it on the line against Dagenham's Nicky Cook in Liverpool on July 16.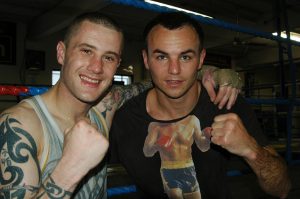 Ricky is riding the crest of a wave at the moment after taking the title from Puerto Rico's Roman Martinez and making 2 successful defenses against, well, mediocre opposition. Ricky looks to have matured as a fighter since claiming the crown and appears to have become an altogether more well-rounded and confident boxer.
His toughest test at retaining certainly comes against Cook, who once held this belt but failed in his fist defense against the very same Martinez in 2009. Cook is a man who has felt what it is like to be champion and now has a chance at regaining his title, whether he is worthy of such a chance or not.
Burns vs. Cook Preview
Burns is 31-2(8) going in and will start as the betting favorite. Tall for a super featherweight at 5'10", he is impressively accurate with straight shots which help to keep his opponents off balance. He's also a very rugged inside fighter as he showed against Martinez when crashing numerous damaging uppercuts into Roman's chin.
Ricky's best chance against Cook lies in doing all of the above at precisely the right times. Staying calm and keeping Nicky off by throwing assertive, straight shots and digging in those close range punches on the inside will be the winning game plan and I believe he certainly has the heart to do that.
Worryingly enough for Ricky, both of his losses have come against effective pressure fighters in Alex Arthur and Carl Johanneson, who pushed back the Coatbridge man and bullied him for 12 rounds. Although Nicky might not be as powerful as Arthur or Johanneson, he is very capable of sustaining a forward motion for 12 hard rounds.
Cook carries a record of 30-2(16) and some would say his best days are behind him, being a real force in Europe around 2004. A very busy fighter with a tight guard and a buzzsaw style, Cook is effective at making his opponent fight his kind of fight.
A decent stand up boxer, and a punch to keep you switched on, makes him an interesting challenge for Burn. However a degree of inactivity since losing the title in March 2009 wouldn't have helped him rekindle the form of a few years ago. This looks to be Cook's last chance so one can see this being the performance of his career and staying in the fight to hear the final bell.
Ricky will not want to slip and lose his title here as he has been talking of fighting the other champions and unifying the weight. Still, if he comes through against Nicky he may be forced to defend against talented American Adrien Broner first ,where I think his championship reign would end, but that's another fight for another day.
Burns vs. Cook Prediction
An entertaining fight, going back and forth with both men having success throughout. Flashes of brilliant gruelling, exchanges at close range will do much to showcase both fighters' big hearts. A stoppage of either man looks unlikely but a busy enthralling 12 round contest with Ricky Burns making the third successful defense of his title looks likely and will cause Cook to consider his future and one can see retirement may be his smartest option.