The top 4 fighters in the world all face questions about their future. Which fighter will be able to end the year in 2011 with a bang and which fighters will have 2011 finish with a dud? With the summer fight schedule heating up, and big fights looming on the horizon for Manny Pacquiao, Floyd Mayweather and more, who will shine the most before the year is out?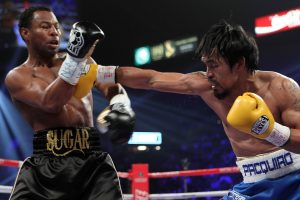 Manny Pacquiao
Pacquiao did what everybody expected him to do when he beat Shane Mosley in their love fest/sparring session. Pacquiao has now turned his attention to his obligations as a Congressman, plus his other endeavors. We will see him again at the end of the year in the anticipated third fight with Juan Manuel Marquez.
Something tells me that there aren't going to be a lot of friendly gestures in this fight. This is clearly personal for Marquez, who believes he has Pacquiao's number and who has been seeking this match for several years.
Pacquiao probably won't admit it, but deep down this has to be personal for him too. He probably hoped that Juan Diaz or Michael Katsidis would have knocked Marquez off, so that he wouldn't have to face him again.  I know Bob Arum did. For this fight you will probably see Pacquiao turn back the clock to the featherweight-super featherweight version of himself.
He will have one goal in mind, and that will be to end Marquez's career with a brutal knockout and finally gain some closure. Whether or not it ends up being a Fight of the Year quality match, it's definitely one of the big events of the year. This will be the one fight that real boxing fans know can't be missed for any reasons. For the sake of debate though, what would happen if Marquez magically lost his tune up fight? Does Pacquiao go idle for the rest of the year, or face someone like the winner of the Zab Judah-Amir Khan showdown, or Timothy Bradley?
Sergio Martinez
The worst thing that happened to him was when Nobuhiro Ishida upset James Kirkland. Kirkland was probably going to be Martinez's next opponent. Kirkland's punching power made the fight attractive to fans. Once that fight was no longer an option, you just wondered who's out there. Well, Martinez's next fight will be against unheralded Darren Barker of England. After he wins that fight, where does he go?
The Pacquiao and Mayweather fights won't happen, while Miguel Cotto and Antonio Margarito are going to fight one another. While Martinez really wants Cotto, that fight is questionable as a legit challenge. Also,if Margarito wins, would Martinez want revenge at this point
Paul Williams probably still has nightmares, so the third fight won't happen for a while. The German champions don't want to fight in America. Lou Dibella already said Dimitry Pirog isn't an option. At 154 lbs, Alfredo Angulo and Saul Canelo Alvarez won't be moving up to get beat no matter how big a pay day it is. Perhaps Kermit Cintron is next in a rematch? I would like to see Arthur Abraham go back down to 160. Yes, he looked awful in the Super Six, but it wasn't that long ago that this guy was making pound for pound lists at 160. He still has power, and could be a force.
Floyd Mayweather
Mayweather grabbed the boxing world's attention when he announced that he would face Victor Ortiz in September. Alas, the positive press for him didn't last long as he skipped his ordered deposition in the defamation lawsuit filed by Manny Pacquiao against Mayweather, his father, and his uncle. Nobody knows what will happen next involving Mayweather, but hopefully he will get to fight Ortiz. On paper this is the kind of fight that has been made in boxing since the start of the sport, and it's a great one on a lot of levels.
In one corner, you have a young, strong fighter who has seemingly come of age and is looking for that major victory to send him to the highest level of the sport. In the other corner, you have the established star who is probably a little past his prime, but not over the hill by any means, who is looking to fend off the young lion and stay on top.
Ortiz has a chance to win the fight, especially because of Mayweather's inactivity and the chance that he may not react well to a really hard shot from Ortiz. The Pacquiao questions will come again, but his next fight may well be against Amir Khan, if Khan gets past Zab Judah.
Nonito Donaire
The start of 2011 belonged to Donaire, who became a huge name to regular fans by destroying Fernando Montiel. People were already calling him a future Hall of Famer after that spectacular win, but he found a way to stunt his progress by becoming the center of a contractual fight between Top Rank and Golden Boy. Top Rank won the legal battle to stop Donaire from going to Golden Boy, but now they are going to deal with a disgruntled fighter.
Obviously, Golden Boy looked to cash in on a potential Donaire vs Abner Mares fight. There was also talk of Golden Boy trying to sign Anselmo Moreno, another top fighter at Bantamweight. Long term, maybe it's best if Donaire stays with Top Rank. They have the elite fighters in Yuriorkis Gamboa and Juan Manuel Lopez that Golden Boy don't have, although those guys reside at featherweight and will be rising higher in the future
Lopez is damaged, and a Donaire-Lopez fight won't mean as much if it ever happens. However, if Gamboa keeps terminating guys, he will loom as Donaire's Mayweather. Golden Boy can make some exciting fights for Donaire, as Daniel Ponce De Leon and Jorge Linares immediately come to mind, but they don't have anyone that could meet Donaire in a superfight the way Gamboa could potentially.
The Verdict
There are a lot of questions about each fighter, but Pacquiao will have the best year if he beats Marquez and closes out that trilogy in exciting, dominant fashion. Mayweather beating Ortiz would be a very high quality win, however the Pacquiao-Marquez rivalry has more juice after all those years. Martinez is in a tough spot as no one of significance wants to fight him, while Donaire is in an even tougher spot, as he could be idle for the whole year.