Fight Pick & Preview – Burns vs. Beltran:

For years Raymundo Beltran has been a sparring partner to Manny Pacquiao, one of the greatest fighters and world champions in recent memory. On September 7th, Beltran finally gets the opportunity to wear a world title belt of his own when he travels to Scotland to take on current WBO lightweight titleholder Ricky Burns in his Glaswegian backyard.
Here I give a rundown of the upcoming Burns vs. Beltran clash and offer a prediction of its outcome.
Burns vs. Beltran Preview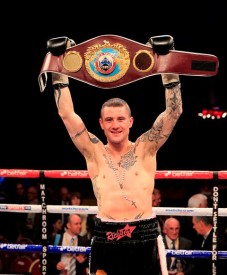 Ricky Burns, 30, is a two weight world titleholder and currently holds the WBO world lightweight title. He has significant victories over Roman Martinez, Michael Katsidis, Paulus Moses and Kevin Mitchell. He is a solid all-rounder without a particularly hard punch at world level, though this seems to have improved since his move up to lightweight. Burns also possesses a good jab and an excellent engine that has seen him through several dogged battles.
Last time out, Burns overcame tough times against the unknown but rangy Puerto Rican technician Jose Gonzalez. He managed to soak up all that was thrown at him until Gonzalez was pulled out, seemingly exhausted, by his cornermen before round nine.
Ray Beltran, 32, is a tough and aggressive brawler entering his first world title shot against Burns. He found minor notoriety as a Manny Pacquiao sparring partner during Pacquiao's glory years, though found success of his own last year in scoring a string of upset victories, including wins over Hank Lundy and Ji-Hoon Kim.
Although put down early in his bout with Kim, Beltran recovered to win, indicating strong powers of recovery, and he has been the distance in five of his last six fights. Beltran shows none of the finesse alluded to by his nickname "Sugar", though he is rarely an easy night's work for anybody and will be spurred on by the possibility that at 32 this may be both his first and last crack at world honors.
What's at stake?
First and foremost, Burns' WBO title is on the line, but as well as that the opportunity of lucrative unification bouts offers an additional incentive to the victor. Burns had been scheduled to meet IBF titleholder Miguel Vazquez previously, and although Adrien Broner seems to have left the division for good, Omar Figueroa appears to be an exciting replacement as interim WBC world titlist.
Outside of those aforementioned, the lightweight division is filled with talent. Yuriorkis Gamboa joined the division last year, while Terence Crawford appears to be making headway. In fact, Crawford is the WBO number 1 ranked challenger and his promoter Bob Arum has proposed that the winner of Burns-Beltran face Crawford at Madison Square Garden  this fall.
You could also add to the list the ever-present Antonio DeMarco and the hard to figure, but always exciting, John Molina. Both men would provide an exciting if potentially gruel ling match-up for the winner of Burns-Beltran should he wish to go down such a route.
Burns vs. Beltran Prediction
From the outset, the styles of Burns and Beltran gel well only for the Scotsman. Burns is an accomplished boxer and could use his strong jab to control the fight from the beginning. Beltran attacks with lesser intensity than that of both Roman Martinez and Michael Katsidis, both of whom lost to Burns. Burns is also surprisingly big at the weight and despite a poor knockout percentage holds enough power to keep opponents honest.
I expect Beltran to proceed forward at all times, though he will be marshaled well by Burns' jab and discouraged by solid body-shots. Beltran may start to feel the accumulation of punches as the fight wears on, and although his heart will keep him on his feet, the referee will be forced to call a halt to the bout at around the 10th round mark.
Comments
comments