Ricky Hatton Comeback Fight Preview
British boxing fans will no doubt be glued to their seats or TVs as The Hitman, Ricky Hatton, returns to the ring on November 24th. Coming out of a 3 1/2 year retirement, Hatton seems to have made all the safe choices. He is fighting before a hometown crowd in Manchester, and his opponent is Vyacheslav Senchenko, a guy who was stopped by feather-fisted Paulie Malignaggi in his first title defense against a live, world class opponent.
Surely the furious, brutal attack of Hatton will be enough to dispose of a guy like Senchenko, right? Yet Hatton is obscured by the numerous question marks hanging off of his body, making the question of just how much he has left very pertinent indeed. Maybe Senchenko poses a very real threat, and maybe he doesn't.
Vyacheslav Senchenko (32-1, 21 KOs)
5'10" tall, 70″ reach, 35 years old
Ukrainian
Former welterweight champion
It is easy to forget that Senchenko is actually a seasoned boxer, although perhaps of the fringe contender grade rather than truly world class. He was at the 2000 Sydney Olympics, and as a pro, Senchenko rose slowly up the ranks, capturing regional belt after regional belt until he finally grabbed the WBA welterweight title. Malignaggi should not have been a surprise, however, because Senchenko not only had never fought a world class opponent before, but had also very rarely left the safety of his hometown of Donetsk. Those two facts screamed "protected."
Even so, Senchenko isn't a tomato can. One of Freddie Roach's second-tier clients, he is a well-schooled technician, armed with a good jab and decent power. His main drawback is his stiff Continental style, more reliant on guard than head movement or footwork for defense, and the plain fact that he isn't outstanding in any department.
Ricky Hatton (45-2, 32 KOs)
5'7 1/2″ tall, 65″ reach, 35 years old
Briton
Former light welterweight champion, former welterweight champion
The Hitman's approach to pugilism is well-known: relentless, busy, and determined aggression. He comes forward, forces the action, throws bunches of punches, and rough-houses freely. In his day, Hatton was the world's best example of a swarmer.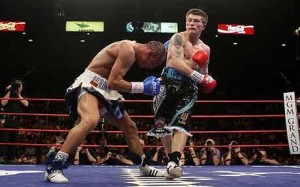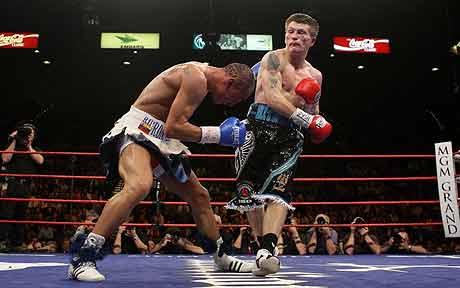 The problem is that it is no longer the Hitman's day. Hatton's boosters rightly point out that he suffered only two defeats at the end of his career, to Pacquiao and Mayweather, and that otherwise he looked pretty good. There is a lot of truth to that, but it overlooks the equally valid fact that Hatton looked small and underpowered at 147 lbs (heavier than his 140-lbs bailiwick).
Also, Hatton is shaking off more than 3 1/2 years of rust. The Manchester warrior had a reputation for enjoying one too many pints and ballooning in weight between fights even before he retired; after hanging the gloves, Hatton exploded into full-blown substance abuse. Booze and drugs take a toll on the body, and that is especially dangerous for a fighter in his mid-30s who relies heavily on his stamina and his ability to take a punch.
Analysis
The key issue in this fight is how much of The Hitman has Hatton resurrected. Senchenko would be a tougher nut for Hatton to crack than his general standing might suggest, because he is a true welterweight. As previously noted, Hatton struggled to some degree in all of his previous outings at 147. Senchenko will unquestionably be the bigger man that night.
The styles makes fights angle suggests a mixed bag for Hatton. Senchenko isn't the most fluid or mobile guy in the world, so Hatton should have no trouble finding him. Reaching him is another story, since the Ukrainian is taller, has substantially longer reach, wields a stiff jab, and has a solid, high guard. Hatton will need to come forward through solid punches, and then work both the head and the body to land any leather.
My guess is that Hatton would need to be at about 75% of his prime to grind down Senchenko, and he retired with about 85% of his prime left in the tank. If rust, drugs and booze have stripped Hatton of more than a tenth of his stuff, November 24th will bring us a very unpopular upset in the Manchester Arena.
Hatton vs. Senchenko Prediciton
My guess is that Hatton will come out looking to establish himself in his old style, but for that tactic to gain immediate traction, Senchenko would need to be scared. He won't be, so a sluggish Hatton will find the Ukrainian's rangy, stuff jab uncomfortably in his face. If Hatton hangs back and spends a little time getting loose and familiar, the result will be much the same. Either way, Senchenko bags a couple of rounds on his jab.
Once Hatton finds his place, he will try to grab onto Senchenko's belt and hammer him. The referee will be key in how that plays out, since Senchenko isn't a mover and won't be able to reestablish space on his own after Hatton steps inside his jab. If the ref does his job properly, Hatton will find himself plowing through stiff jabs in order to pummel Senchenko, and that will take a toll on both his face and his stamina.
Conversely, Senchenko was stopped in his fight with Malignaggi on cuts, due to getting busted up by right jab after right jab from the Magic Man. His high guard ought to be enough to preserve him from getting busted up too badly by Hatton's brawling, and his size ought to keep him from getting chewed up too badly to the body. Hatton can win rounds this way, but I don't see him cracking Senchenko open.
After bagging several rounds, it will be Hatton who tires, allowing Senchenko to get back in the game. The Briton simply cannot have the stamina to eat jabs, force a guard open repeatedly, and swing like mad all night, not anymore. The result ought to be close, and will probably be decided by Hatton's hometown advantage. Those question marks will continue to hang off Hatton, while Senchenko's stock rises just a bit in defeat.
Prediction: Ricky Hatton UD12 Vyacheslav Senchenko