Adamek vs. Cunningham Rematch Prediction
On December 22, top heavyweight contender Tomasz Adamek takes on former cruiserweight king Steve Cunningham. It is a rematch from their 2008 bout, which Adamek won by split decision. That was when both men were cruiserweights. At heavyweight, Adamek is far more accustomed. Couple that with the fact that he won the first match and he enters this fight as a clear favorite.
Cunningham is getting up there at 36. His run at cruiserweight ended with a pair of losses to Yoan Pablo Hernandez. In September, he made his heavyweight debut at 207 pounds when he lopsidedly beat journeyman Jason Gavern. But despite a bad ending to his cruiserweight career and the fact that he lost to Adamek the first time around, he is not without hope in this fight.
Date: December 22, 2012
Site: Sands Casino Resort, Bethlehem, Pennsylvania
Weight Class: Heavyweights: 12 Rounds
Tomasz Adamek, 47-2 (29 KOs)
Vs.
Steve Cunningham, 25-4 (12 KOs)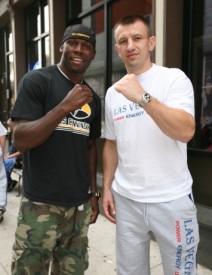 I could be jumping the gun here a tiny bit, but Adamek looks like he might have begun his descent down the proverbial hill that awaits all boxers. He looks to be a little battle-worn. The former champion at light heavyweight and cruiserweight is now in his 11th fight at heavyweight and it has been a taxing run. In his last two fights, against Eddie Chambers and Travis Walker, he looked to be losing it a little bit. But he won both fights, so perhaps one shouldn't be too critical.
It's just that with Adamek, nothing has been easy at heavyweight. It's remarkable that he has accomplished what he has–as a former light heavyweight champion in an age of massive heavyweights. But he took a one-sided pasting at the hands of Vitali Klitschko and he might be a bit depleted after a busy 3-year run dancing with the big boys.
Even if one suspects Adamek is slipping a little, can Cunningham do anything about it? He fought well in the first fight, using his boxing skills well. But whenever Adamek connected solidly, Cunningham went down and those 10-8 rounds were too much to overcome on the cards. Can Cunningham withstand the Adamek onslaught this time around? Maybe he can. Adamek might not be the same tiger who tormented him in 2008.
Then again, at 36, is Cunningham the same? We can sit here and point out all the ways Adamek is possibly losing a step, but he didn't lose two fights to Yoan Hernandez. You have to figure a guy who couldn't cut it anymore against the best at cruiserweight isn't going to find much relief in the heavyweight division. But at least he's taking on a man whose size won't be too much of a problem and who he is familiar with. Plus a guy who might be losing his edge a bit. With Adamek, always operating on a razor's edge at heavyweight, even a slight amount of dulling can be critical.
I always liked Cunningham. He is one of the most impressive-looking cruiserweights I ever saw with his long frame and athletic build, complete with an 82-inch reach. But he was never quite as good as he looked. He had some huge wins at cruiserweight and is one of the division's most accomplished titleholders in the history of the weight class. But since 2006, he's only 6-4.
Whereas Adamek has confirmed his status time and again as a top heavyweight contender, Cunningham's viability amongst the big boys is very up in the air. He would have to buck tremendous odds to become a legitimate heavyweight threat at this point in his career. I suppose he could be more comfortable not needing to cut weight anymore. Maybe the move to heavyweight renewed something within him. In addition, he knows he can make a mark against a guy he had some success with before, even of he didn't win.
A year or two ago, I would have this as a dominant win for Adamek. But after he got dropped by Travis Walker in his last fight and was made to look foolish in spots against Eddie Chambers, it has to give one pause. I think a Cunningham in top form could beat this version of Adamek. But at 36 and coming off two big losses at cruiserweight, I'm not so sure he is up for it.
Prediction
Adamek will be slower than he was when he first beat Cunningham. But I think he has enough left to land the clearly bigger shots. He will be outboxed for long stretches perhaps, but when Adamek lands, it will be telling. I don't think Cunningham's ability to take a punch has gotten any better in the last several years and he can't hurt the durable Adamek.
Adamek respects Cunningham and his skills, which should give way to good preparation and a heightened sense of urgency. He has heard the rumblings, that he's not what he once was, and I look for Adamek to scratch and claw to maintain his lofty position amongst the top heavyweights in the world. I like Adamek by decision
Prediction: Tomasz Adamek wins by unanimous decision.