The 27th annual RING 8 Holiday Event and Awards Ceremony will be held Sunday afternoon (12:00-5:30 p.m. ET), December 8 at the famed Russo's On The Bay in Howard Beach, New York.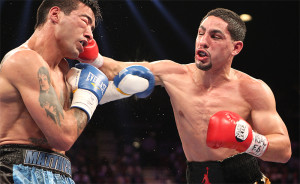 The highlight of the festivities will be the presentation of the prestigious Ring 8 Fighter of the Year award to Philadelphia's undefeated world junior welterweight champion Danny "Swift" Garcia (27-0, 16 KOs).  In 2013, the 25-year-old Garcia won impressive 12-round decisions over world champions Lucas Matthyssee (34-2) and Zab Judah (42-7), to successfully defend his World Boxing Association (WBA) Super and World Boxing Council (WBC) 140-pound world titles.
"Our members really look forward to this gala event every year," Ring 8 president Bob Duffy said.
"We will be honoring some of the biggest names in boxing, such as Danny Garcia, as well as those less known nationally but equally appreciated in New York.  Ring 8 proudly continues its sterling  record for lending a helping hand to those in the boxing community who are less fortunate, some requiring assistance towards paying their rent, medical expenses, or whatever justifiable need.  Each year our Holiday Event and Awards Ceremony celebrates our great sport of boxing, insuring much-needed funding is raised so we may continue our mission for our needy brothers and sisters in boxing. We will never waver from their corners."
2013 Ring 8 Award Winners
Fighter of the Year:  Danny Garcia
Uncrowned Champion:  Gasper Ortega
Official of the Year:  Deputy Commissioner Robert Orlando
Amateur Official of the Year:  Dan Gant
Member of the Year:  Carmine Rastelli
Professional Judge of the Year:  John McKaie
Prospect of the Year:  Seanie Monahan
Professional Trainer of the Year:  Bob Jackson
Amateur Trainer of the Year:  Joe Higgins
Emile Griffith Good Guy Award:  Sal Corrente
Long & Meritorious Service:  Dr. William "Bill" Lathan
Special Presentation:  Bobby Bartels & Lenny Mangiapane
(honoring the 50th anniversary of their classic main event fight at Madison Square Garden)
Invited celebrities include last year's Ring 8 Fighter of the Year, undefeated WBO middleweight champion Peter "Kid Chocolate" Quillin, as well as world champions Pinklon Thomas, Vito Antuofermo, Virgil Hill, Mark Breland, Mark Medal and Junior Jones, plus world heavyweight title challenger Renaldo "Mr." Snipes.
Tickets, priced at $125.00 per person, are available to purchase by calling 1.718.729.4862 or 1.516.313.2304.  Tickets include a complete brunch with cocktail hour upon entry, seating at the awards ceremony, dinner and dessert, and top-shelf open bar throughout the afternoon. There will also be a silent auction of boxing memorabilia. Program ads are available for Full Page ($150.00), Half-Page ($80.00), and Quarter-Page ($50.00). The deadline for all ads is January 25 and must be emailed DepComish@aol.com.