This past Saturday night Kell Brook emphatically did away with Vyacheslav Senchenko in four relatively one-sided rounds. For Brook, victory provided much-needed closure to a year of injury torment and uncertainty that saw a potential title shot collapse on three separate occasions.
Now the Sheffield man can relax and enjoy his New Year safe in the knowledge his mandatory position for the IBF welterweight belt is secure, and he will face the winner of the Devon Alexander vs. Shawn Porter match-up sometime in early 2014.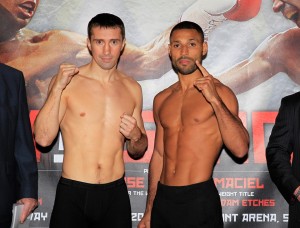 With such doubts firmly erased, it's time to look to the future once more. Brook dealt with Senchenko in a way no-one else has, so how would he fare were he to step in with a fellow top-10 rated welterweight?
Here's how I believe he would fare against three of the division's best, and three men he's been linked to in potential matches – Devon Alexander, Amir Khan and Adrien BRoner
Devon Alexander
Alexander won his IBF title with a comfortable points win over veteran power-puncher Randall Bailey. Since then he has been scheduled to meet Brook on three occasions, though injuries to both men scuppered any possible fight this year. Assuming Alexander defends his belt against Shawn Porter, he should finally get in the ring with Brook early next year.
Alexander's form has been mercurial since he came to fame with a stunning stoppage of Juan Urango to unify light welterweight belts three years ago. Alexander has looked his best when faced with come-forward fighters such as Urango or Marcos Maidana, though against more technically refined men such as Andriy Kotelnik or Tim Bradley, he tends to struggle.
Without concussive power Alexander tends to shoeshine with his punches, while Brook is more confident in his punching, demonstrated in the way he established his jab against Senchenko. Brook would box on the front foot here, landing the cleaner and more effective shots as a frustrated Alexander falls short with his own.
Verdict: Brook UD12
Amir Khan
Khan debuted at welterweight with a sloppy and at times physically harrowing decision victory over Julio Diaz earlier this year. In his moving up in weight, an all-English welterweight clash between Khan and Brook is perceivable now more than ever.
The questions surrounding Khan's chin remain stronger than ever, as he was dropped and shaken up several times by Diaz – a veteran fighting above his career weight-class, a sure sign that Khan's punch resistance has not improved through the weight increase. Despite this, his problems have always come via the punch he does not see.
Khan handled Marcos Maidana's power for most of their fight until being caught with a looping right hand later on. He stood up to an illegally enhanced Lamont Peterson in a grueling war for twelve rounds. He was even controlling his fight with Danny Garcia until Garcia found a left hook to Khan's neck and lower jaw area that derailed any hopes of a Khan win.
Should Brook and Khan meet, however, this is where Khan will fall down. Khan would impress early with his darting raids, aggression and fast combinations, but the curtains will be drawn when Brook's accurate and powerful punch-picking comes into play. I would expect Brook to find a short left hook in the mid-rounds that would effectively end the fight early.
Verdict: Brook TKO7
Adrien Broner
To many, a meeting between Brook and Broner would see two of the welterweight division's most hyped-up young fighters square off. Apart from the possibility of swathes of unimaginative smack-talk, the fight itself would ensconce both the British and American public in cross-Atlantic battle.
Broner is a flashy and fast-handed fighter with a dash of power thrown in. His dismantling of Antonio DeMarco was Broner at his cocksure best, though he struggled at times with Paulie Malignaggi en route to a split decision in his first bout at welterweight.
Many have questioned Broner's out of the ring behavior at times, but he remains undefeated and I expect him to remain so against Marcos Maidana later this year. Brook would provide a different test however, in that he is more elusive, a trait Broner has had difficulty dealing with.
Here, Brook would be the one on the backfoot, as the strong Brook comes forward and tries to impose his will with heavy body shots. Brook would box neatly behind the jab and would have no difficulty finding Broner.
Broner would be able catch Brook with hooks and whether Brook could handle the strength and power of "The Problem" is up for debate. Still, I would side with Brook to fend off Broner's advances and box him to a close decision victory.
Verdict: Brook SD12
It is clear from my above predictions that I think highly of Brook, of that I make no denial. The way he dealt with Carson Jones the second time round and Senchenko this year have been highly impressive, and he seems to be developing the tunnel vision necessary to grind out the path to a world title shot.
Although he has not yet mixed in the class of Alexander, Khan and Broner before, the ease with which he has beaten second-tier contenders suggests he would handle the step up in competition. Come 2014, there will be a day when Brook finally finds himself in a ring against a world title holder, what follows will tell me if I am right.