Final Press Conference Quotes for Arreola vs. Adamek & Angulo vs. Julio
This Saturday night's highly-anticipated "RING OF FIRE" boxing blockbuster in which Poland's Tomasz "Goral" Adamek (40-1, 27 KOs) will be defending his IBF International Heavyweight Title against top-rated contender and local icon Cristobal "The Nightmare" Arreola (28-1, 25 KOs) in the HBO "Boxing After Dark" televised main event – played host to the promotion's final press conference today.
The list of speakers at the press conference included Dan Goossen, President of Goossen Tutor Promotions; Kathy Duva, President of Main Events; Adamek's trainer, Roger Bloodworth; Arreola's trainer Henry Ramirez; Joel Julio (35-3, 31 KOs), who will participate in the scheduled 12-round WBO Interim Junior Middleweight Title Co-Featured Bout; and his trainer, Anthony Hamm.  Julio's opponent Alfredo Angulo (17-1, 14 KOs) and his promoter, Gary Shaw, were unable to attend.
"RING OF FIRE" will take place at the Citizens Business Bank Arena in Ontario, California.   It is being promoted by Goossen Tutor Promotions and Main Events in association with Ziggy Promotions and sponsored by Corona and San Manuel Indian Bingo & Casino.
QUOTES
GOOSSEN: "Saturday night is a can't-miss Super Bowl of boxing in the heavyweight division.  It will be sure to bring excitement.  This fight is something that HBO and both fight camps wanted badly."
"The heavy weight division needs this fight.  The message I'm trying to get out there is that this fight is going to be pure excitement.  It's two fighters looking to knock the other out.  Our message to the other weight classes:  'Emulate what Chris and Adamek do on Saturday night.  You have got to be willing to fight one another.'"
"Chris is excitement inside the ring and explosive outside the ring because of his great personality.  He's one of us."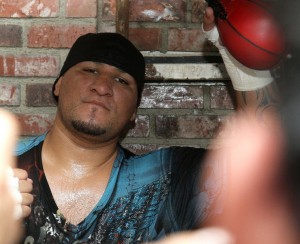 ARREOLA:  "Saturday night is definitely going to be a fight that I will TiVo and watch when I get home.  If I wasn't fighting on Saturday night, this is definitely a fight that I would watch."
(On Adamek):  "He is going to be a hit and run boxer.  I am going to have to bring my boxing skills to the ring.  I'm going to have to put the pressure on him in order to bring him to fight."
(On what he expects from himself on Saturday night): "I have had good strength and conditioning and I have learning to move laterally.  I want to showcase my skills and solidify everything that my trainer, Henry, and my strength and conditioning coach, Darryl (Hudson), have worked with me on.  I have a lot to prove not just for myself but for other people who are working hard for my career to be where it's at.  I want people to know that Dan isn't just blowing smoke up peoples asses."
(On training at home for this fight): "In the past it was hard training away from home.  Mostly because I am not familiar with an area and that makes it hard for me to know where to eat and to trust whoever is cooking the food.  I love going to Yard House Restaurant because I am familiar with the establishment and they know the kind of meals I need to eat while in training.  They are able to cook up something healthy and hearty for me to eat."
(On his weight): "I am going to come in weighing in the high 230's or low 240s."
(On criticism he has received): "People who have told me in order to be more marketable that I need to tone it down with my language.  I can't do that because I cannot be what I am not.  I have to keep it real.  People always tell me that I say things that they wish they could say…. so I feel like it's an honor for me to be me – to be real."
RAMIREZ:  "We are all looking forward to Saturday's fight.  Chris Arreola is prepared to put on a great performance Saturday night."
ADAMEK:  "I will prove my worth in the ring.  May the best man win.  There is no weight disadvantage to deal with.  The real fighter will win."
(On the Polish President tragedy): "It's sad and a travesty.  But it's life.  God gives me the power and focus and I will use them on Saturday night."
BLOODWORTH: "We all know that both Chris and Adamek are coming to fight.  May the best man win."
DUVA:  "Joel Julio received a lot of praise early on in his career and he has lived up to that praise."
JULIO:  "I am ready for this fight.  Good luck to Adamek and Arreola.  God Bless them."
HAMM: "Julio has more talent than one can imagine.  He is 100% ready for this fight – ready to get it on!"
Tickets for "RING OF FIRE" are priced at $250, $100, $70, and $35 and are available at Ticketmaster.com or at the Citizens Business Bank Arena Box Office.  For more information please visit CBBankArena.com. ProBoxing-Fans.com will be sending a correspondent to Adamek vs. Arreola and Angulo vs. Julio this weekend, so stay tuned for a full recap of the affair including results, analysis and a photo gallery from the big Ring of Fire HBO event.
Comments
comments