Amir Khan survived a number of scares, including an early knockdown, to claim a unanimous decision victory over Julio Diaz in Sheffield. In just his second outing under new trainer Virgil Hunter, Khan showed real grit and determination to win the fight 114-113, 115-113 and 115-112 in what was a thoroughly enthralling affair.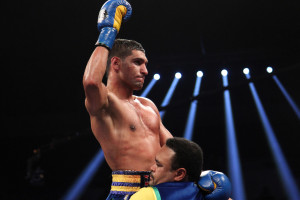 Although Khan will have been happy to come through a bout which ended up being much tougher than originally expected, on the evidence of last night he still has a lot of work to do if he wishes to regain his world title. Of particular concern was his ongoing susceptibility to the left hook, with the shot putting him down in the 4th and visibly shaking him in the 10th and 11th.
It was Khan who started the fight the brightest controlling the opening rounds, using his speed and precision to tag Diaz with relative ease. On the showing of the first 3 rounds it looked like Khan might be set for an easy night's work, with Diaz failing to get to grips with his opponents movement and blistering hand speed.
However, it was all changed in the 4th  with Diaz stunning the home crowd into silence, as he sent Khan to the canvas with a couple of perfectly timed left hooks, and although the Bolton fighter was quick to regain his sense the warning signs were clear for all to see.
Hunter's effect on Khan was evident in the 5th and 6th as the former world champion refrained from resorting to his usual gung-ho style and instead boxed cleverly on the back foot refusing to turn the fight into the brawl Diaz so obviously craved.
Diaz made his way back into the fight over the next few rounds as he slowly worked his way inside, which resulted in the duo trading punches in the centre of the ring on several occasions, although surprising it was Khan who was having the slight edge in these exchanges. However, it was all changed again in the 10th as Diaz finally got to his man. After sending out a few feelers it was the left hook than again wobbled the Brit and forced him to hold and run till the bell.
Buoyed on from his success from the previous round, and possibly sensing he needed a KO for the victory, Diaz shot out of his corner in the 11th and quickly had Khan in trouble. Unsurprisingly it was a left hook that would first find its target, and stagger Khan, before a right hook shook the Brit to his core. Yet, despite his legs seemingly giving way beneath him Khan somehow managed to hang on. Sensing blood, Diaz unleashed a barrage of punches but through a combination of determination, heart and probably a slice of luck Khan survived.
With just one round remaining Diaz again went on the offensive in the 12th and while he managed to catch Khan with a number of flush shots he couldn't quite finish him off. The result was thus left to the judges all of whom scored the fight to Khan, which was probably the correct result.
Elsewhere on the card American heavyweight Deontay Wilder continued the start perfect start to his career knocking out former Olympic gold medalist, Audley Harrison, in the first round of their contest. Wilder initially had Harrison in trouble with a  straight right hand which wobbled the Brit. Sensing the early finish Wilder jumped on his opponent and  a barrage of punches quickly sent Harrison crashing to the canvas.
Harrison managed to regain his footing just before the refs count reached 10, however,  the referee deemed Harrison unfit to continue and wisely stopped the fight. The win took Wilder's record to 28-0 with 28 KOs and after the fight Wilder was quick to call out British heavyweight Tyson Fury, who beat Steve Cunningham last weekend.
There were also victories for British Olympic bronze medalist Anthony Ogogo and Amir's younger brother Haroon both of whom were making their pro debut. Ogogo looked impressive as he dispatched Kieron Gray with a beautiful right hook in the second round of their clash, while Khan won on points 40-37.