On Saturday in Madison Square Garden, Tyson Fury backed up his pre-fight (and mid-fight) boasting and boisterous actions, taking out Steve Cunningham in an entertaining fight televised live in the afternoon on NBC. However, it wasn't all easy, and he had to survive a second round knockdown that left him badly hurt.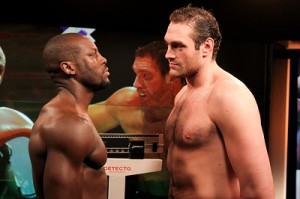 The action picked up right away in the first man, and Fury was shouting and taunting Cunningham throughout. After the bell, he pushed Cunningham, looking to intimidate him further.
The action backfired, as at the start of round 2, Cunningham launched a huge overhand right which connected flush and sent Fury straight down on his butt. Still hurt, Fury got up and absorbed some more punishment as he found his legs, eventually settling back in and landing a few shots of his own before the round ended.
In the third, Fury looked to reestablish his size as Cunningham worked to get inside and continue doing damage. He was effective to the body and was keeping Fury off of his rhythm, although Fury was getting back into the game.
At the start of the 4th, Cunningham landed another big right hand, and Fury was wobbled. He had to hold on to stop himself from going down. Cunningham really was feeling confident and was doing an excellent job with his spacing, his footwork, his timing, and really just reducing Fury to chasing him around the ring and throwing slow, looping shots.
Things slowed down a bit in the 5th, and then the fight changed with about a minute left in the session as Fury landed a clubbing 1-2 combination that clearly made a big impression on Cunningham. Fury was walking in and just bodying up Cunningham, waring him down with his size and weight.
Fury continued with more of the same in the 6th, and Cunningham's pace continued to slow just a bit. His punches also lost most of their zip.
Cunningham started off the 7th strong, sticking and moving when he could. At other times, Fury made the fight rough and ugly, laying on him, holding him, pushing him against the ropes. He hurt Cunningham with an uppercut to the body, and Cunningham was covering up against the ropes. Then Fury decked him with a right hand that sent Cunningham down, where he would be counted out, writhing in pain.
It was Fury's debut in the United States, and he made sure that fans remembered him one way or the other.
Here's a statement from Cunningham after the fight:
I took this fight fully knowing fury was the bigger man undefeated and would outweigh me by at least 40 lbs,but that was the challenge thats what makes fans watch and if successful makes u look greater,my opponent used illegal tactics after he was floored in order to win ,my head is held high and I know God has a plan thanx for the support u guys and God bless
In the televised co-feature, Curtis Stevens took home a Unanimous Decision over Derrick Findley in an 8-round middleweight fight. This was a phone booth fight, with the two men doing work on the inside, and throwing big shots. Stevens controlled the fight with his superior skill and better offensive combinations, at times boxing to keep Findley off.
Official scorecards read 78-74, 78-74 and 79-73 for Stevens.
Thanks for checking out our recap of the Fury vs. Cunningham results and be sure to keep checking us out for more post-fight coverage and analysis in the coming days.