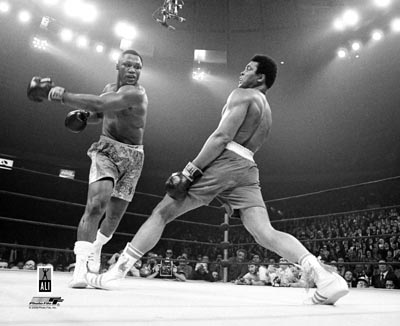 Boxing Legend Joe Frazier Dies
The sad news came in this evening that Joe Frazier has died from cancer. At 67 years of age, Frazier gave into the fatal liver cancer he had been battling, the final fight of his life.
It was just yesterday that news of his liver cancer became widely circulated, and it was only last month when Frazier himself was diagnosed, and he had been in hospice care as of late.
The boxing icon was a heavyweight champion with one of the best left hooks in the history of the sport, and an unshakable will. He was, of course, half of the most iconic boxing trilogy of all-time in his brutal three fight series against Muhammad Ali, of which he won the first epic Fight of the Century encounter.
Buy This Ali vs. Frazier Poster for just $10.99 today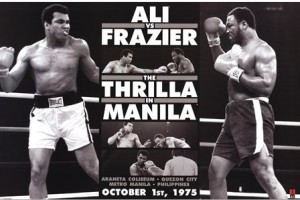 It was the third fight against Ali that nearly killed both men, literally, in the ring. But this was a battle he couldn't win.
Smokin' Joe Frazier gave boxing fans some fantastic memories over his legendary career, and he will be sorely missed as a member of the boxing community.
He won an Olympic gold medal at the 1964 games, and quickly rose to prominence as an undefeated heavyweight star in the making. With Ali's forced absence from the sport, he won the vacant WBC heavyweight title over Jimmy Ellis. He had previously held the NYSAC title, and defended it with wins over the likes of an undefeated Buster Mathis and Jerry Quarry, in a fight which was the 1969 fight of the year.
The Fight Of The Century came in 1971, and Frazier took home a 15-round Unanimous Decision over Ali, punctuating the effort with a knockdown in the final stanza.
In 1973, Frazier lost his title to George Foreman as Howard Cosell famously shouted "Down Goes Frazier!" Foreman needed to knock him down six times in 2 rounds before the fight concluded, a nod to his heart and grit.
The second Ali fight came in 1974, and Frazier lost a decision there, before putting together two more wins over former rivals in Quarry and Ellis. Then came the Thrilla in Manila in 1975, the most brutal and violent of the three encounters between Frazier and Ali. It all but ruined both men physically.
Frazier lost that contest, and then fought just twice more, getting stopped by Foreman once again before taking five years off and coming back with one final appearance, a draw, in 1981.
He's of course well known for the thrills he provided in those fights against Ali, but he's also well known for the bitterness that he was compelled to carry for much of the remainder of his life as a result of the insults and torment that Ali publicly put him through.
It was in some ways fitting that most of the sports fans in the country found out about Joe Frazier's death during the Monday Night Football game between the Philadelphia Eagles and the Chicago Bears, played in Philly.
News that Joe Frazier died will resonate in the boxing world for quite some time. Rest in Peace, Smokin' Joe, and condolences to his family and friends.