Pacquiao-Marquez Picks from the ProBoxing-Fans.com Staff
As we do for all of the big fights, ProBoxing-Fans.com has gathered up Pacquiao vs. Marquez 3 predictions from our team of boxing writers and experts. Take a look to see how everyone thinks the fight is going to play out. Does anybody think that Marquez will shock the world and pull off the upset? Or is everyone siding with Pacquiao… and if so, in what fashion?
Staff Pacquiao vs. Marquez III Predictions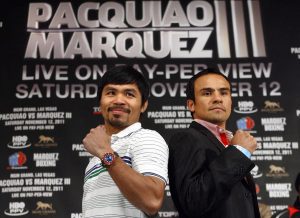 Scott Levinson: Two previous close fights illustrates Pacquiao's difficulty in handling the style of Marquez. Look for more of the same, with one major difference: the improvement of Pacquiao. Not long after their second fight, Pacquiao kicked his game into another gear. He became more savvy about angles defensively, developed more of a two-handed attack, and put on weight without being hindered by it. He actually became better as he rose in weight.
Marquez has done a great job over the past several years just to be position to make a 3rd fight happen. At 38, he still has it. But the explosion in Pacquiao's form from the last fight will throw this bout into a different light. Manny's offensive and defensive proliferation, in addition to the added weight, will allow him to create some separation in this fight, unlike the first two. These factors will not completely trump the "styles make fights" theory, but it will allow Pacquiao to pull away late in the fight for a late TKO over a gallant Marquez.
Prediction: Pacquiao by 11th-round TKO
Rich Thomas: As I recently explained, whereas Marquez and Pacquiao were very close in terms of ability only a few years ago, Marquez has declined by about half a step and Pacquiao has improved by about a full step. The result of the widening gap between them points to Pacquiao winning his first clear victory over Marquez.
That said, this bout might also prove to be the most competitive fight Pacquiao has seen since the 2008 rematch with Marquez. I think too much is made about the size difference in this fight. While Pacman fights at welterweight, his fight night weight is more typical of a man fighting at 140 lbs. Marquez has grown into a solid 135-pounder now, so the size difference between them is really just one division, not two. Also, even with the Freddie Roach-directed fine tuning, Marquez still has Pacquiao's number.
The recent trend of Pacquiao's fights is for his opponents to go defensive and stop trying to win. Whatever else happens, Marquez is going to buck that trend.
Prediction: Pacquiao by UD12, but not by a landslide margin
Read Rich's full-length Pacquiao vs. Marquez preview and prediction

Dana Miller: I believe we are going to see another great fight between two great warriors and two great guys in Manny "Pacman" Pacquiao and  Juan Manuel Marquez. In their last two fights against one another, you can seriously make the case that both fights were a draw, but on November 12, I believe that the difference in this fight will be Pacquiao's size and improved defense.
Pacquiao has improved his boxing game so much since the last time these two met in the ring back in 2008, and I believe that Marquez will simply have a lot of trouble dealing with the size and power of Manny Pacquiao, just like Marquez had a difficult time dealing with the size of Floyd Mayweather, Jr. However, I feel Marquez has the skills to be in this fight all the way to the end given that he has never been stopped in his professional boxing career.
When the dust settles on the Las Vegas strip, Manny will be too powerful and too fast, not to mention hungrier than ever, as Pacquiao has a serious beef here and is out to prove that he is not only the best fighter between he and Marquez, but one of the greatest fighters to ever lace up the gloves.
Prediction: Pacquiao by twelve round unanimous decision victory
Bryan Parkhurst: For the Pacquiao-Marquez rubber match, I'd like to apply the notion of progression, more specifically Pacquiao's progression as a professional fighter.  There's no question of Marquez's talent, he is easily one of the best technical boxers in the sport and the fact that he has gone life and death with the current best pound for pound twice proves that.
Nevertheless, Pacquiao's growth as a boxer has been amazing, and you can track it just by watching the two Marquez fights.  In the first fight, which was a draw, it took Marquez all but 3 rounds to figure him out, and had it not been for the 3 knockdowns in the first round, Pacquiao would've lost the fight.  In the second fight, Pacquiao was using angles and the first glimpses of a right hook, and this time he was able to hold on for a Split Decision.
For the third fight, I expect Pacquiao's technique to finally become what Roach intended it to be, a speedy, powerful, two-handed puncher, with weird angles and good defense.  I expect the progression to continue and have Pacquiao winning a convincing Unanimous decision with a couple of knockdowns here and there.
Prediction: Pacquiao by convincing UD
Jake Emen: Everyone else has basically said it all already. Pacquiao has gotten better in basically every way since their last fight, and while Marquez hasn't fallen off the map, we've seen him at welterweight just once, and he didn't look good. He won't be surprised by anything Pacquiao brings to the table, with 24 rounds worth of experience against this guy already, but that doesn't mean he'll be able to do anything about it.
Unlike in the past, he will not be able to stand in Pacquiao's face and slug it out. He doesn't have the fire at welterweight, and he won't be able to take it either. He'll never quit, and certainly not against Manny Pacquiao. So look for the referee to wave this one off and save Marquez from himself at around the 10th ruond.
Prediction: Pacquiao TKO 10 (Referee Stoppage)
Brandon Taylor: Expect another great fight between these two future Hall of Famers. There are no secrets, so both men know what they need to do. Pacquiao has slowed down very, very slightly, but will Marquez be able to capitalize fighting above his best weight class? Pacquiao's going to be patient and box. Marquez may even be more aggressive in some rounds. Pacquiao will land the harder punches, and if he really connects on a couple of straight left hands, Marquez will taste the canvas. For Marquez, expect him to really go to the body early in the fight. In the end, Pacquiao will win a close but not controversial decision.
Prediction: Pacquiao by close UD

Final Pacquiao vs. Marquez Predictions Tally:
6 for Pacquiao – 4 by Unanimous Decision; 2 by Stoppage
0 for Marquez
There you have it folks. It looks like those odds are pretty wide for a reason, as the team is unanimous with our Pacquiao vs. Marquez predictions, all for the Pacman. Of course, we'll all have to see for ourselves how the action plays out, so be sure to check in with our live Pacquiao Marquez 3 results on Saturday night!