RIP: BILLY CHAMS 1949-2013
Earlier this week, Colombian manager/promoter/agent, Billy Chams succumbed to respiratory complications. Thompson Boxing Promotions and Gary Shaw Productions, each of which has worked with many of Cham's fighters, issued the following statement: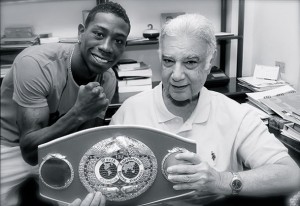 "Our deepest condolences go out to the Chams Family and to the boxing world for we have all suffered a great loss yesterday. It is with great sadness that we say good bye to our good friend Billy.
"Mr. Chams was a man of great direction and will be sincerely missed by everyone at Thompson Boxing Promotions and Gary Shaw Productions as well as by his young fighters, IBF Super Bantamweight Champion Jhonatan Romero, Darley Perez and Daulis Prescott.
"As as a manager, he was able to make history in Colombia by guiding the career of 17 world champions, which among others, included Rafael Pineda, Ricardo Torres, Fidel Bassa and Tomas Molinares.
His memory will live on in our hearts forever. Rest in Peace."