In an intriguing welterweight bout from San Jose, Robert Guerrero takes on unbeaten contender Selcuk Aydin. It's a nice contrast of styles in what should be a competitive match. The Germany-based Turk Aydin has been the WBC number-one welterweight for a while and finally gets his chance against two-division champion Guerrero. From nearby Gilroy, Guerrero will be the robust crowd favorite.
Date: July 28, 2012
Site: HP Pavilion, San Jose, California
Division: Interim WBC Welterweight TItle: 12 Rounds
Robert Guerrero, 29-1-1 (18 KOs), Gilroy, California
vs.
Selcuk Aydin, 23-0 (17 KOs), Hamburg, Germany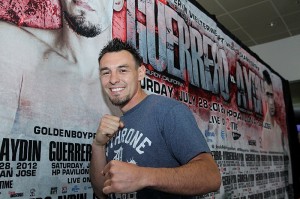 Guerrero is a fine fighter. Unfortunately, various issues beyond his control have kept him from developing. He's been a potential star for years now, without really ever getting the chance to take it to the next level.
By the time he gets in the ring with Aydin, he will have had one fight in 20 months. With his wife's health issues thankfully subsided and Guerrero's injuries healed, one should expect a major push, but first he needs to get by Aydin.
The 28-year old Aydin is unbeaten, with 17 knockouts in 23 fights. He's a short welterweight with stubby arms, but a powerful puncher. He's a bit wild and unpredictable, which might seem like a liability, but it is a style that can be effective against better-schooled fighters like Guerrero. He won two close decisions over Jo Jo Dan, another close one over Said Ouali in his only stateside appearance, and stopped Jackson Bonsu in his best wins.
Against a thick and strong welterweight, one should rightfully question Guerrero's weight. He is in fact jumping two divisions from lightweight. The highest he ever weighed was 138 for his fight with Joel Casamayor and was weighing 130 as recently as 2009. He is only 8 fights removed from featherweight poundage.
Welterweight is a big leap, especially for a guy who didn't really seem to be struggling to make lightweight. While Guerrero has good size at 130 and 135, he is definitely pushing it at 147 where he is basically giving up the edges in height and reach he enjoyed in lower divisions. And Aydin is an awfully-tough entrance exam for an aspiring welterweight.
Clearly, Guerrero wants to position himself well to be a potential participant in the Mayweather/Pacquiao sweepstakes, hence the weight gain. It would behoove Guerrero to not be looking ahead and prepare for this fight with Aydin with the same urgency he would carry into preparations for a fight with Pacquiao or Mayweather.
While he is not the bigger fighter per se, Guerrero will still hold edges in height and reach over the squat Aydin. He also has advantages in the quality of opposition he has faced, and unlike Aydin, none of his recent fights have been controversial. Aydin is dangerous, but watching him struggle with the lefty contender Dan, one wonders how successful he will be against the more formidable Guerrero, who is also a southpaw.
Guerrero is a sharp hitter, very confident, and highly skilled. But for a guy known for power, he didn't really carry it up with him when he went from junior lightweight to lightweight. Now he's climbing two more divisions, making it so he is going to need to rely heavily on his boxing skills. Luckily for him, his skills are deep. He never relied on power. Though if he lands crisply, Aydin will surely feel it. But it's fair to say that Aydin has the edges in punching power and physical strength.
Guerrero vs. Aydin Prediction
I think this is a pretty close fight. Guerrero will never get totally comfortable with the hard-charging and unruly Aydin, but "The Ghost" will use his opponent's eagerness to set up many punching opportunities. In a close fight like this, it's hard to ignore a few facts that don't really have anything to do with what is happening in the ring.
Guerrero is one of Golden Boy's young stars and he's fighting near his home turf. That alone might be worth a few rounds. Not that Guerrero will necessarily need help to win, but he will likely be forced to pull through some tough moments. I say he takes a close one.
Prediction: Robert Guerrero wins by unanimous decision.