Bad News Keeps on Coming for Boxing This Year
It's not like boxing was sizzling coming into 2012, but this year threatens to pour a few more loads of dirt on a sport a lot of people already buried. With barely a third of the year finished, 2012 is shaping up to be one of the worst years in recent memory. Old problems are getting worse and new ones are emerging.
Before this year, boxing was on a bad run. The glamor heavyweight division had long been in a deep-freeze. The sport longed for stars, but only marginal figures had emerged. The best fighters seemed to be meandering, with the most compelling fights forever put on the back-burner.
The heavyweight division is dead. Cruiserweight is marginally interesting. Or so I've been told. Light heavyweight is stagnant. Super Middleweight has been a bright spot of the sport in the last two years. Is that a good thing? 168 is the most happening division? Middleweight is mired in more ickiness. Sergio Martinez is the champ and no one terribly interesting is around.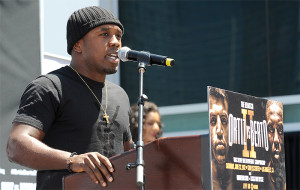 Junior middleweight has some decent action and upside. Welterweight, a bright spot a few years ago, is in the dumps. The two best fighters reside here and won't fight each other. Now Andre Berto tested positive and there goes another chance for this division to rebound. 140 is not what it was a year or two ago. Brandon Rios is done as a lightweight after a deflating two-fight run of not making weight and getting a gift decision in his last fight.
Under 135, you have some good fighters. Yuriorkis Gamboa is compelling, but is perpetually on the shelf with nothing lined up. Who is guiding his career and why isn't he fighting? Nonito Donaire is a fantastic fighter, but what's the goal? What's being lined up? A disconnected series of fights with no crescendo? Why isn't anyone even talking about Donaire-Mares?
And there you have it. Almost no compelling fighters and the ones who are seem stuck in quicksand. No big fights lined up. No beating of the drums for a big matchup.
And what Floyd Mayweather, Manny Pacquiao, and all involved are doing is downright disgraceful. People struggling to survive and these guys can't figure out how to split up endless millions of dollars. And by the way, what is the precedent for the two far-and-away #1 and #2 forces never tangling? This is unprecedented not only in the sport of boxing, but in sport. Two clear top entities in the same league never playing?
The fight is already overripe. I remember people scoffing at Leonard-Hearns II because it was overdue and they were actually a younger combined age than Mayweather and Pacquiao are now. And at least Leonard and Hearns had that first fight. For years, this has been the obvious match to make. And for them to now be in their mid-thirties and not be getting it on is just awful for the sport.
And the action hasn't been that great. We tune into boxing this year and chances are–something is going to get screwed up. The Tavoris Cloud-Gabriel Campillo bout was a robbery for the ages. The James Kirkland-Carlos Molina fight got stopped when one of Molina's cornermen entered the ring. Then there was the Rios-Abril robbery, making us wonder what other kind of thrills are in store for the rest of 2012.
And without much action so far this year, the bulk of boxing fans were looking forward to two rematches from a pair of last year's best fights–Peterson-Khan II and Ortiz-Berto II. But then positive drug tests incurred by Lamont Peterson and Andre Berto put those potentially great matches to sleep.
And now we're on the precipice of a drug crisis in the sport because we didn't have enough problems. Part of you wants to think it's an aberration. But then again, we know that for every guy who gets caught–dozens get away with it. Are most boxers using PEDs with the ones who get caught just being the unlucky ones?
I'd like to think not. But my brain tells me otherwise. The ones who get caught are just the ones who push the envelope with the timeline issue. And make no mistake–this is a potentially bad problem. Using PEDs to help you run faster is one thing. When the sport's objective is to physically harm your opponent, the drawbacks to a potential steroid crisis are quite graphic.
There have been some good fights this year. I'm still watching. And so are millions of others. The Mayweather-Cotto PPV did great business and was an entertaining fight. I think exactly how good the fight is has been heavily overstated, which speaks volumes. Our standards are just so low nowadays. When Dereck Chisora managed to hang in there a little bit with Vitali Klitschko, people said "finally, a good heavyweight fight." Really? Was it that good? Was Mayweather-Cotto entertaining? Sure. But it wasn't exactly a great fight.
If you're a boxing fan, ponder the following. What is it that you're looking forward to? What is on the horizon that is making your blood pump? Now go back to when you first started watching boxing. There was always something to look forward to in the sport. Sure, Pacquiao-Bradley is interesting. But that's it? After that fight takes place, boxing will be in a tough spot.
I blame the promoters. The sport is at a low. So why are the most compelling fights being put into an endless stage of marination? Why? The shot-callers are leaving money on the table by not making the most compelling fights. The fighters in question end up losing, the landscape changes, and fights that would have done great business never happen.
The sport has long been renowned for its regenerative powers. One guy falls off–another one fills the void. But this age-old process is not being allowed to take place. Guys get to the top and stagnate. The would-be successors languish on the the sidelines, while the stars pick their spots.
I have an idea. Make the compelling fights NOW. Go division-by-division and determine what the most compelling fight is and MAKE IT. A year later, someone else will come around. That's how boxing works. But the way it's going, with the big fights seldom getting made, the sport's natural order is being messed up. And if the caretakers of the sport don't start looking after their baby once in a while, we could soon arrive at the point of no return.