Guerrero vs. Escobedo Lightweight Battle on HBO:
November 6, 2010 will be an action packed night of boxing at the Prudential Center in Newark, NJ.  The night will be highlighted by Zab Judah taking on undefeated, hard-punching Argentinean Lucas Matthysse, but the undercard promises to be a memorable bout as well (not to mention the Showtime bouts, including Juan Manuel Lopez vs. Rafael Marquez). This fight features Robert Guerrero, a tough southpaw and former two-division World Champion fighting against former Olympian Vicente Escobedo. In this fight, both fighters are vying for a future title fight, so expect them both to leave it all in the ring on November 6.
Robert Guerrero
Gilroy, California
27-1-1 (18 KO's)
Height: 5'8"
Reach: 70"
Last 5 Fights: Guerrero has not lost since 2005 and is recently coming off of perhaps the biggest win of his career in a decision victory over Joel Casamayor. He also was able to obtain the IBF Super Featherweight title in August of 2009, which he later had to relinquish in order to take care of his ailing wife. With a recent record of 11-0 with 9 KO's, Guerrero looks on pace to defeat anything that stands in his way of a shot for the lightweight title.
Important Notes: Southpaw
Vicente Escobedo
Woodland, California
22-2 (14 KO's)
Height: 5'8"
Reach: 74"
Last 5 Fights: Escobedo has put together a string of very solid fights, with the only blemish being a loss to Michael Katsidis in a bid for the Interim WBO lightweight title. He defeated 2 former champions before this loss to Katsidis and was also able to recently earn an impressive knockout victory over the veteran Carlos Urias and now looks to take on former amateur foe Guerrero.
Important Notes: Former US Olympian
Guerrero vs. Escobedo Preview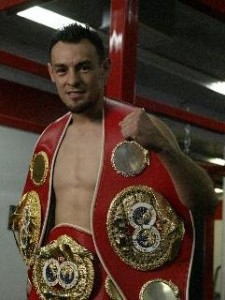 Tale of the Tape: Both fighters are relatively young and in prime fighting age, with Guerrero being the slightly younger fighter. In terms of reach, Escobedo has a full 4-inch reach advantage over Guerrero despite the fact that they are the same height. Due to this advantage, Escobedo will need to keep Guerrero at bay with his jab and be very selective about picking his opportunities to attack.
Desire for a title shot: It seems as though both fighters are on a collision course for a lightweight title shot (possibly against Juan Manuel Marquez) with the only obstacle being each other. Both fighters know that a title shot is close, but with a fight of this caliber, they must both focus on the task at hand because both fighters have the tools to hurt the other.
Momentum Factor:  Momentum is a key factor in the outcome of this fight. Both fighters are confident, strong, and ready after recent results. Guerrero is currently on an 11 fight winning streak (including 9 knockouts) including a win over the legendary Joel Casamayor, and has not lost since 2005. He is hungry for a title bid and with the way he is fighting recently; he looks to be extremely close to his chance. The obstacle that stands in his way, Escobedo, is currently riding a wave of momentum after a recent knockout over Carlos Urias.  Guerrero may have the longer hot streak, but Escobedo has recently defeated former world champions such as Kevin Kelley and Carlos Hernandez and has effectively rebounded from his September 2009 loss to Michael Katsidis. This will be a fight between two men who know that it's their time to vie for the title.
Buy Guerrero vs. Escobedo tickets online here.
On a personal note, Robert Guerrero had to give up his title early this year in order to help care for his wife, who was diagnosed with Leukemia. Now that she's made a full recovery and Guerrero is back to fighting, he is hungry to not only gain back his title, but make a major impact in the lightweight division.
Guerrero vs. Escobedo Prediction
Escobedo will be a formidable opponent for Guerrero, but in the end, the southpaw Guerrero has too many strengths and ways to hurt Escobedo. The only way I see Escobedo winning is by boxing beautifully, out-strategizing Guerrero and eking out a decision victory. Of course, these two battled it out in the amateurs on several occasions, which always adds new elements into the mix. I see Guerrero finding holes in the Escobedo game plan and will win by a unanimous decision.
Guerrero: UD Victory