Quite a lot of buzz has been hovering around Robert Stieglitz's dance card in recent months. At one time, the Russo-German was scheduled to defend his WBO Super Middleweight Title against Mikkel Kessler, but that was scrubbed. Then Stieglitz was set to clash with British champ George Groves, but that never came off either. Now he is set to face fellow German and former middleweight champion Arthur Abraham on August 25 in Berlin.
This fight is an important bout for both men. Although his stock has fallen in the aftermath of the Super Six tournament, Arthur Abraham remains a world class fighter and recognized contender, and for Stieglitz a big step up in terms of quality of opposition. For Abraham, a win over Stieglitz means winning a second world title and a return to the Top 10.
Arthur Abraham (34-3, 27 KOs)
5'9″ tall, 72″ reach, 32 years old
Armenian-German
Former IBF Middleweight Champion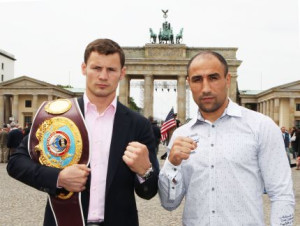 Those with short memories forget that "King" Arthur was on quite a roll prior to the Super Six tournament. He displayed incredible heart and physical fortitude by sticking it out with a broken jaw against then-undefeated Edison Miranda, and showed solid consistency in racking up a long string of successful title defenses. When he entered the Super Six, he had the scalps of Howard Eastman, Raul Marquez and Shannon Taylor under his belt, and he had stomped Miranda in a rematch.
However, Abraham's limitations foiled his ambitions in the Super Six. He did well enough against a shopworn Jermain Taylor, but floundered after that. Abraham's boxing style is too predictable, and therefore too easy for a world class opponent to outmaneuver. Abraham sits back behind a peek-a-boo guard and spends rounds probing his opponent, and when he finds an opening, he pours heavy artillery through it.
The problem is that Abraham has shown a marked tendency to do nothing if he should fail to find a way forward. In this respect, he is passive-aggressive in the ring, whereas a classical puncher mixes it up and creates opportunities to land hard blows.
Even so, Arthur Abraham is very powerful and very tough. That he lost to Andre Ward, Andre Dirrell and Carl Froch certainly should be held against him. As the recent Froch vs. Bute clash showed, very few men in the division are up to that standard.
Robert Stieglitz (42-2, 23 KOs)
5'11" tall, 30 years old
Russo-German
WBO Super Middleweight Champion
Stieglitz won the WBO belt in 2009 against undefeated fringe contender Karoly Balzsay, and followed up that win by polishing off another undefeated fringe contender in the form of Eduard Gutknecht (who later beat Balzsay as well). Since then, however, Stieglitz has been feasting on a steady diet of journeymen. He is an able enough boxer, and Stieglitz also fights from the Continental, stand-up style, but the man has no remarkable attributes. The Russian is merely one of those fighters who is above average in every department, but despite that we currently rank him as #4.
Perhaps the most revealing things about Stieglitz are his losses. In his first world title bid in 2007, Stieglitz was knocked out in a rematch with fringe contender Alejandro Berrio. A year later and he was stopped again by rugged lower-tier contender Librado Andrade in a title eliminator.
Stieglitz vs. Abraham Preview and Analysis
The conventional wisdom on this fight is that Abraham is there to be out-boxed, and Stieglitz is a boxer, so Stieglitz will win by decision. Anyone who thinks that is either lazy, foolish or both.
First, Stieglitz is a very different kind of boxer from the men who beat Abraham, both in terms of quality and style. Andre Dirrell might still be the fastest, slickest customer in the division, while Andre Ward is a fluid, flexible, and vicious mincing machine in the ring. While Carl Froch is hardly synonymous with flashy moves in the way that Dirrell and Ward are, he is still looser than the stiff Stieglitz, and stronger than either Stieglitz or Abraham to boot (and the latter is saying something).
Instead, Stieglitz is a stand-up Continental boxer. He likes his movement in straight lines rather than curves; he likes his guard high, much as Abraham does; he likes his punching straight. While that approach has virtues (look at Mikkel Kessler), it does not describe any of the men who beat Abraham. Furthermore, Robert Stieglitz is simply not in the same class as Carl Froch or Andre Ward.
For his part, Abraham is not quite as vulnerable to boxers as everyone seems to think. He beat British stylist Howard Eastman solidly enough back in 2005, and that was only five months after Eastman gave the great Bernard Hopkins a decent fight. If I had to pick Stieglitz vs. the 2005 version of Eastman, I'd go with Eastman.
So dismiss the conventional wisdom, which in this case has been unwise to forget the maxim "styles make fights." The way Stieglitz wins this fight is to either befuddle or stymie Abraham, to both protect his chin and bag rounds. If he can do this for most of the fight, he wins on points. Yet Stieglitz isn't a slick guy, and he lacks the kind of stiff jab necessary to stall a guy like Abraham.
Stieglitz vs. Abraham Prediction
I think the bout will begin with Abraham allowing Stieglitz to hit him pretty much at will for at least a few rounds, as that is Abraham's custom. The Armenian-German won't take much damage from the Russo-German, however, since his big arms will block most or all of that leather. When Abraham feels comfortable, and against the predictable Stieglitz that will come sooner rather than later, he will start moving forward like a steam roller.
Stieglitz, with a chin that couldn't stand up to the power of Alejandro Berro and Librado Andrade, will then have two choices: go into survival mode and protect his chin, allowing Abraham to pound out round after round; or stay in the fight and risk Abraham connecting with something hard, and punching his ticket.
Prediction: Arthur Abraham KO7 Robert Stieglitz